El Fuerte
El Fuerte
is a small colonial city in
Sinaloa
.
Understand
Though often referred to as the Gateway to Copper Canyon (Barranca del Cobre), El Fuerte is a delightful destination in itself, best visited from November through April.
Founded as San Juan Bautista de Carapoa in 1564 by Spanish explorers, the city derives its present name from the fort constructed in 1610 to defend against attacks by the Zuaque and Tehueco tribes who resented the Spanish intrusion. El Fuerte soon became one of the most important staging and trading centers of northern Mexico, with its location near the head of the wide, verdant Río Fuerte valley assuring prosperity from agriculture. In 1824, it became the territorial capital of the vast area comprising what is now Sinaloa, Sonora, and part of southern Arizona.
The architectural results of this history are evident today throughout the center of the city, from the central Plaza de Armas to the colonial mansions that extend for several blocks.

See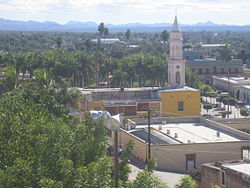 local petroglyphs a short distance from the downtown

Copper CanyonSituated in the nearby state of Chihuahua, but this city is a good entry point - since there are no good access points from the west of Sierra Madre Occidental. One of the great natural attractions of Mexico. Beautiful scenery, hidden waterfalls, and timeless canyon villages.

El Fuerte museum
Do
Several holidays and local "Fiestas" are celebrated with pageants, "Ferias" and the like.
Stay safe
Tourism remains a major industry in town, although it has been diminished in recent years by tourists being wary of Mexican drug cartel violence in other parts of Sinaloa; however, violence declined by 2013 from a high in 2011.