El Hierro
El Hierro
is in the
Canary Islands
.
El Hierro is the smallest island in the Canary archipelago, with only 278 km² of surface.
It is the most western island of the Spaniard territory, and for long time, it was considered the end of the known world, where the zero meridian went through.
In 2000 was declared a Biosphere Reserve by UNESCO which implies that most of the fauna and flora are protected. Also the coast is included in the Reserve, all the underwater life is protected. But being a Biosphere Reserve has some inconveniences, like the prohibition of camping or collecting fruits and fish from the nature.
Get in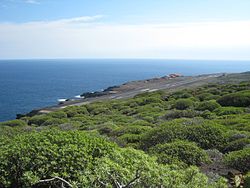 By plane
El Hierro Airport is a very small airport and is only served by one airline Binter Canarias. Binter operate a daily flight from Las Palmas de Gran Canaria and also a daily flight from Tenerife North Airport. The flight time from either of these destinations is between 30-45 minutes.
By boat
Fred Olsen
operate a passenger ferry route from Los Cristianos in Tenerife which stops at La Gomera before continuing to a port in the south of El Hierro. The total journey time from Tenerife is advertised as being 2 hours and 35 minutes (1 hour and 30 minutes from La Gomera)
Get around
Do
It is the ideal place to take a rest for a few days; relax, enjoy nature, and go on peaceful walks in the quiet environment.
But if you prefer more exciting emotions, in this 200 square kilometres, you can find a lot of fun. From bike or horse riding, hiking, paragliding, and of course scuba diving.
El Hierro is the most interesting scuba diving spot in all Spain. Because of the reserve, a lot of species live there, and other ones go there to find food (whales, sharks, dolphins, turtles, etc.) In La Restinga, the southern village, with a population of less than 1000 people, there are nine dive centres, with the most modern equipment. You can buy your material or just rent. Each centre has its own boat to take scuba divers out to open water. The instructors, good experts of the underwater spots, will bring you to the most interesting places, passing through lava arches, visiting ballon-fish lairs, and a lot of other fascinating sensations.
Caves
There are about 50 relatively long (several hundred metres, one is 6 km long) and branched lava tube caves on the volcanic island which you led but also at your own risk (at least two!) Can explore. There are also countless living caves to spend the night.
There are also guided cave walks in German, Spanish and English. Many different types of caves are offered for exploration: in some you have to climb, in some crawl, in some you can walk quite comfortably.
phone: +34 661015635

6-7 hour excursions with interesting facts about the geology, volcanology, island formation and exploration of several caves in the languages ​​Spanish, English and German with your speleology team on El Hierro, Heidrun and Jörg. There's also a combined boat and cave tour, in cooperation with the diving school Extra Divers.
Eat
A local specialty on El Hierro is a cake named quesadilla based on fresh cheese.