El Jadida
El Jadida
is a coastal town 100 km south of
Casablanca
in
Morocco
.
Understand
The town is very much the holiday destination for Morocco's more wealthy city dwellers. With long beaches and a more relaxed atmosphere, it makes a welcome relief to the hustle-and-bustle of the larger cities inland. However, the fancy promenade and buildings are crumbling, and it seems the town cannot catch the same fresh development wind like Essaouira. The latter should be preferred, if you have the choice.
The town's other economy is its fishing industry. Also, the town has remains of Portuguese buildings and the Cistern, which however are fairly limited attractions.

Get in
By train
Getting there/away:
A taxi costs 15 dirham (Jan 2018). Arriving passengers can encounter problems with getting to the city in case there are no available taxis, in this case it can require walking to the nearest city suburb.
From specific destinations:
Casablanca – ONCF trains depart from Casablanca's Port and Casablanca Voyageurs train stations, every 2 hr, the trip is around 1½ hr. Train from Rabat takes 3 hr.
Marrakech – There are about 8 trains per day, travel time 6 hr.
By bus
There are 3-5 buses a day from
Agadir
(6 hr, 140 dirham) and
Essaouira
(11:30 & 13:00, 4½ hr, 80-90 dirham), hourly buses from
Marrakech
(4 hr, 50 dirham), and a couple of buses a day from
Rabat
, through
Casablanca
.
Gare RoutièrePoorly maintained but central station, where all local buses (including CTM ones) arrive. CTM agency is located right inside the station.
Get around

El Jadida is quite spread out along the sea front. It probably takes an hour to walk from one end of the centre to the other.
Plntiful of taxi and several bus lines.

See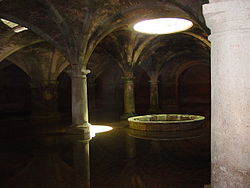 Portuguese fortressThe World Heritage listed Portuguese town from 16th century. A great spot for a stroll, as well as a go-to point for photographers. There is a circular walk on top of the city walls.

Portuguese cisternBuilt in 1514, this former warehouse (possibly an armory) was converted into a cistern in the sixteenth century. It's famous especially for the thin layer of water that covers the floor, and which creates fine and exciting reflections. Several movies have been filmed there, of which Orson Welles' Othello is the best known internationally.

Beach

Sidi Bouzid beachPopular among locals and thus gets packed during summer months. Plenty of restaurants.
Do
Relax in one of the restaurants or cafes in the town. Especially if this is towards the end of your trip, as it is for many. You'll find this town far more chilled than Marrakech or Fez.
Experience true Moroccan city life without the hassle, noise and glaring social inequity of Casablanca. Expect not to be bothered by anyone.
Buy
There are a few souvenir shops in Citadel.

Eat
A few more 'western-style' restaurants along sea front, north of town centre.

Drink

Mint tea is available at the massive cafe in the centre of town, down the main road from near the entrance to the Medina.

Sleep
Budget
If you have sleeping bags or a tent ground sheet, sleeping on the beach is possible. You may wake up damp from the salt spray though. There is also a campsite at the North East end of town, located about 5 min walk from the large roundabout near the sea.

Dar El Jadida

phone: +212 6 10 26 61 45

address: 7 Rua Joseph Nahon, El Jadida, Marrocos

A cheap B&B ruled by Massimo, an italian guy. Nice rooms, private bathrooms, and a panoramic terrace. Includes breakfast.
Mid-range
phone: +212 678 356 694

address: 5 Derb Moulay Ismail

Riad Harmonie is a guesthouse run by a lovely French couple who live on the spot with their two kids. The riad was opened in 2011. This place has a cozy and very friendly atmosphere and the owners speak very good English. Located within 10 minutes of a slow walk to Cité Portugaise.
Splurge
phone: +212 5 2338 8000

Mazagan Beach Resort is a 5-star hotel, set in 250 ha of undeveloped land, at the center of the oasis, next to a 7-km-long beach, with 500 rooms and suites.
Go next