El Mirador
El Mirador
is a large site of
Mayan ruins
in the Petén department of
Guatemala
.
Understand
The reasons that El Mirador is not swamped with tourists are its inaccessibility and, although a lot of work being done here, most of this huge site involves many unrestored mounds and pyramids in the jungle. Structure 34 is an exception, where some interesting figures were unearthed and an entire wall has been laid bare. Danta is another exception, where work to stabilize it was done. Once a person has hiked to the top of El Tigre, the view that awaits is mostly of jungle and other ruins, such as Calakmul and Nakbé in the distance. However, any mound or group of mounds that you can see as far to the horizon are former cities. It is the idea of lost cities the jungle that brings people to see it.
Because of serious ongoing work, this site will become more and more visibly intriguing as time goes on.

History
El Mirador flourished as a trading center from around 200 BCE to 150 CE during the Maya Pre-Classic Period. With a population as high as 80,000, it was one of the first large cities in North America. In the mid second century CE the entire Mirador Basin with its numerous other cities and villages became rapidly depopulated. There is little evidence of a population until there was a modest one in the Late Classic Period, and there is no permanent population today.
In 2002, President Alfonso Portillo established the Mirador Basin National Monument as a Special Archaeological Zone. This is intended to provide for the permanent protection of 240,000 ha (600,000 acres) of tropical rainforest in this area, which surrounds the oldest and largest Maya archaeological sites in Mesoamerica. The Mirador Basin National Monument is designed as a wilderness preserve without roads.
However, events of 2005 in Guatemala have pitted ranching and logging interests against this effort. Even some locals who do not see how tourism in the area will benefit them yet are in favor of what will result in roads, short term logging, non-sustainable swidden agriculture and ranches where once there was rain forest.

Landscape
It's not a rain forest for at least half of the year. However, there are a good number of bajos en route that are muddy through much of the year.
The good news is that the portion from Tintal to El Mirador is now primarily atop the ancient causeway between them, so there is a lot less traversing bajos.

Flora and fauna

Animals and insects were surprisingly sparse in January, but were fairly common in an earlier July trip. It is very dry for enough of the year to make survival a problem. You will most likely hear birds, but may see them from time to time. There are some monkeys, both howler and spider. The area has some interesting butterflies, spiders and an occasional snake.

Climate
Tropical, but it will get cool toward morning. In December and January, you will be glad that your guide brought blankets for sleeping on your solid cloth hammock. You will enjoy a hot drink in the morning year around.

Get in
Virtually all trips in go via the village of
Carmelita
, but these can be arranged in
Flores
or Santa Elena.
Go via mule train with a guide. The wetter it is, the better it is to also pay for another mule for riding. The driest months are March and April. The more hikers with you, the better an idea it is for you to pay for one riding mule in case anyone gets hurt.
Travel lightly. Only bring a large ribbed backpack if you plan to carry it yourself all day. Your duffel or soft bodied backpack should be small enough to easily be of such a size that it could be a legal carry on if you took it onto an airline.
Many agencies in Flores and Santa Elena can arrange it for you and this will include transportation to Carmelita and back. Generally speaking, the more people in the group, the cheaper it is per person. A cheap place to arrange a trip is
Hostel Los Amigos
.
Another possibility is to deal directly with
people in Carmelita
. To arrange directly instead of through some agency, after calling in Spanish and arranging your trip ahead of time, you would take the afternoon bus to Carmelita the day before departure, then stay in the inexpensive and basic rooms behind the comedor. In the morning you would have an early start and there would be no rush to get back your final trip day, because you would be taking the bus back to Flores the next morning.
If you are a keen hiker, it is also possible to walk there on your own. For a short description of the hike see i.e. .
Fees and permits
There is an entry fee per visitor.

Get around
It is best to do this trip with a sixth day to see
Nakbé
, which is 3½ to 4 hours away and just a bit closer to
Carmelita
. Much of the route there will take you along an ancient causeway, which you can still see the edges of. Going this route also makes you head back in such a way that you will travel through more lost cities along your way back to Carmelita. If you are smart, you will make sure that the extra day includes a short detour to the ruins of
Wakná
, where work has just begun.
See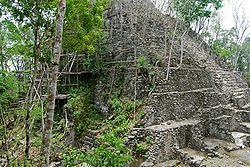 The city's main group of buildings covers 2 km² and many were built on a grand scale. The largest pyramid at El Mirador, El Tigre, has six times the surface area as Temple IV at Tikal and is 55 m tall.
The Danta Complex is about 300 m wide on each side of the bottom base, which is 7 m high and supports a series of buildings. The next and smaller platform rises another 7 m. Above that is another platform around 21 m high, which is topped off by three pyramids, the tallest of which is 21 m high. The total height is 70 m, making it taller than Temple IV at Tikal.
Recent finds include a now reconstructed frieze, showing the Hero Twins of the Popul Vuh and a mural.
Do
Tours also can involve visiting Nakbé and will take longer than seeing just the one site. They require stamina and involve riding horses (or more often mules) or walking for around 27-30 hours over the course of five days. Saddle horses or mules are good to have along, but if you are not going in the rainy season, you will probably alternate walking with riding and may want to share a ride among two of you. Given a choice of horse and mule, keep in mind that the mule is far more likely to obey your reined demands to avoid scraping you against some thorny tree on a trip.

Buy
Buy what you need beforehand. The guards at any Guatemalan ruin rotate in for 21 days at a time, so consider buying and bringing "items" for them. Food treats or cigarettes would be enjoyed. Do not bring liquor to give them. Any worker in the Mirador Basin caught with alcohol will be banned for life from ever working there again.
Be sure to bring and use insect repellent containing 100% deet. Also spray pants legs and socks with Permethrin.

Eat

Food is included in any outfitted trip to El Mirador, but protein may be in short supply for most meals. Bring snacks and granola bars.

Drink
Bring your own, except for water. On cool mornings, unless you really like instant coffee every day, hot chocolate or latte mixes will hit the spot.

Sleep

Hammocks, mosquito nets and blanket provided. If rain is possible, your guide should put a tarp overhead.

Lodging
Hammocks with mosquito netting and a blanket (included in all trips) are great. Apparently there is an actual building where bigwigs can stay on arrival. Can a basic hotel be far behind?

Camping

Any trip with a guide includes solid cloth hammocks, mosquito netting and a blanket. If it is winter in the Northern Hemisphere, you might want a light sweater to sleep in.
Any time of year you are likely to enjoy a hot drink in the morning. Hint - a chai latte from a powder mix tastes wonderful there, but you need to bring it.
It is now possible to have a quick cold shower, but you may need to pay the guards 10Q.

Stay safe
The last thing that almost anyone connected with these trips wants is for anything bad to happen to travelers. The local economy depends on good trips happening. Cooks are very careful to cook in such a way that no one gets sick. Thieves would receive a cold and dangerous reception there.
Always have a flashlight handy when leaving your hammock in the dark. Just going a little way to urinate might turn you around. A very small one that you always keep in the same pocket is good for this.
Probably the best flashlight you can have in the evening is one you can wear on your head. Just don't point it so it is in people's eyes.