El Puig
El Puig
, formally known as
El Puig de Santa María
, is an agricultural village in
Valencia (province)
, 15 km north of
Valencia
.
Understand
Pronounced 'el pooch' (from the Valencian word for 'hill', of which there are two in the village), the village was first settled by the Iberians, later occupied by the Moors, and finally conquered by Jaime I from Aragon in 1237. It is best known for its orange groves and Gothic monastery, and is easily visited as a day trip from
Valencia
.
phone: +34 961 959 029

address: Carrer Estació
Get in
By train
By bus
From
Valencia
,
Autos Vallduxense
operates bus line
112
, with buses departing every half-hour on workdays, and every hour on weekends, from (
by the entrance to Parque de Tendetes
), and stopping at the monastery. A full schedule can be found
here
; a one-way fare costs €2.25/1.50 (adults/seniors).
By bicycle
El Puig is just off the
Via Xurra
(Spanish:
Vía Churra
), a greenway developed from a disused railway connecting Valencia with Puçol. Except for a 800-m stretch of compacted earth, the easy 15-km route is paved and mostly flat.
Get around
Everything in the village proper can be easily reached by foot.
To reach the beach and the watchtower from the monastery,
Autos Vallduxense
bus line
112
heads directly to the beach en route to Valencia. Alternatively, you could take one of the three taxis operated by
Taxi El Puig
(tel. +34 607 380 380, +34 629 664 488, +34 961 471 417).
See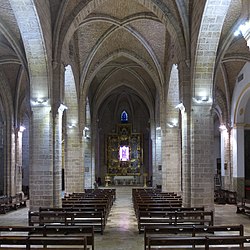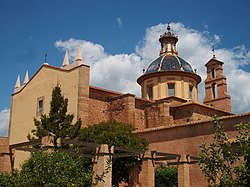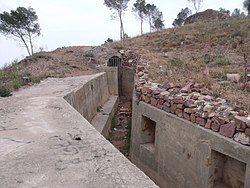 Real Monasterio de El Puig de Santa María

phone: +34 961 470 200

This impressive fortified monastery was originally established in the 13th century, although the current structure dates mostly from the late 16th century. The star attraction is the Gothic chapel dating from the early 14th century. This is still a working monastery, so visits are only possible with guided tours, which last about 30-40 minutes and are available in Spanish and English.

Museu de la impremta i les Arts GràfiquesThe first museum of its kind in Spain and the second in Europe, this museum is dedicated to the history of printing, and has on display dozens of printing presses and books, including a replica of Gutenberg's press and a copy of the Gutenberg Bible.

Cartoixa d'Aracristi

phone: +34 961 959 029 (reservations)

address: Crta Valencia-Barcelona, km 13.3

The Carthusian monastery was founded in 1272; the current fortified complex with several defensive towers dates from the late 16th century. The monastery was sacked by Napoleonic troops in 1808 and later passed into private hands, suffering much neglect. It has now been almost completely restored, and houses a hotel and sport complex. The tourist office now offers guided tours of the cloisters, courtyards, and chapels twice monthly at 11:00; reservations must be made beforehand.

Muntanyeta de la PatàThe hill affords good views of the village and the surrounding countryside.
Castell del PuigThe remains of an 11th-century Moorish fortress which has been abandoned since the 14th century. There is very little remaining of the castle besides a tower and foundations.

Civil war fortifications

phone: +34 961 959 029 (tour reservation)

A line of trenches, tunnels, and fortifications from the Spanish Civil War was built between 1938 and 1939; the structures were never completed and never used. Information boards in Valencian/Spanish/English explain the functions of various structures. The tourist office offers guided tours twice monthly, at 10:30 and 12:00; visits last about 1½ hrs and reservations must be made in advance.
Torre Vigia del PuigThis watchtower was built in 1563 as part of a coastal network of watchtowers used to defend against Barbary pirates. The tower was fully restored in the 1990s.
Do
Beaches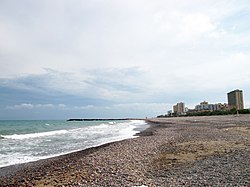 El Puig has several kilometres of beaches, all with lifeguards in the summer and foot-washing stations.
Platja de Santa Elvira-La TorretaA pebble beach, with toilets available.

Platja dels PlansA gravel beach with vegetated dunes, toilets, a first aid station, and sun loungers for rent.

Platja del Barri dels PescadorsA semi-urban beach with mixed sand and gravel.

Platja de Puig ValA fine sand beach with a tree-lined promenade, first aid station, toilets, sun loungers, and disabled access.

Platja de MedicaliaHas fine sand and gravel, with toilets and sun loungers for rent.
Buy
Mercadillo

address: Avinguda de la Verge del Puig

A weekly street market for local produce and odds and ends.
Eat
phone: +34 961 471 240

address: Avda Virgen del Puig, 18

Serves a range of traditional and more modern dishes.

phone: +34 960 041 817

address: Avda Blasco Ibáñez, 1

A good place for sandwiches, tapas, and light meals.

phone: +34 961 471 340

address: Avda Verge del Puig, 36

One of the more established restaurants in El Puig, this serves classic Valencian dishes.
Sleep
phone: +34 961 471 228

address: Avinguda Músico Julio Ribelles, 9

The family-run hotel was completely renovated in 2008, and has 59 comfortable, non-smoking rooms. There is a designated smoking area and onsite restaurant. Free Wi-Fi, public parking €4/day.