El Verano
El Verano
is in the
Sonoma Valley
, part of
Sonoma County
, within the
San Francisco Bay Area
in
California
. This page also has information on Boyes Hot Springs and Fetters Hot Springs-Agua Caliente, two adjacent, unincorporated areas.
Understand
El Verano is a small village located just north of
Sonoma
in the Sonoma Valley. With a population of just over 4,000, El Verano has a Sonoma city address but is a distinctly defined area of Sonoma County. The land used to be owned by General Vallejo, and eventually it became a popular vacation area for residents of
San Francisco
due to its hot springs. Today, the hot springs are no longer in use and El Verano is mainly residential. El Verano is a popular shopping area for Sonoma residents and has a selection of local restaurants that are affordable.
Two other adjacent areas, also unincorporated, are included on this page:
Boyes Hot Springs, population of about 6,600
Fetters Hot Springs-Agua Caliente, population of about 4,100
Get in
Having a car is very helpful while getting around El Verano and into its surrounding area. While the village is small, it is a car reliant area.
By plane
El Verano is served by a number of different airports:
By bus
From San Francisco you can take a
Greyhound
to Santa Rosa. That is the closest stop to El Verano. From there, you will have to rent a car or a bike.
By car
Having a car is pretty critical to controlling your own trip to El Verano and the surrounding Sonoma Valley. You can also rent a private car or a limo. But, for your own fun... it's nice to have a car. Highway 121 brings you into
Sonoma Valley
. Highway 12 is the primary route that runs through the town of Sonoma, into El Verano, and north and west to Santa Rosa. Do note, Highway 12 is also called "Sonoma Highway" and Highway 121 is also called "Arnold Drive". El Verano is located between Ramon Street and Thomas Avenue when heading south to north; east to west it is from Sonoma Highway to Carriger Road.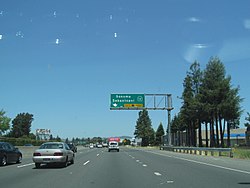 Go north over the Golden Gate Bridge (Highway 1) and follow Highway 101 north. Go east on Highway 37. Go north on Highway 121. Go north on Highway 12. When you pass Ramon Street you have entered El Verano.
Go north on 580 towards Point Richmond. From Point Richmond take the Richmond Bridge. Head north on Highway 101. Go east on Highway 47. Go north on Highway 121. Head north on Highway 12.
Go south on Highway 101. Go south on Highway 12.
Go west on Highway 80. Go west on Highway 12. Go north on Highway 29. Go west on Highway 12.
Get around
El Verano is a small area with long city blocks. The majority of El Verano's highlights are in a shopping center, parks, and a few additional locations. Having a car is a good idea, but you can also get around by bike, walking, and public transportation. There are no car rental in El Verano, but, presumably, if you are in El Verano you have arrived by car.
By bicycle
There are no bicycle rental companies in El Verano, but you can rent bikes in Sonoma which is a quick car or cab ride away.
By bus
Sonoma County Transit connects El Verano to the surrounding towns in the county. Their
website
has information about how to purchase passes and taking your bicycle on to buses.
By taxi
Two taxi companies service El Verano:
Vern's Taxi Service, 254 1st Street East, +1 707-938-8885. This was the one and only taxi service in Sonoma until 2013.
Sonoma Taxi, +1 707-889-1266. A Sherpa-owned and -operated taxi service.
Do
phone: +1 707-789-9644

address: 18776 Gillman Dr

Nice community park with free parking and free access. Dogs are welcome, there is a dog park onsite. There are also baseball and softball diamonds, picnic tables, a playground, and paved trails.

phone: +1 707-789-9644

address: 100 Verano Ave

Nice 85-acre park with soccer fields, baseball and softball diamonds, tennis and volleyball courts, and 40 acres of trails. The park has a very popular skateboard park. The playground is ADA accessible . They have also have picnic areas and barbecues.
Eat
Budget
phone: +1 707-931-4377

address: 19100 Arnold Dr

Owned by the Chavez family, this is a diner that serves breakfast and lunch. Bagels, breakfast sandwiches and special omelets are available in the morning and the afternoon brings fresh sandwiches and house-made grilled burger varieties served with fries. They serve local beer and wine. A local favorite.
Mid-range
phone: +1 707-935-3981

address: 19114 Arnold Dr

Woman-owned Mexican restaurant with a quirky retro feel. Good food but it's more expensive than other Mexican restaurants in town.

phone: +1 707-939-8100

address: 18999 Sonoma Hwy

One of two locations in the area (the other is in Petaluma), this is All American diner food that is beloved by the "mature set" in Sonoma. Great breakfasts and American classics like meatfloaf and chicken fried steak. Weekly specials.

phone: +1 (707) 933-6330

address: 18976 Sonoma Hwy

Indoor and outdoor seating, limited parking, great food.
Splurge
phone: +1 707-933-9331

address: 19161 Sonoma Hwy

The only sushi restaurant in Sonoma Valley, the restaurant also offers izakaya (pub) fare like meat skewers and chicken curry as well as a very wide range of sushi (don't miss the specials board, a bit hidden at the far end of the sushi bar). The restaurant opened in 2019, but it's a successor to a much smaller restaurant in Cotati.)
Drink
phone: +1 707-935-0611

address: 705 Laurel Ave

Self described as the "last roadhouse in Sonoma Valley," the El Verano Inn is a dive bar with pool, live music, and yes, "lingerie shows". This historic building was built in 1887 and has been a post office, general store, bus depot, apartments, and many bars.
Sleep
The El Verano area has limited lodging options. Many more can be found nearby in
Sonoma
.
Fairmont Sonoma Mission Inn & Spa

phone: +1 (707) 938-9000

address: 100 Boyes Boulevard, Sonoma

The Fairmont chain is definitely high end, but judging by the number of disappointed postings at hotel review sites, this location falls short. There are extensive spa treatments and pool facilities, for those so inclined.

phone: +1 (707) 939-9463

address: 239 Boyes Blvd, Sonoma

An affordable, casual alternative to pricier wine country hotels. Many of the 16 rooms have private outdoor patios or porches.
Connect
If you are in need of free wifi during your visit, the following restaurants and establishments offer it:
phone: +1 707-996-5949

address: 19101 Sonoma Highway

Casual restaurant with a bar and dining room; good martini's to enjoy while using their wifi.

phone: +1 707-935-3187

address: 19239 Sonoma Hwy

you can also go next door and use the wifi from the Starbucks at Burrito Shop
Cope
Gym
phone: +1 707-996-3111

address: 19111 Sonoma Highway

The most popular workout facility in town, Park Point offers discounted passes for visitors in need of a workout. They have all the standards, including classes like yoga and zumba, a pool, and tennis courts.
Hair salon
phone: +1 707-996-3641

address: 18770 Sonoma Hwy
Nail salon
phone: +1 707-933-8681

address: 18997 California 12

Decent Vietnamese only nail salon available for mani/pedi needs. Appointments are suggested, as this is the most popular nail salon in Sonoma Valley.
Go next