Elburg
Elburg
is a historic city in the Dutch province of
Gelderland
. Between 1292 and 1296 Elburg was rebuilt in the form it is seen today, with a moat and a city wall, together with the straight pattern of the street plan. This rapid rebuilding was expensive, indicating that Elburg was reasonably affluent in medieval times.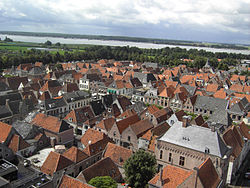 Understand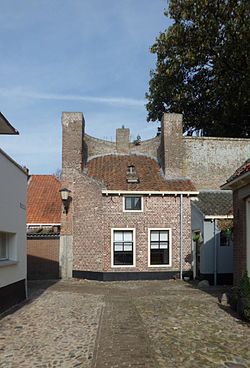 Old Elburg
Elburg is a municipality and town by the Veluwemeer and Drontermeer. Elburg once was a small town living of fishing and trade located on the edge of the Zuiderzee. It is assumed that the city got its city rights between 1220 and 1271. On the fifth of September 1310 these city rights were revoked as Count Otto II of Guelders, who gave the city rights, did not have the right permissions to have done so, as he did not request the royal permission. The rights were restored and expanded upon by Count Reinald I in December of 1312, giving Elburg the same set of rights as
Doesburg
had at the time. Several years later, in 1341, the city rights were expanded again, making Elburg equal to
Zutphen
. Elburg used to consist of one long main road stretching to the north, where fishermen and traders put up shop.
New Elburg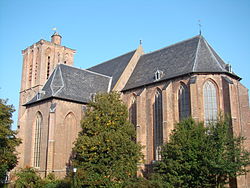 On the second of October 1392 William of Gulik, Count of Guelders, ordered: "
Wij willen dat sy onze stat versetten sullen op een andere stede.
" (We (William) order that you must move our city (Elburg) to another location). For as far as we know, there is no particular reason to move the city of Elburg. Some argue that a threat or destruction by the Zuiderzee might have been a reason to move the city, though no proof supporting that theory has been found.
This moving of Elburg could be done due to the wealth that the city had gathered as a
Hanzestad
. Arent tho Boecop, steward of Elburg, got a start of the new city, which had a grid-based plan, as well as a connection to the
old
Elburg. Part of the old city was implemented in the new city. Parts of the old main street became the Ellestraat. After the new Elburg was constructed, the church was still outside of the city, which led for a relocation of the church in 1397. The church, which was a catholic church, was built in a hurry, as only fifty years after its opening, it was scheduled for a renovation. The tower, which once had a pointed rood, burnt down after getting struck by lighting in 1693, which makes that today only the base of it stands.
During the moving of the city Elburg, not only was the city relocated, the city also was fortified as well. The city got its square moat and walls with gates. These fortifications stand to this day.
Get in
By train
The nearest train station to Elburg is
't Harde
, from which you'll have to take a bus to get to Elburg, as walking will take you 90 minutes. Going by bike from 't Harde is an option as well, making your journey from 't Harde to Elburg 20 minutes long.
By bus
The most central bus stop is Elburg Centrum, at which the lines 100, 200, 514, 685 and 686 stop. Line 100 connects to
Nunspeet
and
Zwolle
, while line 200 connects only to Zwolle. Line 514 connects with the nearby train station
't Harde
. Lines 685 and 686 connect to the nearer towns.
By car
When travelling by car, Elburg can best be reached via the A6 or A28. When travelling via the A6, use exit 11 (Lelystad Noord) and drive away from
Lelystad
using the N307. When navigating around
Dronten
, use the second roundabout to turn onto the N305, followed by a turn left onto the N307 at the next larger interchange. Following this road will take you straight to Elburg.
When travelling via the A28, use exit 16 ('t Harde) located between Zwolle and
Harderwijk
. Once you leave the highway, you will see that the route to Elburg, which is just six more kilometers away, is indicated on signs.
By boat
Elburg is located where the Veluwemeer and Drontermeer meet. It has a harbor where you can dock your ship.
phone: +31 525 682 800

address: J.P. Broekhovenstraat 23, NL-8081 HB Elburg
Get around
The fortified city of Elburg, which is probably what you have come to visit Elburg for, can be naviaged on foot easily.

See
phone: +31 525 684 415

address: Zuiderkerkstraat 1, NL-8081 CJ Elburg

The Great Church was rebuilt inside of the fortified city in 1397 when its bishop granted permission. It was renovated just half a century later. The church became a protestant church at the end of the 16th century, and its tower's roof burnt away after being hit by thunder in 1693, leaving the church as it stands now.

phone: +31 525 681 341

address: Jufferenstraat 8, NL-8081 CR Elburg

phone: +31 525 684 220

address: Van Kinsbergenstraat 5, NL-8081 Elburg

Located in the house named after the man that rebuilt Elburg, Arent thoe Boecop, this museum does not display any organs that have once belonged to humans or animals. Instead, it features organs used to make music. Visitors are free to try them out.

phone: +31 525 685 564

address: Graaf Hendriksteeg 2, NL-8081 CH Elburg

Museum Sjoel Elburg is a story-telling museum about the (non-)average day-to-day life of the Jewish families that have lived in Elburg since 1700 and offers a historical perspective to a current theme: integration and tolerance.

Vischpoort and Kazematten

address: Vischpoortstraat, NL-8081 EG Elburg
Do
phone: +31 321 329 999

address: Spijkweg 30, NL-8256 RJ Biddinghuizen

Theme parks with roller coasters and other thrill rides. Highlights include the Goliath, the highest, longest and tallest steel coaster in the Benelux, with max speed of 106 km/h, and the Xpress, a coaster which aunches passengers from 0 to 90 km/h in just under 2,8 seconds and features 3 loops.
Eat
phone: +31 525 690 054

address: Havenkade 10, NL-8081 GP Elburg

phone: +31 525 684 424

address: Beekstraat 26, NL-8081 ED Elburg

phone: +31 525 681 190

address: Vischpoortstraat 15

Bistro
Sleep
phone: +31 525 683 877

address: Smedstraat 5-7, NL-8081 EG Elburg

phone: +31 525 680 462

address: Molenstraat 7, NL-8081 BB Elburg

Recreatieoord Veluwe Strandbad

phone: +31 525 681 480

address: Flevoweg 5, NL-8081 PA Elburg

(Bungalow)camping on the banks of the Veluwemeer. The camping is focussed around water sports.
Go next