Elk Island National Park
Elk Island National Park
is in the
Edmonton Capital Region
of
Alberta
,
Canada
, less than an hour's drive east of
Edmonton
on the
Yellowhead Highway
, as well as in
Eastern Alberta
a half hour's drive west of
Vegreville
.
Famous as a refuge for grazing animals, the park has the second highest density of hoofed mammals per square area of any region on earth (excepting the
Serengeti
plains of East Africa). Visitors can see over 40 species of free-roaming mammals including plains bison, wood bison, elk (wapiti), moose, deer, beaver, and muskrat. Over 250 species of birds live here, making it a good place for
birdwatching
. This is one of the last remaining large areas of natural aspen parkland, one of the most endangered habitats in Canada, that is undisturbed by agriculture and other human activities.
Open year-round, park visitors can enjoy wildlife viewing, hiking, canoeing, kayaking, sailing, cross-country skiing, snowshoeing, golfing, picnicking and overnight camping.
Understand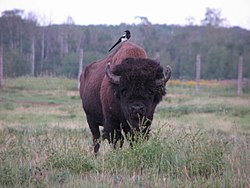 This is Canada's only entirely fenced national park, and home to Canada's most famous herds of wild bison (a.k.a. "buffalo") which are used as breed stock to repopulate other famous parks in Canada (for example,
Banff National Park
in 2017), the USA (
Yellowstone
) and even Russia. Elk Island is a small park by Canadian standards at 194 km² (75 sq mi) and is an "island" (metaphorically, only) of protected of forest surrounded by farmland. Because this is the closest park to the city of Edmonton and located on a major highway (Alberta 16, the "Yellowhead" route of the
Trans-Canada Highway
), it sees many Canadian visitors but, because it lacks photogenic mountain vistas, it's not a common part of the itineraries of international visitors to Western Canada, unlike the more famous Banff National Park to the south.
History
Prior to joining Canada in 1870, the Beaver Hills had been an important hunting and trapping area for the indigenous peoples of the area. By the time Canada began inviting Europeans to settle in the area after 1870, however, the region had become "trapped out" of beavers (they were locally extinct due to over-harvesting) because of the commercial demand for beaver pelts in England for making top hats.
The areas on all sides of the park are good farmlands and were part of the general wave of settlement of this part of Alberta during the 1890s. However the park is composed of rocky, wet land not well suited for wheat growing. It was used for grazing, lumber, and hunting by surrounding farmers, but not much tilled.
The Canadian government started a timber reserve here in 1899 to preserve the remaining forests, making this is one of Canada's oldest protected areas. At first it was only the trees that were deemed worth of protection from development but in 1906 the area officially became an elk sanctuary, then a federal park in 1916, and was a founding park of the Canadian national parks system when it began in 1930. The area's claim to fame originated in 1907, when the park was used as a temporary holding area for plains bison. This was a wild herd purchased by the Canadian government in Montana, one of the last such herds in existence. The bison were supposed to be shipped on to another park, but an estimated 40-70 bison evaded recapture, and their descendants have been there ever since.
Woodland bison were thought to be completed extinct (or interbred with plains bison) at one point, but in 1957 a small, genetically pure herd was discovered in
Wood Buffalo National Park
. Then in 1965, 23 of those woodland bison were moved to Elk Island Park to start a second herd. The two subspecies are kept apart by the fences and highway to maintain genetic purity.
Landscape
The park protects the "Southern Boreal Plains and Plateaus" natural region - a transitional zone between the aspen parkland to the south and the boreal forest to the north. Elk Island National Park has a "knob and kettle" topography rising 30-60 m above the surrounding plains of Alberta. The elevation is around 750 to 800 m above sea level which, while not high by Alberta standards, is significantly higher than the North Saskatchewan River's valley bottom at around 600 m just a few kilometres to the northeast of the park.
Elk Island National Park is an island, not in the geographical sense, but in terms of its landscape of small hills and depressions surrounded by flat plains. When the glaciers retreated from the area, they left debris clustered around chunks of ice that formed the knobs, while the melting ice made shallow ponds or kettles. These are eutrophic ponds, meaning they have a very poor oxygen supply, but they contain rich accumulations of nutrients, making them an excellent habitat for plants and wildfowl. The park has more than 250 lakes, ponds and wetlands over 20% of its surface area.
Astotin Lake, near the park's north end is 3.9 km long, almost 3.1 km wide and 0.5-10 metres deep, and is the park's largest body of water.
Climate
The climate of the area is continental (dry) and temperate (varies by season); the park is usually just a degree or two colder than Edmonton on a typical day.
Flora and Fauna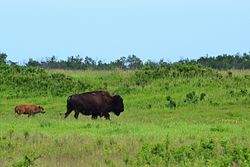 The star attraction here are the two different sub-species of bison (also known as "buffalo"), woodland bison on the south side of the highway, and plains bison on the north. As well there are the eponymous "elk" (a.k.a. wapiti), moose, other types of deer, coyotes, fishers, lynx, and so on.
Get in

Elk Island National Park is approximately one hour's drive from Edmonton city centre, via Highway 16 East (Yellowhead). It is open 365 days a year.
There is no train, no public bus, and limited taxi/rideshare service outside of Edmonton. This park is mostly for travellers who can drive or are on a chartered coach.

Fees and permits
Daily/Annual (December 1 to March 31)/Annual fees:
Adult $7.80/$31.40/$39.20
Senior $6.80/$27.40/$34.30
Youth and children under 18 free
Family/group $15.70/$78.50/$78.50
Get around
There's only one, Y-shaped road going through the park so it's hard to get lost. Other than that it's all walking trails.

See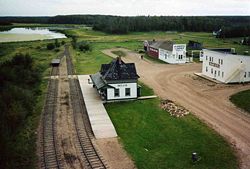 Ukrainian Cultural Heritage Village

phone: +1 780-662-3855

address: Highway 16

This award-winning provincial historic site showcases Ukrainian settlement in East Central Alberta. There are over 30 historic buildings including three churches, a fully-functioning grain elevator, blacksmith shop, and sod hut, all enlivened by costumed interpreters. Weekends are busier, however the crowds can be worth it with more interpreters on hand and often more things going on.

Astotin TheatrePublic programming happens here daily in the summer.

Wahkotowin Visitor Information CentreTourism information, public toilets, and a gift shop.
Do
There are several walking/hiking trails around the park, most in the 1-3 hour range, but a longer trail exists south of Highway 16 to see the Wood Bison (distinct from the Plains Bison north of the highway).
Canoeing is allowed in the lake by the campground.
address: Astotin Lake

Canoe rental.
Buy, eat and drink
The only retail store in the park is in the visitor's centre near the south park gate, it only sells souvenirs, not food (beyond a few snacks) or anything bust the most basic camping equipment. Everything else available in nearby
Sherwood Park
(to the west),
Lamont
(to the north), or
Mundare
(to the east).
Sleep
During the summer, the park offers a semi-serviced campground. Hotels, motels, bed & breakfasts, gasoline, groceries, and other services, are available in communities surrounding the park.
phone: +1 450-505-8302, +1-866-787-6221 (TTY)

phone: +1 780-998-0708

address: 54371 Range Road 205 Fort Saskatchewan

Private campground just outside the park boundaries, featuring yurts, tipis, and cabins for those without a tent of their own or just wanting a "glamping" experience.
Stay safe
Safety for visitors:
Safety first - view wildlife from a safe distance and vantage point.
Remain in your vehicle to view wildlife on roadways.
Slow down when wildlife are near the roadside.
Observe the 60 km/h speed limit on the Elk Island Parkway.
At all times, maintain a distance of 100 metres from moose, elk, deer and bison.
Visitors are discouraged from bicycling on park trails in wet spring weather conditions and during the rut (breeding season for ungulates) from late July through to the autumn.
Become familiar with the natural hazards of the park, be properly equipped, and well prepared (knowledge, skills, fitness) for wildlife viewing activities such as hiking, walking, and cross-country skiing.
Report aggressive wildlife to Parks Canada staff. Check with Parks Canada staff for information and safety warnings. Respect area and trail closures. Trails and areas are occasionally closed due to aggressive wildlife, poor trail conditions, on-going management activity, or other hazards. Entering a closed area is an offence under the National Parks General Regulations.
Safety for the wildlife:
Do not feed the wildlife. Poor health and premature death can result from wildlife consuming food other than their natural food supply. It is forbidden to feed, touch, or attract wild animals with food or bait.
Resist the temptation to pick wildflowers, cattails, berries, mushrooms, or any other plant item. Plant matter and natural objects such as antlers and bones are part of the natural food supply for wildlife.
Dogs and other domestic animals must be kept leashed and under physical control at all times when in a national park. Loose domestic animals present a hazard to wildlife, as they are prone to chase and molest wildlife; they also present a public safety hazard.
It is an offence to lure, disturb, chase or molest wildlife in a national park; penalties can range as high as $5000 or six months in jail.
Go next