Elkins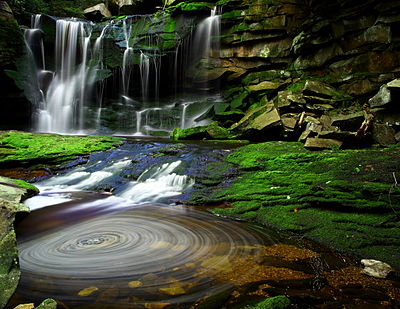 Elkins
is a city of 7,032 people (as of 2000) in Randolph County,
West Virginia
. It was incorporated in 1890, and named for Stephen Benton Elkins, a US senator from 1891 to 1893 who came from West Virginia. Because of its size and convenient location, you'll likely want to use Elkins as a base to get to a variety of nearby sights and attractions: one hour East will bring you to the Monongahela National Forest, Canaan Valley, Timberline and the region's caverns; one hour North will bring you to Blackwater Falls State Park and the pretty mountain town of Thomas; and one hour South will bring you to Snowshoe Mountain.
Get in
Get around

Elkins has no public transportation. You can get around town easily by foot or bike, but any real adventure would require a car.

See
phone: +1 304 259-5216

Blackwater Falls Road in Davis. Approximately 50 minutes north of Elkins. A five-story-tall amber-colored waterfall, which is one of the most photographed sites in West Virginia. Lodge with gift shop, indoor pool and on-site restaurant. Camping, hiking, horseback and pony rides, swimming, boating and fishing, cross-country skiing, sledding, and a petting zoo during the summer.

address: 200 Sycamore Street

Over 19,000 acres of forest spread across 10 counties in West Virginia. 23 campgrounds, 17 picnic areas and over 500 miles of hiking trails. Mountain climbing, whitewater rafting, horseback riding, boating, wildlife viewing, birdwatching, hunting, and fishing.
Seneca Rocks, US-33 and WV-28, +1 304-567-2827. 900-foot-tall formations made of Tuscarora quartzite with over 375 mapped climbing routes and a self-guided interpretive trail with a viewing platform.
Spruce Knob, Forest Road, +1 304-567-2827. The highest point in West Virginia, at 4,861 feet. A stone and steel observation tower provides 360-degree views, and there's a half-mile trail circling the Knob. Fishing, hiking and an on-site campground with 43 sites.
Do
Allegheny Highlands TrailA regional mountain-biking trail system in the Potomac Highlands of West Virginia. The backbone of the Trail goes from Elkins to Thomas.

Visit beautiful Stuart Park located outside of town on US Rt 33. During the summer months bring gear to go for a swim in the river, or just go wading. Pack a blanket and a picnic lunch, spread out and enjoy the outdoors. Available for rent are many different styles of campsites, for overnight guests. Pavilions are also available for rent, perfect for an outdoor get together.

phone: +1 304-567-2600

address: 27 Allegheny Drive, Suite B

For those interested in reaching the South Peak of Seneca Rocks, Seneca Rocks Climbing School (SRCS) offers guided rock climbing and instruction for everyone from complete beginner to expert. SRCS has been guiding climbers young and old since 1971.
Caverns
Seneca CavernsWV-9 off US-33 east of Riverton. West Virginia's largest caverns, also called "West Virginia's Underground Wonderland", were discovered in 1760, and commercial tours have been running since 1930. Gemstone mining also available. On-site gift shop and restaurant. Admission $12.

Smoke Hole CavernsRoute 55 (8 mi south of Petersburg). Open year-round. Caverns are always 56 degrees, so dress warmly. Tours given every half-hour. Riverside log cabins on-site. Admission $9.
Skiing
phone: +1 304-866-4121

Route 32 north of Harman. 250 guest rooms. Indoor lap pool, outdoor pool, whirlpool spa, fitness room, sauna, 18-hole championship golf course, mini-golf, tennis courts, hiking, biking, wall climbing, hay rides. On-site gift shop, restaurant (the Aspen Dining Room), food court (the Bear Paw Lodge), lounge (the Laurel Lounge) and snack bar. 37 ski slopes, including a vertical drop of 850 feet, and a chairlift ride.

address: 10 Snowshoe Drive

Mountain biking, and a golf course named "#1 Public Access Golf Course in West Virginia" for four straight years by GolfWeek Magazine. On-site lodging, 14 restaurants, 17 shops, groceries and markets, tame to wild nightlife, pool, hot tub, sauna and spa. Skiing and snowboarding lessons and kids' programs. 114 trails, including vertical drops of up to 1500 feet, and 27 lifts. Season passes are $215 - $629; winter lift tickets are $30 - $67.

Timberline Four Seasons ResortRoute 32 N to Canaan Valley. 36 slopes and trails, with a vertical rise of 1,000 feet, for skiiers of all abilities. 3 chairlifts. NASTAR racing. Skiing and snowboarding lessons $45 - $95. Lifts $19 - $54, rentals $12 - $25.
Events
Antique Car Show, Held every 4th of July weekend, the car show fills the Elkins City Park with vehicles of all makes and models, past and present. Fun for car lovers of all ages, activities include live music, games, and vendor demonstrations.

Augusta Festival( August festival is a 5 week long folk arts festival held annually in July and August. The Augusta Heritage Center offers over 300 classes in folk art and music, as well as concerts and dances. Mini workshops are held throughout the year.

International Ramp Festival and Cook-off, Elkins City Park, Held at the end of April. One of the first vegetables to appear in spring are wild leeks, known as ramps, which are widely celebrated in the Appalachian region. Live music, entertainment, and ramps cooked every way possible. Admission free.

Mountain State Forest FestivalHeld at the end of September. With hot-air balloon rides, a carnival, a gun show, bass fishing tournament, tennis tournament, horseshoe tournament, Irish road bowling, talent shows, cabaret, photography contest, lumberjack contest and log stacking, quilt show, exhibits, live entertainment, food vendors, buckwheat cake and sausage feed, and parades.

Pickin' in the Park, Held every Wednesday afternoon in the Elkins City Park. Local musicians gather to play folk/country music and trade stories. All year long. In winter, held indoors nearby.
Learn
The local area newspaper is The Inter-Mountain, Their offices are located at 520 Railroad Avenue, 304-636-2121, .
The city directory for Elkins is WVHome.com The place to find out about everything that's going on in the Elkins area.
Buy
address: 329 Davis Avenue, Elkins, WV 26241

Artists at Work is a co-op ran by local artists. Serving as both a gallery and a gift shop, Artists at Work is a wonderful place to pick up a sentimental gift for that special someone.

address: 100 Douglas Rd Circle, Thomas, WV 26292

A nonprofit store located in the nearby town of Thomas (45 minutes northeast on US-219), offering products made by talented West Virginia artists and craftspeople. Books, cards, stationery, jewellery, clothing, honey, jams and jellies, sauces, knives, home decor, music, instruments, garden and yard supplies, glassware, utensils and pottery.
Eat
Beander's at Due North

address: 314 Davis Ave Elkins, WV 26241

Restaurant and bar. Adequate menu with many offerings, mainly pub style food. Venture here in the evenings for a bar with a younger crowd.

Cheat River InnRoute 33 east of Elkins. Open Wednesday to Sunday 5-9PM; Sunday brunch 10AM-3PM; closed Mondays and Tuesdays. Fine dining, including: fresh seafood, steak, chicken, and pastas. Some vegetarian options. Wednesday night is sushi night. If it's nice out, it's not worth going unless you can get a table on the deck overlooking the Cheat River. Making a reservation is strongly suggested!

address: Davis Avenue

Open daily for lunch, dinner, and drink. Diverse menu including sandwiches and pasta plates. Also serves Appalachian Ale and other brews from the Appalachian Brewing Company.

address: Davis Avenue

Open Monday through Saturday for lunch or dinner. Authentic Venezuelan food and spirits, including tostones, cornados, yuca, arepas, cachapas and tres leches. $7 - $16. The bar in the back often plays host to live local music on the weekends.

Sawmill Restaurant

address: Davis, WV

Home cooked meals. Breakfast-sausage gravy on biscuits with homefries. Lunch-sawmill steak sandwich on grilled homemade bread. Dinner-WV ham with homefries, brown beans, corn bread and salad bar. Has daily specials
Drink
phone: +1 304 259-4221

address: Thomas Avenue and Williams Avenue in Davis

6 ales, stouts and porters. Also serves appetizers, soups and salads, sandwiches, traditional entrees, German and Italian entrees. Live entertainment. $7 - $19.

address: 122 Davis Avenue, Elkins, WV

Journeez

address: US Rt 33 East, Elkins WV

Mountain State Brewing Company

address: 1 Nelson Boulevard

In Thomas. 4 ales and stouts. Provides handcrafted ales to Canaan Valley, Elkins, Morgantown, Snowshoe and surrounding areas. On-site pub.
Sleep
Budget
Days Inn Elkins

address: Randolph Center, 1200 Harrison Avenue, Elkins, WV

Elkins Econo Lodge

address: 266 US Rt 33 East

Clean rooms for an affordable price. Amenities include free wireless internet, swimming pool/hot tub, HBO.
A Little More
address: Route 33 east of Elkins

6 rooms, and 7 cabins. Observation deck over the river, refrigerator, microwave. Cabins have fully-equipped kitchens and private 7-foot outdoor hot tubs. $68 - $83 for lodge, $171 - $196 for cabins.

Elkins Motor Lodge

address: Harrison Avenue, Elkins, WV

Hampton Inn Elkins

address: 480 Plantation Drive, Elkins, WV

Holiday Inn Express Elkins

address: 50 Martin Street, Elkins, WV
Splurge
Go next