Ellesmere Island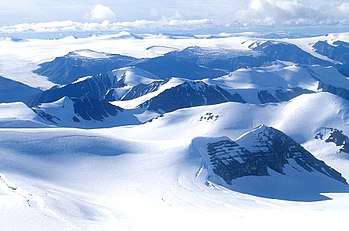 Ellesmere Island
in
Nunavut
is the northernmost populated place in
Canada
. The world's tenth largest island, Ellesmere Island has one small community (Grise Fiord) which is reachable by air (from
Resolute Bay
on Cornwallis Island) or – seasonally – by sea in summer. A far northern military base (CFB Alert) and weather station (Eureka) are reachable only by aircraft.
Understand
Ellesmere Island is the northernmost populated place on Canadian land, 4,654 km north of Middle Island and
Point Pelee
. Established primarily as a means to establish Canadian sovereignty in the high
Arctic
, it consists of three small communities:
Grise Fiord (population 129 in 2016), at the southern tip of the island, is a small Inuit village established in the Cold War era of the 1950s. There is a school, a church and a store.
Eureka, at 80° north near the middle of the island, is a research and meteorological outpost. There is a token military presence to operate satellite links at "Fort Eureka"; CFB Alert cannot be reached directly by geosynchronous satellite, so the signal beyond Eureka must be carried overland.
This is the land of the
midnight sun
; months of sunlight in summer, months of darkness in winter.
More than one-fifth of the island is protected as
Quttinirpaaq National Park
. Barbeau Peak, the highest mountain in Nunavut (2,616 m or 8,583 ft) is located in the British Empire Range on Ellesmere Island. The most northern mountain range in the world, the Challenger Mountains, is in the northeast region of the island. The northern lobe of the island is called Grant Land.
History
The first human inhabitants of Ellesmere Island were small bands drawn to the area for Peary caribou, muskox, and marine mammal hunting about 2000–1000 BCE. The Inuit used the Bache Peninsula region extensively summer and winter until environmental, ecological, and possibly social circumstances caused the area to be abandoned. It was the last region in the Canadian High Arctic to be depopulated during the Little Ice Age.
Vikings from the Greenland colonies reached Ellesmere Island, Skraeling Island, and Ruin Island during hunting expeditions and trading with the Inuit groups. Unusual structures on Bache peninsula may be the remains of a late-period Dorset stone longhouse.
The first European to sight the island after the height of the Little Ice Age was William Baffin in 1616. Ellesmere Island was named in 1852 by Edward Inglefield's expedition after Francis Egerton, 1st Earl of Ellesmere.
Get in
By plane
Almost all transport is by air. The only scheduled destination is
Grise Fiord Airport
(
YGZ
), which has one regular connection from Resolute, 90 minutes away by Twin Otter plane. Flights run twice weekly. A Twin Otter can carry 1000-1200 kg, enough for eight to ten people and cargo. Borek Air flies cargo and a handful of passengers to the village. Air Nunavut operates charter flights.
Access to Quttinirpaaq National Park requires chartering a Twin Otter from Resolute Bay, an expensive four-hour flight. There are no scheduled services.
Access to CFB Alert is by military aircraft, which operate from Canada's largest air force base at Trenton (Ontario).


Get around
There is an airport van that meets the Borek plane when it arrives from Resolute.
One may travel by dogsled or snow machine with an Inuit guide from Grise Fiord.
See
Marine wildlife, iceberg, Beluga whale and polar bear watching
Thule and European expedition sites can be viewed nearby
Do
Hike Grise Fiord's glaciers and ice caps
Snowmobile and boat trips, hiking, walking, photography
Spend a night in an igloo.
Quttinirpaaq National Park of Canada is 640km (425 miles) north of Grise Fiord on Ellesmere Island (a distance comparable to "Drummondville to Toronto") .
Buy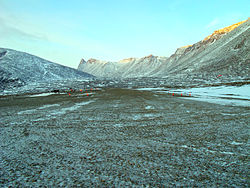 With the possible exception of some local handicrafts or locally-caught fish and game, expect practically everything to be
very expensive
. This is a remote location where everything has to be flown in or brought by boat. The storekeeper has to cover shipping costs not only on the merchandise but also on fuel for heating the store and running a generator.
Eat and drink
There is a small selection of groceries at the co-op store in Grise Fiord. There are no bars, pubs or taverns.
Sleep
address: Grise Fiord Inuit Co-operative

Attached to a local co-op store (with native crafts and a limited grocery selection), this eight-room lodge with 24 beds is one of few accommodations available. Meals are included in the rates.
Connect
Conventional landline telephony is available in Grise Fiord in Nunavut's area code +1-867. Calls destined to Eureka and Alert are placed by calling a federal government number in
Ottawa
, plus a four-digit extension; voice and data is brought into Eureka by military satellite link then overland to Alert. Bandwidth, unsurprisingly, is somewhat limited.
Mobile telephones
have no signal in most Canadian High Arctic points outside the three territorial capitals. Satellite telephone coverage is poor; Iridium works all the way to the
North Pole
but systems that rely on satellites parked above the Equator may fail to communicate – especially if the satellite's location is anywhere other than exactly due south – as they simply disappear below the horizon.
Post office
boxes are available in Grise Fiord; the addresses are PO Box nn, GRISE FIORD NU, X0A 0J0 Canada. Mail to CFB Alert is carried by military aircraft from
CFB Trenton
.
Stay safe
Quttinirpaaq is
polar bear country
. Whiteouts and
hazardous winter conditions
are not uncommon; avalanche risk and glacial conditions are common, while adverse weather may delay departure or return for days. Untested
water
must be boiled or disinfected before consumption in the wild. Access to first aid is limited; self-reliance, map,
GPS navigation
and complete safety equipment are a necessity. Magnetic compasses are useless in this area due to its proximity to the magnetic north. Experience and training in wilderness travel, knowledgeable companions and/or the services of an outfitter or experienced guide are a necessity.
Any rescue in the park or in uninhabited portions of the island is an expensive and arduous task, as resources may need to be brought in from outside Nunavut. Park visitors must notify authorities of their arrival and their safe return to avoid the unnecessary launch of a very expensive search expedition.
See also
cold weather
; the island has lots of that.
Go next