Elliot Lake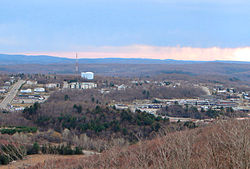 Elliot Lake
is a city of about 10,700 people (2016) in
northern Ontario
.
Understand
Elliot Lake was established in 1955 as a uranium mining community; it reached its economic peak in the 1980s before entering a long period of population decline due to resource depletion and weak export demand. The city has since attempted to market itself (and its stock of inexpensive vacant housing) to retirees and visitors with mixed results.
The city sits on the Canadian Shield, and is surrounded by dense forest, muskeg swamps, numerous lakes, winding rivers, and hills of Precambrian bedrock. The local forests are mixed deciduous and coniferous, with colourful displays in the autumn.
Local wildlife include moose, white-tailed deer, American black bear, beaver, loon, muskrat, otter, Canada goose, and lynx, to name but a few. Fish species include lake trout, speckled trout, rainbow trout, smallmouth bass, pickerel (walleye), and sturgeon.

History
Prior to the settlement of the city, an Ojibwa village existed near the present hospital site on the lake's shoreline.
The city was established as a planned community for the mining industry in 1955 after the discovery of uranium in the area, and named after the small lake on its northern edge. By the late 1950s, its population had grown to about 25,000. The population has varied with several boom-and-bust cycles from the 1950s to the 1990s, from a high of over 26,000 to a low of about 6,600.
In 1959, the United States declared that it would buy no more uranium from Canada after 1962. During the 1970s, federal government plans for CANDU reactors and Ontario Hydro's interest in atomic energy led the town, anticipating a population of 30,000, to expand again. However, by the early 1990s, depleted reserves and low prices caused the last mines in the area to close.
In the years since, the city has found some success promoting itself as a retirement community and tourist destination. In the late 2000s, mineral exploration began taking place in the area, with at least one new mine under preliminary development by start-up miner Pele Mountain Resources
The Algo Centre Mall, built during the 1980s mining boom years, partially collapsed in June 2012 due to severe design error. Water and road salt, allowed to leak from a rooftop parking lot for years, corroded structural metal in the building until it failed. Two people were killed. A new outdoor mall (Pearson Plaza) was built and partially operational in spring 2016.

Get in
Elliot Lake is 27 km north of
Trans-Canada Highway
17 on Ontario Highway 108. Exit the Trans-Canada at the tiny hamlet of
Serpent River
.
Elliot Lake Municipal Airport has no regularly scheduled flights. Five Seasons Transit (+1-800-461-3582) offers a charter shuttle to
Sudbury
and to
Toronto airport
.
Ontario Northland
runs a bus from Elliot Lake to Spragge, where riders can connect to its Sudbury-White River route.
Get around
There are four
local city bus routes
. The main transfer points are the Rexall drugstore in the centre of town and the Foodland at Pearson Plaza. There is no local bus on Sunday.
There are two taxi operators:
Taxi Plus (+1 705 461-6161) and
Union Taxi (+1 705 848-7111).
Hire cars are available from Practicar (23 Perini Rd, +1 705 848-4111).
There is a U-Haul agency at 9 Perini Rd. (+1 705 848-0730).
See
Elliot Lake Nuclear and Mining Museum

phone: +1 705 848-2287

address: 255 Highway 108

Local history and memorial to former miners.

Fire Tower Lookout and Heritage CentreRestored Ranger's cabin erected in the mid 1950s; a replica of a fire ranger's lookout provides a 360° panoramic view of the area.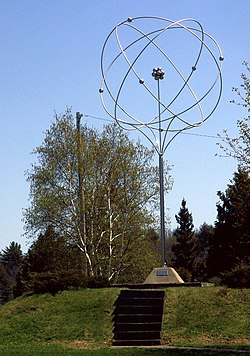 Do
Other activities in the local area include walking trails, beaches, 300km of ATV trails, snowmobiling and cross-country skiing.
Events
address: Elliot Lake Airport Dragway

Annual motorsport drag race, antique car show and activities, mid-July.
Buy
Pearson Plaza

address: Hillside Drive South and Ontario Avenue

The long-awaited replacement for the doomed Algo Centre. Its first tenant (Sobey's Foodland) opened on April Fools' Day 2016, Turner's Department store, Dollarama, municipal library and two-restaurant food court.
Eat
Mum's Place

phone: +1 705 461-3816

address: 8 George Walk

Home cooking, diner food.

phone: +1 705 461-3711

address: 14A Oakland Blvd

Steaks, prime rib, pastas, tacos, sandwiches, wraps, fish and chips, curry, stir fry.

phone: +1 705 461-1717

address: 259 Hillside Dr S

Gem Family Restaurant

phone: +1 705 848-0394

address: 80 Hergott Ave

Home cooking.
Drink
Sleep
phone: +1 705 848-4004

address: 279 Highway 108

52 rooms, fitness centre, indoor salt water pool, conference room and business centre, laundry, broadband Internet, hot breakfast (included).

phone: +1 705 848-8090

address: Highway 108

Twelve main lodge rooms, a 3-bedroom cabin with private yard, campsite and trailer rental. Snowmobile & ATV trails, swimming, fishing and dock slips. Open year-round.
B&B
phone: +1 705 847-0078 or +1 705-261-1754

address: 28 Albert St

Three bedrooms, shared bath, smoke and pet free, full English or continental breakfast, wi-fi.

phone: +1 705 848-4716

address: 25 Albert St

Two bedrooms, shared bath, walk-out lakeside deck overlooking Porridge Lake and ski hill. Wi-fi, in-ground outdoor pool.
Go next