Elsinore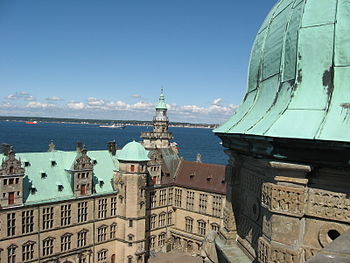 Elsinore
(
Danish:
Helsingør
, no one is quite sure what the official English name is) is a city of just under 50,000 residents, in the north eastern corner of the island of
Zealand
in
Denmark
. It is the closest city to
Sweden
, with frequent ferry connections to its twin city across the strait;
Helsingborg
. It is known for the impressive Kronborg castle (
world heritage site
), its historic city centre and as the setting of Shakespeare's Hamlet.
Understand
History
Until the Middle Ages, Elsinore was nothing but a small trading post. But endowed by the proximity to Sweden, a mere 5 km (3 miles) across one of Europe's most strategically important straits, Øresund, Elsinore since grew into one of Denmark's most important cities. During the 15th century, when Denmark controlled the lands of Southern Sweden, King Eric of Pomarania build two fortifications; Krogen in Elsinore, which would later develop into the famous Kronborg castle, and Kernen (Kärnan) across the strait in
Helsingborg
to guard the entrance to the strait, and subsequently introduced the oft hated Øresund tolls for all passing foreign ships. These ships had to pay the tolls at the docks of Elsinore, and hence used the city for provisioning as well. The history of the toll lasted until 1857, even though Denmark lost the southern Swedish provinces in 1658. With the loss of the toll, Elsinore plummeted into poverty, but Denmark's subsequent industrialization had a positive impact on the city, for example the city developed an important ship building industry in line with its maritime heritage, the ever growing ferry traffic to Sweden also had a positive impact, with many Swedes day tripping to Elsinore for shopping, above all for alcohol taxed much less in Denmark than across the strait. While the ferry traffic has faded somewhat since the building of the Øresund bridge between Copenhagen and
Malmö
, it still brings life to the city,
Literature
While any Danish student can recite the history of the Øresund tolls (even held upside down and blindfold while being tickled by a feather and forced to listen to loud death metal), internationally Elsinore is above all known for its part in Shakespeare's
Hamlet, Prince of Denmark
, one of the most celebrated plays in the English language. Elsinore's prominent place in European history in the age when the play was written (ca. 1600), is by some claimed to be the reason Shakespeare chose Elsinore and Kronborg as the setting, rather than the Danish capital.
Tourist information
phone: +45 49 21 13 33

address: Havnepladsen 3

Easily found just beside the railway station,
Get in
By train
The coastal railway (Danish: Kystbanen) runs along the Øresund coast from
Copenhagen
and various places in southern Sweden (though it will often be faster to take a train to Helsingborg and catch a ferry across the strait from places in Sweden). The trains are operated by
DSB
, the journey takes 45 minutes from Copenhagen central station with trains every 10–20 minutes during the day and every hour during night time. Single tickets are very expensive (108 kr in 2019), so consider using a City Pass Large (covering the entire length of the railway from Copenhagen to Elsinore). If you are considering visiting the Louisiana art museum, it's both feasible and much more economical to lump them together into a single day trip.
The Lille Nord (Little North) railway
leaves once or twice an hour for
Fredensborg
and
Hillerød
, the sites of North Zealand's two other great palaces. Journey times are 25 and 33 minutes respectively; there is an S-Train back to Copenhagen from Hillerød if you plan on seeing the palaces as a day trip. Finally, Hornbækbanen runs along the
coast
north-west from the city to Gilleleje on the northern tip of Zealand, for access to the region's excellent beaches.
The train station in Elsinore, which has direct access to the ferry terminal, is something of an attraction itself. It hails back from 1891, and is built in the same style as the Rosenborg Palace in central Copenhagen. It was thoroughly renovated in the early 1990s and subsequently listed. When arriving it's worth taking a bit of extra time to drink in the atmosphere of the richly ornamented and decorated foyer.
By boat
Take the ferry from
Helsingborg
. The trip takes about 20 minutes and the ships run at least every hour 24/7. Daytime there is a departure every 15 minutes. Single passenger tickets costs a reasonable 20-25 kr per adult, while car tickets are much more expensive, 280-375 kr, internet discounts often available. Unless you are bringing a car, reservations are never necessary, and even with a car, you'll rarely have to wait more than 20 minutes without a reservation, and most times you can drive straight on board.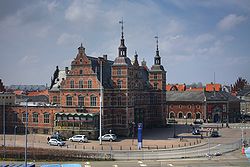 phone: +45 33 15 15 15

The largest and most frequent ferries.

phone: +45 53 73 70 10

Small passenger only boat
By car
The motorway E47/E55 from Copenhagen ends in Elsinore, it's a 50-km (30-mile) drive, taking around 40 minutes outside of rush hours. Route 6 takes you to Hillerød, in about 30 minutes.
Get around

While the city is quite expansive, most sights of interest - besides the technical museum - lies within the compact city centre, so walking is really the best way to get around. Though the city does have a network of local bus lines, and two of the small local railways has several halts within the city. Most attractions are well signposted.

See
While most of the Hamlet hungry crowds head straight for the castle, the old city centre north-west of the station surrounding the church, is well worth a visit in itself. The enormous wealth that flowed through the city in the old days, is highly visible with many grand, often colorful, old houses flanking the narrow streets, a few of them have preserved the old cobblestone pavement. The lively harbour can also be worth a look if you need to kill some time.
Kronborg Castle
phone: +45 49 21 30 78
address: Kronborg 2, 3000 Helsingør
Originally build by King Eric of Pomerania in the 1420s at the narrowest point of the Øresund strait, it was originally called Krogen (or the hook in English). Kronborg attained its current name when it was rebuilt by King Frederik II into a grand renaissance palace, unrivaled anywhere in Europe. All but the exterior walls were destroyed in a fire during the 17th century; it was rebuilt in 10 years, but the interiors never attained their former glory. 20 years later, another disaster struck the castle when Swedish troops bombarded and conquered Kronborg, taking with them many priceless treasures as spoils of war, many of them now on display in various Swedish museums. Following the Swedish conquest, demonstrating its reputation as impregnable was all but a myth, the Danish king ordered the defenses strengthened, with a new advanced line of defense and ramparts around the castle, to keep the myth alive. Subsequently the castle was used as a prison, until the army took and used the castle as barracks until the 1920s. It was opened to the public in 1935 following nearly 10 years of renovations. In 2000 Kronborg was inscribed on the
UNESCO World Heritage List
, citing Kronborg as "an outstanding example of the Renaissance castle, and one which played a highly significant role in the history of northern Europe."
Within the castle there is access to the royal chambers, the casemates with the statue of Holger Danske, the chapel and an exhibition about Shakespeare.
Handels og Søfartsmuseet

phone: +45 49 06 85

address: Ny Kronborgvej 1

It's all about Danish maritime history since the renaissance, told by photographs, models and exhibits on everything from the Danish colonies in India, Africa and West Indies over naval battles and the east Asia trade to recent history.

address: Kronborg

Since the last soldier left Kronborg in the early 1990s, life has been breathed back into the lovely centuries-old yellow garrison buildings with extensive renovations and allowing an increasing number of artists to set up a small creative colony within the castle, with galleries selling and displaying various forms of art and industrial design - from paintings and photography to ceramics, textiles and glass works.
Culture Harbour Kronborg
The city administration is spending huge amounts of money trying to create a cultural powerhouse at the disbanded shipyard directly adjacent to the castle; this includes extensive renovations to the ramparts bringing them closer to the original layout, new public spaces, broad-walks and new museums and cultural venues designed by some of the country's top architects, including the superstar Bjarke Ingel's new Maritime Museum in the old dry dock. It all looks very exciting and innovative, but will also entail large scale construction obscuring the site, and Kronborg in general, for the next couple of years. You can check up on the current status of the works at the project's
website
.
phone: +45 49 28 18 16

address: Allégade 2

In the old shipyard administration offices a group of passionate previous employees together with the city council have set up an exhibition on shipbuilding in the city including collections on the craft in general.

phone: +45 49 28 37 47

address: Allegade 2

The newest addition to the city's cultural life is an interesting modern architectural piece fitted into the old shipyard overlooking the castle. The house features two stages for the local theater and frequent concerts, an exhibition space for changing displays of contemporary art and photography, the city's main library with a small English section, internet access and various events held regularly.
Other attractions
phone: +45 49 22 26 11

address: Fabriksvej 25

Housed in a 8000-m² former iron foundry, within its walls is a large collection of steam engines, cars, airplanes and other inventions with particular emphasis on Danish achievements in science and industry like the 1888 Hammel car which, as far as is known, is the oldest original automobile still running, the world's first typewriter and the world's first electromagnetic sound recorder. In the impressive aviation collection which counts a number of complete historic aeroplanes, is also the plane of Ellehammer, which according to the Danes, were the first to take flight on the continent. Many exhibits can be run or operated by inserting a coin.

Flynderupgård Museet

phone: +45 49 28 19 00

address: Agnetevej 9, Espergærde

Set in a classic 1830 country house, surrounded by a beautiful rose garden recreated from its 1920s layout. The museum's main building houses permanent exhibits of a grocery store from last century as well as a typical area farmhouse. The fields around the museum are home to a farming operation using tools and animals from the same period, and there is also an exhibit on local fishing in the early 1800s. Best suited for families.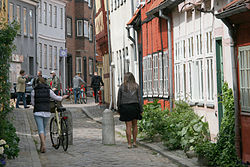 Do
One of the best experiences of the city is the grand
Shakespeare at Hamlet's Castle
-theater-festival at Kronborg held every August, which involves multiple theater-troupes - both Danish and international - performing a variety of Shakespeare's plays, usually including
Hamlet
.
You can use the warm summers to hang out on the
Beaches
; Snekkersten Strand south of town, Grønnehave Strand in town - just north of the castle, or pretty much the whole stretch of coast going north. Just west of town is the Teglstrup Hegn forest, which is especially lovely in early spring when the Anemone flowers are in bloom.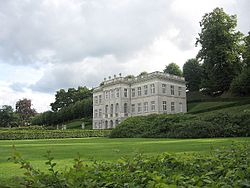 Fishing
The waters around Elsinore are extremely popular with anglers, all year round they can be spotted on the piers and bulwarks of the city, but during May–July when the garfish (
Danish:Hornfisk
) season is in swing, it's more like a bonanza! The rest of the year it is mainly herring and good size cod that end their life on the evening table. Fishing equipment can be rented at Helsingør Bådudlejning listed below. The harbour also hosts a large collection of
fishing tour boats
and charters, and the harbour has been kind enough to provide a
list on their website
(It's in Danish only, but phone numbers are pretty self-explanatory). In the summer it
is
often possible to just show up at the harbour and find one, but it's not the norm, and you may be out of luck some days. Carrying a fishing license is compulsory for all fishing found around Elsinore and nearly all fishing in Denmark. It can be bought at all post offices or at the tourist information for 30 kr per day or 90/124 kr for a week/year.
phone: +45 49 21 42 55

address: Færgevej 2

Besides dinghies they also rent fishing rods, officially only for the boat rentals, but if you are a tourist and willing to hand in a deposit, they might just comply.
Buy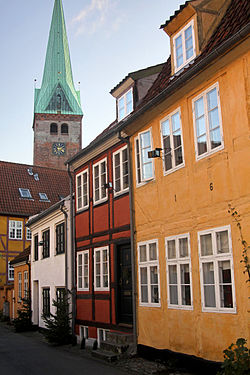 The City of Elsinore has around 250 stores. The Downtown core of Elsinore, also referred to as the
Pedestrian Zone
, is home to many fabulous and cozy stores where you can find almost anything for anyone. There are several bakeries/conditories, banks, beauty salons, bookstores, a butcher's shop, electronics and appliance stores, footwear and accessories stores, fresh produce shops, home decor stores, jewellery stores, quite a few liquor stores, a post office, as well as plenty of boutiques catering to those shopping for women's, men's and children's apparel.
The Axel Torv MarketHas booths where it is possible to buy fresh fish, cheese, fruits and vegetables from local farmers and fishermen. It also plays host to the Annual Christmas Fair running from late November until just before Christmas Eve. From its 30 little quaint booths, it has become a popular place to buy homemade Christmas ornaments, quilts, birdhouses, jewellery, clothing, candles & lanterns as well as sausages, cheeses, specialty mustards, fresh fruits, nuts, cakes, pastries, pancakes, waffles with ice cream and marmalade and coffee. The Christmas Fair also has an ice rink, pony (and camel) rides, and a nostalgic Parisian Ferris Wheel dating back to 1912.
phone: +45 49 21 12 23

address: Groskensgade 2A

The city's main pharmacy, well stocked and with competent staff that can help you find local equivalents of most drugs found at home.

address: Stürups Plads 1

A large (by local standards anyway) indoor shopping center with more than 30 stores, including a hypermarket (Føtex), a sports and recreation store (Intersport) and a drug store (Matas). Has ample parking with 550 free parking spaces

address: Birkedalsvej 1

Elsinore's second shopping center, has more than 30 larger stores and ample free parking. For tourists it will mainly be the post office, the drugstore (Matas) and a handful of supermarkets that are of any interest, though these are also available much closer to the city center. Each store maintains their own opening hours.

phone: +45 49 21 01 28

address: Stengade 23

Has a collection of books in English.

phone: +45 49 20 27 29

address: Stengade 33, 1st floor

A local leather worker who designs bag, sandals and jackets.

phone: +45 49 20 16 49

address: Anna Queens Stræde 5a

Local ceramist working out of an old romantic half timbered house. Sculpture pieces, artworks and home decór.

phone: +45 4920 2127

address: Bramstræde 4A

All kind of outdoor gear including clothing, footwear, backpacks, sleeping bags, tents, tools.

Tingel-Tangel

phone: +45 4921 0444

address: Bramstræde 7

Small shop with gift ware, souvenirs, post cards, Danish industrial design etc.

phone: +45 48 36 19 05

address: Stjernegade 20

Wonderful shop for kids toys. Very well curated collection.

phone: +45 44 95 33 75

address: Strandgade 71A

Nice collection of casual clothes for women and children as well as nice Danish dishes and furnishings.
Eat
For a regional centre and a large tourist destination the culinary landscape of Elsinore is surprisingly bland, and to make matters worse a couple of the city's best restaurants went bust during the 2008 financial crisis. That being said there are still some atmospheric eateries in the old part of town, and day-trippers are well catered for when it comes to grabbing a bite at lunch in the many cafés, so skim the
drink section
as well for a selection of those. You are also well catered for with cheap shawarma and pizza joints, well, cheap for Denmark anyways.
phone: +45 49 20 00 14

address: Stengade 81B

Newly opened French bistro with a changing menu at reasonable prices.

phone: +45 49 21 31 74

address: Sct Anna gade 48

Unpretentious no frills food at reasonable prices, fitting for the old workers guild house in which its located. The menu is mainly Danish dishes with small hints of the French kitchen here and there.

phone: +45 49 20 20 45

address: Strandpromenaden 6

Folksy place in the harbour serving traditional Danish food, good value specials include Lunch buffet during weekends for 155 kr and a changing 'Dish of the day' for 80 kr. A la carte

phone: +45 49 21 18 80

address: Kongensgade 6

Italian restaurant in a nice old building in the centre. Decent food.

phone: +45 49 26 48 49

address: Bramstræde 3

Nice place with great outdoor seating and atmosphere in a historic house in the city centre, and probably the best choice for gourmets.

Rådmand Davids Hus

phone: +45 49 26 10 43

address: Strandgade 70

Tugged away in a side alley, this place in an impossibly cute 18th century house. Has outdoor courtyard seating and serves middle of the road traditional Danish lunch with a few international here and there.
Drink
If you want to meet the Swedes over some drinks, but are afraid to step through the time-pocket back into the 1920s prohibition era that still reigns across the sound, Helsingør is the place to do it. Well, exaggeration promotes understanding, but still Swedes have been plowing the dedicated alcohol shops and bars in town since the dawn of man, to escape the high prices stamped on the daemon drink over in Sweden, and enjoy the more liberal attitude towards drinking in Denmark. It's not as bad (or good depending on your point of view) as it used to be, but it still ensures that Helsingør is a fairly lively place to be during the weekend nights. Mind you, many locals still prefer the train ride to Copenhagen for a night out, and trains run all night.
There is a notorious group of trouble makers from the public housing blocks in the "suburbs", so all the clubs apply a general dress code to root them out, avoid street wear (i.e. hip hop outfits - Karl Kani etc.) and trainers if you plan on taking peek at the nightlife here.
Bars, pubs and clubs
phone: +45 4921 1783

address: Strandgade 75

Classic Danish working class pub with outdoor seating on a small patio on the square facing the harbour.

phone: +45 25 307 307

address: Bjergegade 1

The largest club in the city covering 2 floors and a balcony for smokers, popular with Swedes from across the sound. There is a dresscode in effect mainly to discourage 'gangsters' so don't show up looking like one. The club doesn't open until 23:00.
Cafes
Sleep
As mentioned above, it is perfectly feasible to visit Elsinore on a day trip from Copenhagen, but if you have ample time its a good base to explore
North Zealand
and Northern
Scania
with its hostel and camping site, or if you just want to escape the big city bustle of Copenhagen. Visitors may also prefer staying in
Helsingborg
on the Swedish side of the strait, as it has several larger chain hotels and is only 20 minutes away by ferry.
Budget
Danhostel Helsingør Vandrehjem

phone: +45 49 21 16 40

address: Ndr. Strandvej 24

Easily one of Denmark's best located hostels, directly on the beach, with good facilities - including guest kitchen, laundry room, free Wi-Fi and bike rental.

phone: +45 4928 4950

address: Strandalleen

Directly on the beach north of the castle, there is no faulting the location of this campsite. If you didn't bring a tent they have basic cabins sleeping up to 6 people, during high season and summer weekends you are required to stay at least 2–3 days in the cabins.

phone: +45 49 21 09 02

address: Bramstræde 1

Cheapish family run hotel in the city centre, the rooms were a bit kitschy for one traveler, but their 1150 Kr weekend specials is good value, otherwise.
Mid-range
Splurge
phone: +45 4921 4000

address: Ndr. Strandvej 2

A stone's throw away from the palace of the same name, this historic, 4-star, beachfront hotel from 1858 is one of nations most renowned, and was thoroughly renovated a few years back. Has a private pool, wellness and conference facilities as well as one of only 3 licensed casinos in the country.

phone: +45 48 38 03 33

address: Nørrevej 80, Snekkersten

Hotel at a former manor house with spa bath and pool at the roof terrace. Rooms with free internet and minibar. Billiard, volleyball, golf and other outdoor facilities available.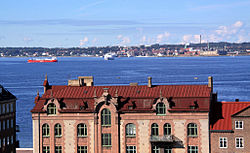 Go next