Eluru
Eluru
is the capital of West Godavari District in
Andhra Pradesh
. It is a small colorful City with an area of 14.5sqkm. It is 6th biggest city in Andhra Pradesh with a population of 3.5 lakh.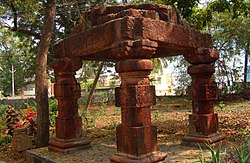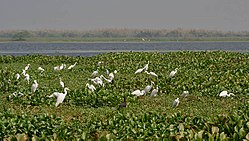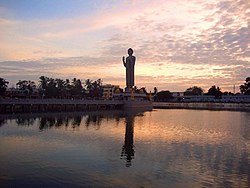 Get in
By plane
There are now flights to Vijayawada from Hyderabad, Chennai and Bangalore. Vijayawada is less than a hour bus ride away.
One can also use a flight (National or International) to
Hyderabad
airport and take a train (6 to 7 hour travel) to Eluru. For other international connections,
Chennai
can also be used which is an 10 hour train ride from Eluru City.
By train
There are plenty of long-distance trains available at the Vijayawada Station to get to any part of the country and Eluru also has a railway station which has an halt from Every Train passing through it.
Local (suburban) train travel is available between Eluru Rajahmundry and Vijayawada.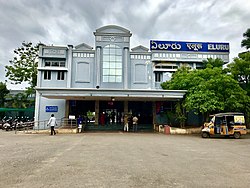 By bus
APS RTC buses travel to longer distances with in the state as well outside the state, for example to Hyderabad and Bangalore.
Private buses many private buses travel across the region covering both center city, suburban and rural areas.
Parking in the city is improving. It may be easy to park two wheelers, but finding parking for Cars bit harder. Generally parking is provided by the city government as well as the business owners.
Get around
On foot
Almost all the locations in the city can be accessed by foot, all the roads are pedestrian friendly as most of them contains footpaths.
Buses
There are two functional bus stations in the city. Eluru New bus station and Eluru Old bus station. Buses ply from these stations based on destinations. Frequent intermediate buses are available in-between them.
By Car (Local)
All the roads in Eluru had a minimum width of 3.7 metres which makes travel ease with cars and other four wheelers. Taxi services are also available in the city.
Commuter Rail
Using the local trains, Eluru city region can be accessed with the following train stops. The circular trains are to be introduced in the near future.
Vatluru(Eluru Western Suburban)
Eluru Main (1 Town)
Powerpet (Downtown area)
Denduluru (Eluru East Suburban)
Bhimadole (Elurur Rural)
Auto
Auto-rikshaw is one of the major transportation mode available in the city. Over 10,000 autos are registered within the city and its suburban areas
Motorbike/Bicycle Motorbiking or cycling in downtown and busy areas can often be quicker than taking the auto-rickshaw or a taxi.
See
Abhaya Buddha Statue, 1 Town. 74 feet statue of Abhaya Budhha in a pond.
Brundhavan Gardens, Pathebad. Recreational park with walking track.
R.R.Pet Park, R.R.Pet. Children park.
Janmabhoomi Park, N.R.Pet. Recreational park on the banks of Tammileru river.
Kolleru Lake. Largest fresh water lake, present at a distance of 10km from the city.
Holy Land, Sanivarapupeta. Only two of its type in India, present at a distance of 7km from bustation and railway station.
DwarakaTirumala. Also known as Chinna Tirupathi, is located ata distance of 40km from the city, is home from Lord Venkateswara.
Guntupalli Buddhist Monuments. Located at a distance of 40km from the city. caves carved in ancient period by Buddists are located here.
Indian Institute Of Oil Palm Research, Pedavegi. Located at a distance of 10km from the city.

Kothur Mill
Do
It is well known for its Traffic Congestion. One should have a look at shopping fest of R.R.Pet Market, 1 Town Fish Market, Jute Mill Industry and 1 Town Market areas on Sunday.

Buy
Central Plaza, R.R.Pet. Only shopping mall in Eluru.
Trinath Fashions, R.R.Pet.
Chandana Brothers, 1 Town.
R9000, R.R.Pet.
Main Bazar, 1 Town.
Sunday Market, R.R,Pet. Opened only on Sundays on R.R.Pet Main Road.
Eat
Appalaraju Military Hotel near Old bus stand Very delicious food.

Banana LeafA Multi Cuisine Restaurant in Manya Guestline - A Star Hotel

DosaDefinitely make sure to eat dosa- a kind of crape at Vasanthamahal center, Hai tea center, or Fire station center.

Hotel Grand Aarya

address: N R Pet

Madhulatha

address: R. R. Pet.

Akarsh Pride, R.R. Pet.
Biryani House, R.R. Pet.
Hotel Athidi International, R.R. Pet.
Adithya Central, 1 Town. One of the star hotels in Eluru.
Ravi Sweets, R.R.Pet.
Sweet Magic, R.R.Pet
Ibaco Ice Cream Parlour, R.R.Pet.
Drink
Kaju Juice

Sugandhi Soda

Friends Fruit Juice (R.R.Pet)
Sleep
Athidi

address: R. R. Pet

Three-star hotel.

phone: +91 8812-226922

One of the star hotels in Eluru.

Surya Residency

Valentino

, R.R.Pet.
Vasanth Mahal

, Jute Mill Center.
Hotel Usha Valentine, R.R. Pet.
Haritha Resort Gudivakalanka, Gudivadalanaka. Kolleru lake resort hotel.

Aditya Ceentral

address: 1-Town
Go next