Ely (England)
Ely
is a small, historical cathedral city in
Cambridgeshire
,
England
.
Understand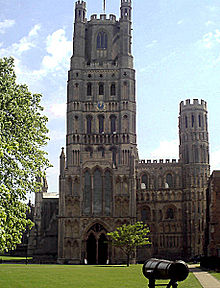 Built on a chalk hill, the city is thought to be named after the eels in the nearby River Ouse.
The hill was once an inaccessible island in the middle of the
Fens
.
It was also the last stronghold of Anglo-Saxon resistance, under Hereward the Wake who hid in the original cathedral until the Normans crossed the Fens in 1071.
Despite the transformation of the surrounding landscape from watery marshland to fertile farmland, and the continuing growth of nearby Cambridge, Ely's character as a tiny, isolated city remains largely untouched, and the "Ship of the Fens" dominates the surrounding landscape in much the same way it has done for most of the past millennium
Get in
By train
Ely station
is on a major junction of a number of lines and so it's possible to enter and exit from a large number of directions.
Ely has direct trains to
London Kings Cross
,
Stansted Airport
,
Ipswich
,
Norwich
,
Kings Lynn
,
Peterborough
, and via Peterborough to
Birmingham
and
Liverpool
. You can also connect at Peterborough for fast trains to
Scotland
.
If you want to get to London, then it is quicker to go to London Kings Cross (70 minutes) with the train running non-stop after Cambridge, although tickets to London Liverpool Street station are a bit cheaper. The latter journey will take about 90 minutes via Hertford North (transferring at Cambridge).
Trains depart Ely to both Liverpool Lime Street and London Liverpool Street Station. Be careful as they are 200 miles apart!
By car
Ely is situated on the A10, some 16 miles north of
Cambridge
, where it is possible to join the M11 for fast access to/from
London
(72 miles). Nearby roads may be flooded in the winter (typically the A1123 at Earith, and A1101 at Welney). Many of the smaller roads across the Fens have uneven surfaces and unguarded ditches, which lead to a number of fatalities each year.
By bicycle
For the more adventurous it is possible to cycle into Ely from
Cambridge
.
The 16 mile journey follows the river and for an average person takes around an hour and a half, with the majority of the route being a designated cycle path.
Get around

Ely's small city centre can easily be traversed on foot. Local villages are served by buses running from Market Street, check the boards or tourist information centre for departures.

See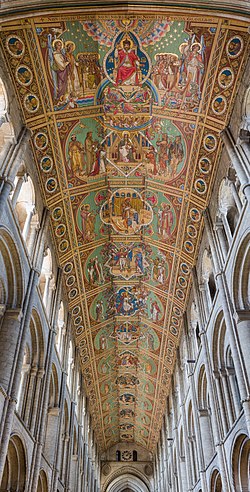 Ely CathedralFounded by St Ethelreda as a monastery church in 673, the present cathedral building was started in the 11th century and upgraded to a separate diocese in 1109. The cathedral has a unique octagonal tower and lantern, completed in 1328 after the collapse of the original Norman tower. You can get a year pass alongside your regular ticket. Enquire inside for a tours up the west tower for fantastic panoramic views.
Eat
Budget
Tesco 24 hours from Monday 8AM to Saturday midnight, Sunday 10AM-4PM - next to the train station.

The Hereward

phone: +44 1353 772050

address: 45 Market Street

A large pub. Advertises cheap food. Only allows people aged 18 or over.
The Minster Tavern The Gallery. Nothing remarkable, but it's possibly the cheapest pub food in town and have "and beer" nights where you can enjoy a curry, grill or Sunday roast with a free pint depending on the day. Snacks from £2.
The Business Market Square, Thursday and Saturdays only. All sorts of sausage, burger, chicken, bacon, egg and cheese combinations. £2-4.
Streetcafe Coronation Parade (High Street), 7AM to 7PM daily. Very wide menu, ranging from full English breakfasts to Salads, Fish and Chips and some wonderful desserts. Expect to pay around £2.90 for a sandwich and a coke, up to £8.10 for a full English breakfast with toast and your beverage thrown in (Breakfast "C"). Very good food.
Ely Market Market Place and Dolphin Lane, every Thursday, Saturday and Sunday, 8:30AM-4PM. Wide range of street food from curries, samosas, curry goat, burritos, dim sum, Thai noodles, artisan roast coffee, chimney cakes and even traditional English. Ely Farmers' Market (every second and fourth Saturday) also has a good range of vegan food.
Mid-range
address: 39-41 Market Street

This brasserie offers a wide range of good quality West and East European food, including a wonderful 12-oz rump steak with fries, herb butter and salad for £14. Expect to pay between £8 and £16 for a meal before your drinks.

address: 43 High Street

The Ely branch of this reliable pizza chain. Pizzas £6-8. Average meal for two £20 with a drink. Vouchers all over the place on the internet so you could get a bargain.

address: 12-14 High Street

Italian-style pizza, pasta and chicken, with views across to the Cathedral. Pizzas £6-8. Average meal for two £20 with a drink. Lots of space over two floors.

Five Miles from Anywhere (No Hurry Inn)This place does great pub food and beers. All sorts of A4-sized post-it notes advertise gigs on the small stage in the huge outdoor beer garden. The food is very good, the beer is very reasonable. Highly recommended, and more reasonable in terms of price than the Lazy Otter.

phone: +44 1353 662713

address: 42 Annesdale

A riverside pub with traditional pub food, bar snacks & daily specials board. Very overpriced, with food which comes nowhere near what you're paying for.

phone: +44 1353 662633

address: Ship Lane

An exhibition centre, bar and restaurant. Sandwiches, bar snacks and main courses for £8. Restaurant closes over Winter period due to lack of bookings. Used to have semi-regular gigs. Check for listings.
Splurge
The Old Fire Engine200 m from the Cathedral. A relaxed restaurant for lunch, dinner as well as morning coffee and afternoon tea. There is a homely sitting room and an art gallery upstairs and the garden is lovely in good weather. The main courses at lunch cost approximately £15 and are generally very good. They also offer second helpings!

Grand Central

phone: +44 1353 664388

address: 5-5A Annesdale

Nice riverside location in a converted boathouse. This place is meant to be some sort of American diner.

address: 65 Waterside, Ely

near the river. Winner of the UK Tea Council's Top Tea Place 2007. Afternoon tea is £12 per person, including a choice of 40 teas, finger sandwiches, scones with jam and cake.
Drink
The Minster Tavern, Directly across from Cathedral entrance. Generally inexpensive drinks (£2.00 for a Tennant's Lager up to £3.00 for a Guinness). One of the oldest pubs in town with lots of character, including its very own ghost (a Benedictine monk who likes ale). Can be quiet during the day, generally busiest Fridays and Saturdays until 10PM and after midnight.
The Royal Standard, Slightly out of the way down the hill from the market square (although distance is hardly an issue in Ely!), the Standard is great fun on Fridays and Saturdays in particular with fun cover bands and a charismatic, Hawaiian short wearing landlord. Beer is relatively inexpensive and the back of the pub has been extended so the place is now an odd mix of traditional pub and old people's home.
The Town House, On Market Street opposite the Hereward, the clientele and atmosphere of the pub is very variable depending on the day of the week. During the week, in particularly in summer it is a nice place to enjoy a drink outside. On Fridays, Saturdays and occasionally Sundays the pub is so busy it operates a one-in, one-out policy so expect a queue after 10:30PM, but in a group it can be worth it for a fun night. Great during events such as the World Cup with a BBQ outdoors and the beer festival in July is a must in terms of pub beer festivals.
The Prince Albert, Half way down Silver Street is the former "Best pub in Ely". The Albert holds the vote of many for the highest standard of beer in Ely, particularly Greene King. The beer garden is lovely in summer. Food is great, and the pub still retains its living room feel. Not the best place in the world for a large group of people, but much better choice than the Fountain on a pub crawl.
The Hereward, A functional drinking barn on the Market Street, this place is like any chain pub in any city, with little atmosphere but everything you may need a hand. Formally the hardware store Cutlacks, the pub offers relatively cheap food which is variable in quality, live sport, and occasional karaoke and bands. Best avoided on Fridays and Saturdays unless you're starting a bit of a party (in which case the Town House is across the street for the conclusion!) The occasional beer festivals there are great, with inexpensive guest ales served at one end of the bar.
The Fountain, south end of town (1 Silver Street, near Barton Square). Good real ale and nice interior, but very pricey (£3.90 for a pint!) Take two minutes to walk further up Silver Street to the Albert.
Sleep
Various Bed & Breakfast establishments can be found in the city. A web search should turn up a vacancy. Most are within walking distance from the train station.
phone: +44 871 984 6028

address: Witchford Rd,

Has cheap rates if you book in advance (as low as £15). The Ely Travelodge is at the A10/A142 junction, which is convenient for motorists, but noisy and a mile from the centre. There is a small Budgens supermarket nearby for cheap self-catering.

phone: +44 1353 663574

address: 2 Lynn Rd

Can't miss it if you drive into Ely from Cambridge, as the old A10 road makes a sharp left in front of it before meandering on to Littleport. Looks posh, and is about 100 yards from the Cathedral. You may find it difficult to park during the day.

Braham Farm (campsite)

phone: +44 1353 662386

address: Little Thetford

The Braham farm campsite is run by a friendly couple, it's far enough from the road not to be noisy. It's got a footpath to Ely from it. It's got a good view of the cathedral too. Quite small, will need to book on summer weekends.Quite basic, with no shower facilities, but lovely!

phone: +44 1353 887777

address: St Mary's Street, Ely, Cambridgeshire CB7 4EY

Luxury Hotel pretty much in the centre of Ely, offers in house bars, dining, luxurious rooms. Worth it if you have the money to spare and can get a room!
Go next