Ely (Nevada)
Ely
is in eastern
Nevada
near the
Utah
border at the intersection of US Highways 50, 93, and 6.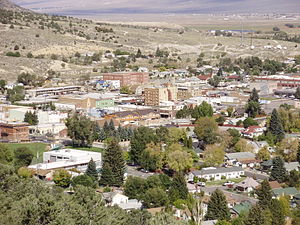 Get in
By car
U.S. Routes 6, 50 and 93 converge on Ely. To the north is Highway 93, which connects to Interstate 80 at
Wells
, I-84 at
Twin Falls
and I-90 at
Missoula
. Highway 50 heads west from Ely, eventually making its way to
Fallon
and
Carson City
on the other end of Nevada. This highway has an alternate route between Fallon and
Fernley
for easy access from I-80. Highway 6 travels southwest of Ely and connects to
Tonopah
and the
Sierra Nevada
region of
California
. Southeast of Ely there is a concurrency of all three highways; Route 93 quickly branches off south toward
Las Vegas
, while Highways 6 and 50 share the road all the way to
Delta
in
Central Utah
, not far from Interstate 15.
By train
There is no local train service.
By plane
Ely AirportNo commercial air service is available from Ely Airport, but is open to general aviation.
The nearest large commercial airports are in
Salt Lake City
, Utah and
Las Vegas
, Nevada.
See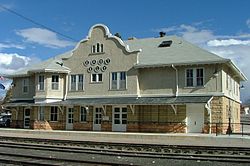 Do
If you win...
Chances are that, if you win it big in Ely and you are not a U.S. citizen your winnings will be subject to a
30% withholding tax
from the Internal Revenue Service. That $10,000 slot winning can dwindle quite quickly if that is taken off the top. Not to worry though you can reclaim your gambling winnings tax through a 1042-S form. You should get this from the casino so don't lose it: it is your starting ticket to getting your gambling winnings back.
Ely has several small casinos that offer slot machines if you want to try your luck, and the Hotel Nevada has live gaming with blackjack and poker tables.
At the east end of the city there are a few legalized brothels that will give visitors free tours.
Photographers will want to take a stroll downtown for shots of a pretty little park, old buildings and signage, and the magnificent neon prospector on the Hotel Nevada's Nevada Club.
Surrounding the city are mountain ranges that offer the adventure of driving a 4-wheel drive vehicle over beautiful mountains, up canyons, and remove valleys.
Mountain climbers can find many peaks over 11,000 feet in elevation.
phone: +1 775 728-4467

phone: +1 775 289-2202

address: 145 W 15th St
Eat
My Papa's Pizza

phone: +1 775 289-3722

address: 301 Aultman St
Sleep
Go next
Ely is at the crossroads to several destinations throughout the western United States.
Idaho
is accessible via US 93 north, while US 50 and US 6 lead to points in
California
,
Utah
and
Colorado
. The section of US Highway 50 heading west out of Ely is known as "The
Loneliest Road in America
." Central Nevada is filled with desert valleys between sets of mountain ridges. As Highway 50 crosses each of these gently curved valleys in a perfectly straight course, you can often see 20 or 30 miles of completely empty road ahead of you. You just must make sure that you have a car in good working condition as there are basically no services for more than 50 miles at most times and summer temperatures can easily reach , and winter temperatures getting well below .
Las Vegas
is approximately four hours away on US 93 southbound, but one can take a shortcut via
Nevada State Highway 318
, which begins at an intersection with US 6 about 30 miles outside Ely. Taking this route shortens the trip to Vegas by about 60 miles (100 km), but the road is extremely desolate with nearly nonexistent cell phone coverage and no services to speak of apart from the small town of Lund. Don't try it unless you trust your car and you have emergency supplies.