Embu das Artes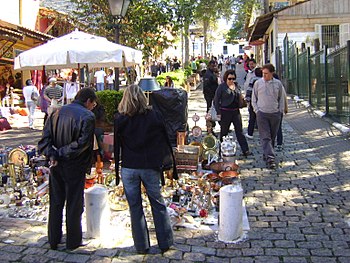 Embu das Artes
is a city in the
Grande São Paulo
,
São Paulo state
. "Embu," as it is often referred to, is also knowns as Land of the Arts or, simply, Embu of the Arts. The name appeared in the 1960s, with a strong movement characterized by the primitive art and the influence of the hippie culture in the city.
Painters, artists, and artesoes have elected the city as the landmark of the Brazilian culture.
Understand
The city of
Embu
began from the
M'Boy
indigenous settlement, founded by Jesuits between 1555-1559. The
Nossa Senhora do Rosário
church, still present in the city, was constructed in the second half of the 17th century.
The peaceful town started to change in 1920, when the painter Cássio M'Boy, a lover of the
caipira
lifestyle, arrived in Embu. Cássio earned an international award in
Paris
in 1939, and afterwards, Embu started receiving an influx of artists, like Assis, Sakai, Gama, Solano Trindade and Ana Moysés.
At the end of the 1960s, hippies started the tradition of the Open Arts Fair in the city, that persists in the weekends and holidays to this day. In 2011, Embu changed its name to
Embu das Artes
.
Get in
By car
Embu das Artes is a 40-min drive from downtown
São Paulo
, approximately 15 miles.
Rodovia Regis Bittencourt
(BR-116) leaves São Paulo in the direction of Curitiba, as you pass Taboão da Serra then Itapecerica da Serra. It can be easily accessed by taking Av. Francisco Morato, in São Paulo, and following the signs to Taboão da Serra.
By bus
Embu das Artes can also be accessed from São Paulo by metropolitan buses
(EMTU)
, that depart from some metro stations including Tietê, Anhangabaú and Capão Redondo. These buses are cheap (most cost R$3-4) but not very practical, as some take longer than 2 hours to get to Embu.
Get around

The area of interest to a visitor is the city center, which can be easily explored on foot.

See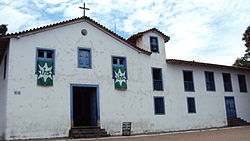 phone: +55 11 4704-6565, +55 11 4781-5971

address: Centro

Occupying all the central area of the city, the traditional open air fair, that happens since 1969, invites the visitor on a journey to the Brazilian colonial period. The 462 expositors are divided in the sections of plastic arts, ornamental artes, plants and typical foods. Undoubtedly the highlight of a visit to Embu das Artes.

Capela de Santa Cruz

phone: +55 11 4704-6565, +55 11 4781-5971

address: Rua Rebolo Gonzáles, 185, Vila Cercado Grande

Small chapel designed by the artist Helaine Malca and decorated by José Luiz Alemãn.

phone: +55 11 4704-6565, +55 11 4781-5971

address: Between Rua da Matriz and Rua Nossa Sra. do Rosário

Colonial-style chapel constructed in 1934, containing an image of Saint Lazarus made by the city's legendary artist Cássio M'Boy, and the statue of Christ crafted by Zé Santeiro.

Conjunto Jesuítico Nossa Senhora do Rosário

phone: +55 11 4704-2654

address: Largo dos Jesuítas, 67 – Centro

A National Heritage Site, the 17th-century construction is composed by the Nossa Senhora do Rosário church and an old Jesuit residence, which is now a sacred art museum containing religious sculptures from the 17th-19th centuries.

phone: +55 11 4241-5993

address: Rua Rebolo Gonzáles, 185, Vila Cercado Grande

Museum of art dedicated to the Japanese origin farmer and artist Tadakiyo Sakai, considered as one of the greatest terracotta sculptors of Brazil.

Parque do Lago Francisco Rizzo

phone: +55 11 4781-4953

address: Rua Alberto Giosa, 300

Nice public park with a large lake, for a relaxing stroll after shopping in the city center.
Buy
Works of art and handcrafts produced by local artists/artesans can be bought both at the open air fair and at shops in the Center. In the shops you can also buy handmade furniture and antiquities.

Eat
Embu das Artes' speciality dish is the
leitão à pururuca
, a typical
Caipira
dish consisting of roasted piglet with dried and fried skin. The city center offers plenty of options of snackbars and restaurants.
Drink
phone: +55 11 4785 1400

address: Rua da Matriz, 136 - Centro

Bar and club with four different environments, playing an eclectic selection of music. Live shows during the evening.