Emeryville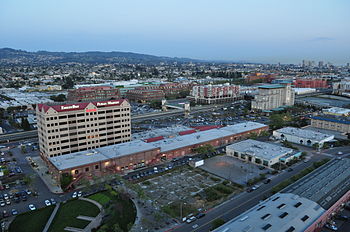 Emeryville
is a small city on the
San Francisco
Bay that acts as a gateway to the
East Bay
from San Francisco. It exists at the intersection of three major freeways: I-80, I-580, and I-880.
Emeryville is going through a period of aggressive re-development started during the 1990s and 2000s, where industrial factories and warehouses are being replaced by modern retail and residential uses. Much of this was spurred by anti-development policies in neighbors such as
Berkeley
and
Oakland
.
The city is also known for its IKEA store and tech companies, such as Pixar studios. The city is featured in some small way in almost every Pixar film, such as on a map with actual street names in the film
The Incredibles
or a "Greetings from Emeryville" postcard at the dentist's office in
Finding Nemo
.
Get in
By plane
Oakland International Airport (OAK) is the obvious choice, but
San Francisco International Airport
will also do. From the airports, see rail section on BART.
By train
BART
is the regional heavy rail service which will connect you to San Francisco, Oakland, and other cities in the
Bay Area
. Unfortunately, there is no BART station in Emeryville; rather, simply get off BART at the MacArthur station in Oakland and take the free
Emery-Go-Round
shuttle. If you get off at MacArthur at night, it is wise to be aware of your surroundings (as it is in many urban areas at night.)
Emeryville is home to the Bay Area's major
Amtrak
station, which is located just east of the Public Market. Amtrak buses run from the Emeryville station across the Bay Bridge to
San Francisco
. Two long distance Amtrak routes run daily to and from Emeryville: The
California Zephyr
route connects Emeryville to
Chicago
via
Denver
,
Salt Lake City
, and
Reno
. The
Coast Starlight
route runs from
Los Angeles
to
Portland (Oregon)
and
Seattle
via Emeryville.
Amtrak also operates two short distance trains through Emeryville: The
Capitol Corridor
runs 16 times daily (11 on weekends and holidays) between
Sacramento
and Oakland, with some trains running south to
San Jose
. The
San Joaquins
runs 4 times daily between
Bakersfield
,
Stockton
and Oakland, with a stop in Emeryville.
By car
From
San Francisco
, take I-80 East and exit on Powell St.
From points East, take I-80 West and exit on Powell St.
The complex freeway intersections just to the south of Emeryville are referred to as
the Maze
for good reason. Here are some tips to help your confusion:
Be aware that when traveling through Berkeley and Emeryville, I-80 west travels on the same road as I-580 east and vice versa.
When traveling from I-880 north onto I-80 east, you cannot exit at Powell. Instead merge right furiously and exit at Ashby/Shellmound. Take the Shellmound fork and right at Shellmound. Go straight and you'll see the Public Market and the rest of Emeryville shortly.
Get around
Driving is the best way to get around Emeryville. However, expect traffic delays if you want to go anywhere near Ikea or the Bay St. Mall.
Shuttle service from BART is provided by the free Emery Go Round, and the local provider
AC Transit
. Transit trip planning is available
online
.
Emery Go RoundThe Emery Go Round is a free shuttle that connects businesses and shopping areas in Emeryville with the MacArthur BART station. Shuttle schedules are focused on commuters, with most shuttles running M-F during commute hours, although at least one route is active seven days a week between 7AM and 10PM.
See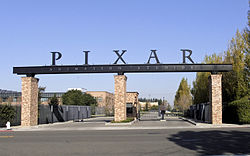 Emeryville is an interesting mix of old warehouses, manufacturing plants, and houses and new development in the form of shopping malls and live-work lofts. The Emeryville Marina has stunning views of San Francisco and the greater bay: take Powell Ave. west of I-80.
address: 1200 Park Ave

There are no public tours offered of the Pixar studios; to get in you will need to know someone who works there and arrange a visitor entry badge in advance. If you are able to obtain access, the campus is impressive. Steve Jobs oversaw much of the early design, going so far as to hand-select brick colors for the main building and insisting that bathrooms be placed far enough away from offices to force employees to walk through the building to create random connections with others. Animators are given great freedom with their cubicles, and some have built elaborate huts, tiki structures, or other individualized creations for their workspaces. The more recently-built Steve Jobs building hides a lounge within its fireplace that pays homage to Jimmy Claxton, the first black athlete to play in an organized baseball league. Beyond these hidden gems, visitors will appreciate the company store, vast amounts of Pixar memorabilia, numerous screening rooms, and company cafeteria.
Do
The Oaks

address: San Pablo Ave

A card club for Texas Holdem players.
Buy

Large chain stores are found in abundance in Emeryville. Bay Street Emeryville is a large outdoor, "main street" style shopping center parallel to Shellmound past Christie that includes an AMC Movie Theater, Barnes & Noble, EQ3 Furniture, Williams-Sonoma, Pottery Barn, Banana Republic, and many sit-down restaurants including P.F. Chang's, Elephant Bar, California Pizza Kitchen, Pomodoro, ZAO Noodle Bar, and numerous fast-casual restaurants. Ikea is adjacent to the shopping center. Emeryville Bay Bridge Center, with several "big-box" retailers such as Home Depot, EXPO, and others, is further down on 40th St., (actually the same street as Shellmound), near San Pablo Ave.

Eat
Drink
phone: +1 510 652-9808

address: 6005 Shellmound St

A billiard hall with full bar, foosball, free WiFi, multiple HD TVs, a kitchen serving traditional bar food, and a smoking lounge.

address: 6702 Hollis St

Excellent drinks at fairly reasonable prices - if you want a whiskey sour with real egg white in it, this is your place. Food options are limited, but patrons can bring a pizza with them. The inside is loud, but heat lamps in the patio make it a comfortable area to gather.
Sleep
Emeryville actually features many of the most modern hotels in the Berkeley/Emeryville/
Oakland
region. Thus, you may choose to stay in Emeryville while actually spending your days in the other (more interesting) cities.
Stay safe
The large stores, the Public Market, and the Amtrak station are all safe areas.
Large streets except San Pablo Ave. south of Powell are also safe. Treat Emeryville with the same safety attitudes you would treat a large city like San Francisco.

Go next
Berkeley - This neighboring city is famous for its liberal activism, and offers numerous interesting shops, restaurants, and nightlife spots for travelers.