Encamp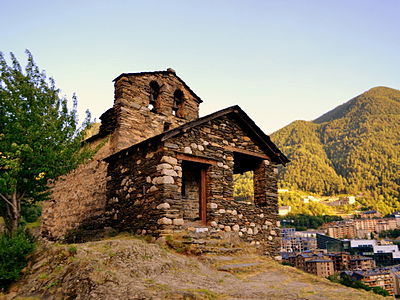 Encamp
is a parish (administrative division) and town 4 km NE of the capital of
Andorra
between
Andorra La Vella
and the French border at
Pas de la Casa
(2085 m).
Understand
Tourist Office of Encamp

phone: +376 731 000

address: Plaça del Consell, 1

Tourist Office of Funicamp (Encamp)

phone: +376 834 011

address: Av. de François Mitterrand, 87
Get in
From
Toulouse
or Barcelona, there are buses from Toulouse Airport, Toulouse-Matabiau train station and Barcelona Airport which make stops at Encamp enroute to Andorra le Vella. In addition, there are twice daily bus (one in the morning, one in the evening) departing from Gare d'Andorre-L'Hospitalet to Andorra le Vella via Encamp which is connected to the SNCF train service from
Toulouse
and
Latour-de-Carol
.
Within Andorra, bus route L2 runs directly between Encamp and Andorra la Vella every 15 mins on Monday to Saturday and every 20 mins on Sunday. Route L3 runs between Soledu and Andorra la Vella every 60 mins daily. Routes L4 and L4B run between Pas de la Casa and Andorra la Vella daily at 30-min intervals and have stops in Encamp.
Get around

Within the town of Encamp, you can get by with walking. There is also Funibus, which is a bus service run by the parish. Funibus takes passengers around Encamp and connect to the Funicamp gondola. The service is free and not restricted to skiers.

See
The historical Complex at les Bons: consisting of the , is a Romanesque building from the Lombard period dedicated to Sant Roma. It consisted of a defense tower, a water tank with an irrigation channel cut from the rock and a fortified house that correspond to the beginning of the Middle Ages. It is now a historical ruins. Free guided tours in July and August.
Museu Nacional de l'Automobil

phone: +376 832 266

address: Av. de Joan Martí, 64,

Displays automobiles from various eras from 1880s to 1970s. It also has over 100 bicycles from historical to present day.

Museu d'Art Sacre de Santa Eulàlia

phone: +376 833 551

address: Placeta de Santa Eulàlia

A small museum with jewellery, textiles and paper collections dedicated to religious text. It is located next to Santa Eulalia church.

Museu Etnogràfic Casa Cristo

phone: +376 833 551

address: Calle de los Caballeros, 2

A house converted into a museum. This house was inhabited until 1947 and shows the lifestyle of Andorran people from late 19th century to early 20th century.

Museu de l'Electricitat Mw Feda

phone: +376 739 111

address: Av. de la Bartra s/n

Located within the same building as the national hydroelectric company, this museum shows how electricity transformed Andorra since its arrival in 1934.

Edifici Radio Andorra

address: AD200 Encamp
Do
In Encamp there is a football club.
Similar to other towns and parishes in Andorra, Encamp has many hiking trails. You can take the gondola to the top or get off at the gondola's relay station and enjoy the scenery while hiking.
The Madriu-Perafita-Claror Valley is a UNESCO cultural heritage site, but access is limited due to lack of access roads.