Enniskerry
Enniskerry
is a small village in the
County Wicklow
quite near
Dublin
. It is still a quaint place worth seeing as it still has not been overrun by the ever spreading Dublin urban sprawl.
Get in
By bus
Enniskerry is close enough to Dublin to be served by the city buses – and far enough away for the bus route to go through magnificent rugged scenery in the narrow defile of The Scalp.
You can take either the 185 Bus from
Bray
or the 44/44c from Dublin city centre.
See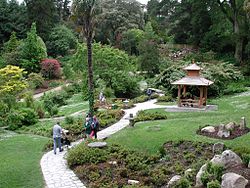 phone: +353 1 204 6000

address: Powerscourt Estate

Powerscourt is one of Europe's great treasures and Ireland's most famous House & Gardens. Gracing the Wicklow mountains, 20km from Dublin city centre, Powerscourt is a heritage property with a surprising difference.

phone: +353 1 204 6000

Four miles south of Enniskerry is Ireland's highest waterfall tumbling 398 feet into the Dargle Valley. The waterfall has been a major attraction since the 1760s and has been a favourite family picnic spot for years.

St Patricks ChurchThe local St Patricks parish church and surrounding grounds which is just a few minutes walk up the hill southward out of the town is worth seeing.

address: Glencree

There are 134 graves, mostly air force and navy personnel from World War II, very moving and a beautiful setting. Dr Hermann Görtz, a German spy, is also buried there. The single free-standing stone cross in the rear right hand corner of the cemetery was carved by him during his internment. Glencree Reconciliation Centre is across the road.
Do
phone: +353 1 286-0919

If you're into riding or desire a lesson, perhaps a visit here may be in order.
Buy
There is at least one craft shop in the village, maybe two.

Eat
There are 2 or 3 restaurants in the village.
address: Glencullen Rd, Glencullen, Dublin Mountains

Dating from the 18th century, the highest pub in Ireland is also one of the best for seafood. Great atmosphere with traditional live Irish bands and friendly staff. Food is excellent, so is the craic. You can get a good view of Dublin by night on your drive up to the restaurant. Unfortunately, this place is a notorious tourist trap - however it has received something or a revival in recent years with dozens of Irish people travelling to the pub for casual drinks / something to do.
Drink
The Powerscourt Arms Hotel has a lounge and bar and is ideally located in the centre for a drink.
Sleep
phone: +353 1 282 8903

An old hotel located right in the centre of the village.

phone: +353 1 286 7928

Old fashioned hotel, with a spa on its impressive grounds.

Powerscourt Hotel Resort & Spa

phone: +353 1 274 8888

address: Powerscourt Estate

Powerscourt Hotel, take an enchanting stroll amidst the gentle green hills and sparking lakes of Powerscourt Gardens, then head into Dublin for some cosmopolitan flair.
Go next
Glendalough — for the monastic village, round tower and lakes