Enniskillen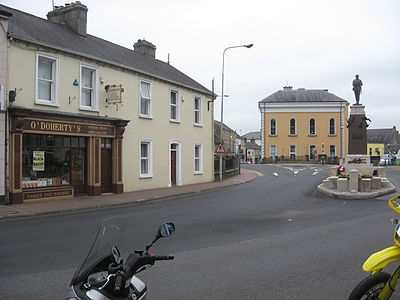 Enniskillen
(
Irish
:
Inis Ceithleann
, "Ceithlenn's island") is in
Northern Ireland
. It is an island town situated at the midpoint between Upper and Lower Lough Erne. It is the County Town (capital) of
County Fermanagh
.
Get in
By car
Belfast to Ennikillen about 1hr 40mins, Dublin to Enniskillen about 2hrs 15mins.
By bus
The
Translink
Route 261 departs from Belfast Europa Station to Enniskillen Bus Station. The
Bus Éireann
Route 30 will take you from Dublin Airport/Dublin City to Enniskillen Bus Station.
These routes operate in both directions.
By train
There is no rail network connected to Enniskillen. The closest stations are Portadown in Northern Ireland (60 miles) and
Sligo
in the Republic of Ireland (40 miles).
By plane
Enniskillen does have a small non commercial airport on the town outskirts called
St Angelo
Prior permission is required from the airport to land any aircraft.
By boat
Enniskillen is renowned for its loughs (lakes) and waterways. Although there are no commercial services to the area there are many marinas around the town and throughout the county where leisure vessels can be rented and berthed. Ireland's waterways and canals are operated by
Waterways Ireland
. Enniskillen is accessible via the waterway system from as far away as
Athy
in
County Kildare
,
Limerick
and
Dublin
.
Get around
Even though Enniskillen is the biggest town in County Fermanagh, it's still possible to visit all the major tourist attractions on foot. You will find it difficult to get lost in Enniskillen, as an island town everything is very centralised. At most you may need directions to that one shop or bar you are looking for and it is easy to know where the town ends as it quickly melds into residential areas.
There isn't much traffic (by UK standards), however it can become especially congested around peak times, at the weekends and bank holidays, or in the unlikely event of road closures. Town centre parking is famously very scarce, so parking at the Erneside shopping complex and crossing by the footbridge is generally accepted as the most sensible plan. Traffic Wardens in the area are notorious for issuing fines so make sure you are not parked in restricted areas or for longer than allowed and always have a parking ticket displayed on your vehicle in paid parking areas.
Taxi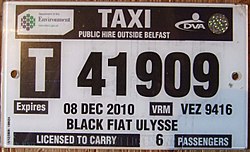 Enniskillen is easily accessible by foot; however, there are many taxi services in the town should you not fancy walking. Taxis in the UK and Ireland are required to be registered. The taxis will display an additional plate on the front and rear bumpers showing vehicle info and drivers should have ID on display within the front of the taxi.
A number of taxi services in Enniskillen are metered; however, the normal price for a journey in and around the town is in and around £3.00. Outside of the town prices can vary depending on taxi firm and, many times, your driver. The general rule of thumb is £1.00 per mile outside of the town. Prices/Rates of charging can increase on a Friday or weekend night or on a bank holiday, especially if you are traveling far outside of town.
Taxis can be hard to come by at weekends after a night out so it is recommended that you book a return cab in advance if you need one. Most taxis will line up in The Diamond (Town Center) on Friday, Saturday and Sunday nights but may be scarce towards the end of the night as the bars empty.
Taxi Numbers
A2B Taxis

phone: +44 28 6632 2033

phone: +44 28 6632 8888

Diamond Cabs

phone: +44 28 6632 8484

Patsy

phone: +44 77 7968 6654

Speedie Cabs

address: +44 28 6632 7327

24hr

Star Taxis

phone: +44 28 6632 3232

24hr
Bus
A bus service operates in and around Enniskillen provided by Translink and Ulsterbus, and there are many bus stops located around town with day tickets available, so you don't always need to keep buying new tickets. You should ask for a day ticket when boarding the bus, and hop off at the desired bus stop. It mainly operates around the residential areas of the town, however the service also travels to the main shopping areas of town and the South West Acute Hospital.
Please note that the number of stops/times the bus operates at can change depending on bank holidays or at the weekends (reduced times are offered on Saturday, and the service does not run at all on a Sunday) or may in the event of extremely poor weather conditions.
Timetables are available from the Ulsterbus station located near the Erneside footbridge and the Lakeland Forum.
Enniskillen Ulsterbus Depot

phone: +44 28 6632 2633

address: Shore Road
See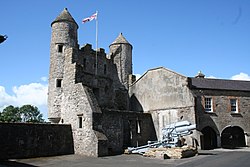 Enniskillen Castle & Museum16th century. The castle's watergate is the most charismatic and characteristic site in Enniskillen, perhaps best viewed from across the River Erne on Henry Street or Castle Island. The museum, spread over the castle's stables and keep, has very little information on the castle itself or the sieges and defences of Enniskillen, focussing instead on the regimental history of the Royal Inniskilling Fusiliers. There are medals, uniforms, period firearms, and other memorabilia relevant to the regiment (amalgamated into the Royal Irish Rangers in 1968 and since 1992 into the Royal Irish Regiment).

address: Forthill Park

in memory of the late General the Hon. Sir G. Lowry Cole

Saint Macartin's Cathedral19th-century with 150-foot (45 m) tower and spire

St Michael's Chapel

Enniskillen Town Hall

Portora Castle17th-century ruins

phone: +44 28 6632-2690

address: BT74 6JY

The late-18th-century neo-classical mansion, designed by James Wyatt, is one of the most perfect specimens of Irish Georgian architecture, built to impress and still with most of its original furniture. It is now a National Trust property; house tours are by guided tour only.

phone: +44 28 6634-8249

address: BT92 1DB

An 18th-century house about 10 miles from the town centre. This venue normally hosts family events on bank holidays and tours of the house are available during the summer. You can also take a subterranean boat-trip in the nearby Marble Arch Caves.

Devenish Island
Do
Unless there is an event on in town then there isn't an awful lot to do in Enniskillen itself. You can see most of the main town attractions in a day but it is the best base from which to explore the many other sights in the County. The main day to day pastimes are shopping and enjoying the local bars and cafes'.
phone: +44 28 6632 5440

address: 97 Dublin Road

professional drama, classical music, opera, ballet, contemporary dance, ....

Lough ErneEnniskillen's main tourist attraction, which covers about a third of County Fermanagh. It is a major centre for fishing and all water-sports, attracting visitors from as far away as Germany and Poland. Day tourists can take a boat trip (summer only) from the jetty near the castle. If you're staying longer it's possible to hire a cruiser and visit the loch's many small islands.

Gaelic Athletic AssociationDuring the Spring and Summer months the championships are in session. You may be able to catch a match at Brewster Park, home ground of the Fermanagh County teams.
Talk

As a very tourist driven town, people are generally friendly and will help you with directions and personal recommendations of where to eat and drink. The official languages in Northern Ireland are English, Irish and Ulster Scots so you will see signs in the town with all three languages present. No-one in the area speaks Irish or Ulster Scots in day to day life so English is the only language you need to have a knowledge of. As Fermanagh is a very rural county accents and dialects can differ considerably between those from urban areas and those from the countryside. People can have a tendency to speak quickly however generally slow down if asked or they sense you have a hard time understanding them.
Enniskillen also has a significant Eastern European population, the largest being Polish, Lithuanian and Latvian so it is common to hear these languages around the area too.

Buy
The Erneside Shopping Centrehas all the major shops that you'd expect to find in Ireland, such as River Island, Next, Monsoon and Argos. There is also a Costa Coffee, and a Beleek Living store, selling the famous Beleek pottery which Fermanagh is renowned for.

Dunnes Store

address: Forthill Street

is a supermarket that sells reasonably priced food, clothes, domestic goods (etc.).
ASDA (Part of Walmart Group) and Tesco are the two biggest supermarkets in the UK and have very reasonably priced food, alcohol and household goods. They are large stores and are directly opposite each other.
The Buttermarket near the town centre has many smaller stores selling traditional crafts and art work among other things and is very popular among tourists.
There are also many shops in the town centre which are able to cater to various tastes and have a lot to offer, such as a Sports Direct, B&M Bargains and Cex.
Eat
A large percentage of Fermanagh's income is based on tourism and there are many cafes and restaurants in Ennniskillen that cater to this trade such as a KFC and a McDonalds. There are a number of bars within the town that offer "pub grub", including Pats Bar, Bush Bar, Granny Annies' and The Crowes Nest.
There are also a large number restaurants, cafes and takeaway services around the town, including Greek, Chinese and Indian restaurants.

Drink
There are a large number of licensed pubs within the town, the vast majority of these are located in and around the town centre and are easily found. It is said you can not walk out of one pub without seeing another. Bars and pubs include;
phone: +44 28 6632 5388

address: 6 Church St

A bar complex with 3 different bar areas as well as a nightclub. Oldest pub in Fermanagh

phone: +44 28 6632 7462

address: 1-5 Townhall St

4 bars over 2 floors and a disco area

phone: +44 28 6632 5210

address: 26 Townhall St

phone: +44 28 6632 5654

address: 1 Church Street

Traditional Irish bar.

phone: +44 28 6632 5252

address: 12 High Street

Usually has live Irish music on Tues nights

phone: +44 28 6632 3320

address: 1 Queen St

Corner Bar

phone: +44 28 6632 6445

address: 22 Townhall St

phone: +44 28 6632 5266

address: 1 The Brook

Live Irish music Saturday evenings.

address: 21 East Bridge Street

phone: +44 28 6632 7484

address: Forthill St

phone: +44 28 6632 6223

address: 66 Belmore St

phone: +44 28 6632 5350

address: 24-28 Darling Street
Entertainment
Most of the above mentioned bars will have entertainment advertised and the vast majority come alive at the weekends with discos or live music.
Licensed premises in Northern Ireland are required to stop serving alcohol at 1:00am. Bars close around midnight during the week but stay open late on Friday, Saturday and Sunday. Generally last orders are called just before 1:00am. You will be given half an hour or so after this in which to finish your drinks and vacate the premises so a night out will generally end around 1:30 to 2:00am.
Sleep
Stay safe
Despite its troubled past, Northern Ireland as a whole has the second lowest crime rate within the EU. Enniskillen has been awarded Purple Flag status which is a UK and Irish initiative similar to the Blue Flag system seen on beaches. The Purple Flag scheme recognises excellence in the management of town and city centres at night. The majority of crime around Enniskillen is attributed to Anti-social behaviour which would normally occur at the weekends. As most people congregate around the Town centre (The Diamond) and Forthill Street (known locally as 'Chippy Street' due to the large number of takeaways), this is where most disturbances arise once the bars empty. Any trouble is normally confined to disagreements between locals with incidents involving visitors being very rare. There is normally a small Police presence around these area's on busy nights however there is also CCTV located throughout the town as well as 'Panic Points' (intercom boxes which can be used in an emergency). Please note however that panic points are for emergencies
only
, not for public information or directions.
The county of Fermanagh is quite conservative when it comes to LGBT issues. There are practically no gay scenes outside of the main cities of
Belfast
,
Derry/Londonderry
. There have been serious attacks on local members of the LGBT community in the past so same-sex displays of affection are rarely seen.
Also, take extreme care if swimming in the Lough (if intoxicated avoid it entirely), as many people have lost their lives due to the strong currents around the town.
Useful Numbers
Emergency Services (Police/Ambulance/Fire & Rescue) - 999 or 112
Police - 101
RNLI Lifeboat Rescue - +44 28 6638-8019
South West Acute Hospital - +44 28 6638-2000
Go next