Enschede
Enschede
is a city in the
Netherlands
. It is the largest city of the Twente region (a former center of textile industry), and also of the
Overijssel
province. Enschede was designated the greenest town in the Netherlands in 2003.
Understand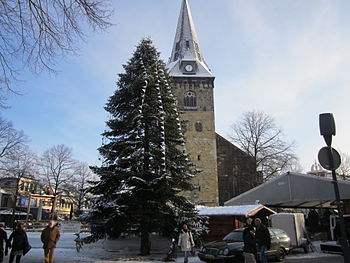 On May 13, 2000, a fireworks storage in Enschede exploded, destroying an entire neighborhood and killing 23 people, including 4 firemen. This catastrophe is known in the Netherlands as the Vuurwerkramp, Dutch for
fireworks disaster
. Since this event, the city has undergone a major reconstruction process. After the fall of the textile industry, Enschede strives to become a center of business, innovation and technology through the Business and Science park next to the University of Twente.
As a city famous for being "destroyed and reconstructed" many times, Enschede does not offer much in terms of historical attractions. However, the city has nice displays of contemporary Dutch architecture, particularly in the Roombeek neighborhood and at University of Twente, and its nightlife, cultural vibrancy and shopping options are quite developed for a city of its size.
Get in
By train
From elsewhere in the Netherlands, Enschede is easily accessible by train from all major Dutch cities, and can be reached from smaller cities with at most one or two transfers. The journey time from Amsterdam is approximately two hours. An excellent (train only) travel planner is available at
Nationale Spoorwegen
. Hourly intercity trains from
Amsterdam Schiphol Airport
,
The Hague
and
Zwolle
terminate at . If you need to use a connecting bus or ferry from within the Netherlands, use
9292
.
From Germany, direct trains (ending in Enschede railway station) are available from Gronau, Dortmund, and Münster. From Münster, it takes 1 hr 20 min by hourly regional train to Enschede. To reach Enschede from Berlin, a stopover is available in Hengelo (a small city about 10 minutes by train from Enschede). Further guidance is available at
Die Bahn
.
By bus
KLM provides free
bus transfer
for travellers arriving or departing on KLM flights from Amsterdam Schiphol airport. The bus leaves Amsterdam Schiphol twice a day, at 09:05 and 21:00. The entire ride takes 3 hours.
By car
There is a large parking lot underneath the market square in the center of the city, the H.J. van Heekplein, which provides approximately 2000 parking spaces for visitors arriving by car.
There is a cheaper park-and-ride solution available at the expanded P+R Zuiderval. Frequent buses travel from here directly to the city center (approximately 5 minutes by bus). This is especially useful if you are arriving in Enschede via the highway, as the lot is just off the highway exit.
Get around

Enschede is a city best explored by bicycle, on foot or by public transportation. Parking spaces can be difficult to find and there are often traffic jams, especially during rush hour. The city center is also closed to motorized vehicles.
Buses in Enschede do not accept cash. Payment by debit or credit cards are required.

See
Elderinkshuis

address: De Klomp 35

The oldest building in the city (other than the Grote Kerk), built in 1783. It doesn't look extraordinary but it has the feat of surviving the city's many disasters.

Grote Kerk

address: Oude Markt

Enschede's "central church" is also the oldest building of the city, dating from the Middle Ages (1200), although it has undergone several expansions and reforms across the time. It is now mainly used for weddings and concerts. The sundial in the right side of the church (looking at the entrance) was crafted in 1836.

phone: +31 53 480-7680

address: Het Rozendaal 11

A new museum set in the heart of the modern quarter Roombeek, which was destroyed in the Fireworks Disaster of 2000, Twentse Welle tells the story of mankind in Twente, the region in which Enschede is situated. While there are a number of exhibits that are visually appealing to speakers of any language, the museum, unlike many in the Netherlands, has information about its exhibits only in Dutch and German.

phone: +31 53 438675

address: Lasondersingel 129-131.

Large collection of 18th-century art and contemporary art.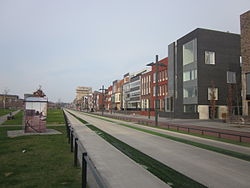 RoombeekRoombeek is the neighborhood between Deuningerstraat and Oldenzaalstraat, north of Lasondersingel, which corresponds to the neighborhood rebuilt after the fireworks disaster. It is now the finest neighborhood of Enschede, with all houses and buildings projected by renowned architects, plenty of green areas and exclusive lanes for buses and bicycles, and containing the Twentse Welle museum and the Rijksmuseum.

Stadshaard Enschede

address: Deurningerstraat, Roombeek

Enschede's heating and power station, which was (perhaps unfairly) elected the "ugliest building of Netherlands" by a poll of the local newspaper TC Tubantia. It looks somewhat like a church covered with Delft-blue tiles. It is richly illustrated as a whole and artist Hugo Kaagman has placed images on the tiles that are associated with the production of electricity and well-known icons from Enschede's history, such as Jan Cremer and the Grolsch swing-top bottle.

phone: +31 53 4324507

address: Prinsestraat 14

Reputedly the most beautiful synagogue of the Netherlands. Tours available on Sunday at 14:00 (in Dutch). English tours are sporadically available.

University of Twente

phone: +31 53 489 9111

address: Drienerlolaan 5 7522 NB Enschede

The university has a number of buildings with interesting architecture, such as the Drienerlo tower (Torentje van Drienerlo), the Cubicus and the student dormitory at the crossing between Campuslaan and Matenweg.

VolksparkThe Volkspark is a beautiful park close to the city center. It was constructed in 1872 to serve as recreational area for the workers in the textile industry. It also hosts several cultural activities alongside the year, such as the spring and autumn Kermis.
Do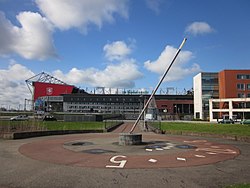 Enjoy art in the many galleries in town.
Take a guided tour through the nature parks surrounding Enschede or purchase a map with walking/cycling routes

Grolsch VesteThe stadium of the football team FC Twente, one of the greatest prides of Enschede and of the entire Twente region. It won the Dutch title in the 2009-2010 season.

Go Planet ParcAn entertainment park next to the Grolsch Veste football stadium, approximately midway between Enschede and Hengelo. It contains various facilities, including a cinema with 10 rooms, a 400-meter long ice skating track, a bowling, a diving school, a concert hall, a kart track, a couple of restaurants and others.

phone: +31 50861050

address: Blikkersmaatweg 15

A lake and recreational area in the south of Enschede. Contains beaches (including a nudist one), forests and recreational facilities. it is also possible to practice diving here.

phone: +31 53 485 8500

address: Wenninkgaarde 40-42, Oude Markt

Enschede's main theatre and concert hall. Performances are usually in Dutch.

AquadromeSwimming pool with two slides, a wave pool and wild water rapids.
Learn
International Institute for Geo-Information and Earth Observation (known as ITC) is the most known educational/training center in Geoghraphic Information System and Remote Sensing. Also located here is the
University of Twente
. Other educational institutes include Saxion Hogeschool and many schools for children. More information at (http://cms3.enschede.nl/)
Buy
Enschede wishes to profile itself as the place to be in the eastern Netherlands when it concerns shopping. The large square, the Van Heeksplein, has been modernised and been made the 'shopping-centre' of the city. Large stores such as V&D and Primark are there, as are many clothing stores such as H&M, WE and C&A. Many other shops can be found throughout the city centre. On Tuesdays and Saturdays there is a large market at the Van Heekplein, which attracts quite a lot of Germans, as well as the locals of course.
Every Thursday shops are opened until 9PM instead of 18:00. In addition, shops are allowed to open every first Sunday of the month.
Dragonheart Medieval Lifestyle

phone: +31 53 4782005

address: Stroinksweg 90

An exotic medieval-themed shop where you can find all kinds of medieval clothes, jewelery, accessories, furniture, and even weapons and armor.
Eat
Lots of bars and restaurants are located at the Oude Markt. The first weekend of September this square is the stage of the 'Proefeet', an event on which restaurants sell small samples of their best food in order to win a grand prize.
phone: +31 53 434-6042

address: Noorderhagen 9

Asian fusion restaurant with Japanese, Chinese, Thai, Korean and Vietnamese dishes all mixed up into one delicious treat. Try the surprise menu, it's always something new and always something good. Or the hotpot for a safe choice, with a bottle of wine.

phone: +31 53 436-7919

address: Nicolaas Beetsstraat 48 7514 CW

Vegetarian restaurant
Drink
As Enschede has a university and is the second largest town in the eastern Netherlands it has a fair number of bars and cafes. The Oude Markt is the location of many bars and bistros which have large terraces, making it the perfect location for a drink on a warm summer night. The oldest pub in Enschede is Het Bolwerk, in the Bolwerkstraat, where one can drink a wide variety of beers and spirits, with the shocking exception of the Enschede-brewed Grolsch.
While the hipper crowds turn to places like
Aspen Valley
and
Central Park
, the alternative scene spends their Saturday night in
Atak
, where one can see a wide variety of customers from hippies to gothics to hard-core-metal-lovers. The student associations also have their own pub in de Pakkerij, like the largest student association of Enschede,
AEGEE-Enschede
which is often also open to visits from AEGEE students visiting from other European student cities.
phone: +31 53 203 2470

address: Stadsgravenstraat 59, 7511 ER
Sleep
Go next
Enschede is a city surrounded by nature. It is a good base for walking, cycling or horse riding trips.
Netherlands
Germany
Münster, a city 68 km from Enschede, has various historical buildings and a large student population
Bad Bentheim is a town equally famous for its medieval castle and its hot springs
Tecklenburg, 78 km from Enschede, is a charming and picturesque town in the hills. Difficult to get in without a car