Ephesus
Ephesus
(Turkish:
Efes
) is a large
world heritage
-listed archeological site in
Aegean Turkey
and one of the country's major tourist attractions.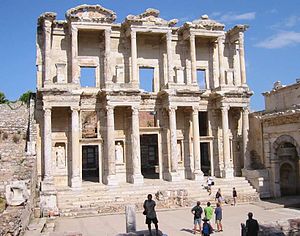 Get in
The nearest town is
Selçuk
, which offers lodging and transportation to Ephesus. From Selçuk, the easiest way to visit the ruins is to take a taxi to the top gate. You can then walk downhill through the ruins and return from the parking lot to the Selçuk bus station via minibuses (shared taxi called "dolmuş"— pronounced
dol-mush
— in Turkish) which run to the Lower Gate every 10-15 min in the high season, every 30 min at other times, and cost 3 TL (Nov 2017). You can also walk from Selçuk - it is a 4 km walk in a good asphalt way.
Izmir
is the closest airport (
ADB
), with frequent connections from both of Istanbul's airports. Pegasus Airlines, a low-cost carrier in Turkey, often has round trip tickets for as little as 100 TL.
You can also book a organized Ephesus tour from a local tour operator such as Ada Vegas Travel.

Fees and permits
Entry tickets cost 60 TL per person, while the Terrace Houses (in a covered building within the site) cost an additional 30 TL per person (Oct 2018).
If you are driving your own car, parking is only available at the bottom gate (10 TL in Nov 2017).
The site is open everyday:
Apr 15-Oct 2: 08:00-18:30
Oct 3-Apr 14: 08:00-17:00
Get around

The grounds of Ephesus are seen entirely on foot. Pathways are signed clearly and easily navigated as you make your way through the park. The ruins are situated on the bank of a hill. The entire ruins are easily covered on foot within two hours.
There are two entry/exit points. There are parking lots at both gates. If you enter from the Upper Gate, you'll be walking down hill, which is easier, so that's what the tour groups do. If you enter by the Lower Gate, you'll be walking against the flow of tour groups.

See
Sights are listed in the order that they are encountered when walking down from the Upper Gate.
Terrace HouseHoused under a protective roof, this remarkably preserved Roman house is definitely worth the price of admission. Segmented into several different individual units, the marble and mosaics that decorated the house have been painstakingly restored, giving an impression of how the Roman upper-class once lived. Like the rest of Ephesus the site is a working archaeological area, but raised paths allow you to visit the majority and informative signs illuminate what you are seeing along the way.

Celsus LibraryOne of the highlights of Turkey, the impressively restored facade of this ancient library stands three stories high and is a historically accurate recreation of how the library once appeared. Built between 117 and 120 AD, the library once held as many as 12,000 scrolls, making it one of the largest in the Ancient world.

Great TheatreThe 25,000-seat theatre has been used for major concerts, such as Elton John, Ray Charles and Jethro Tull. Today, to ensure its protection it is used only for smaller acts. The theatre was built around 200 BC, and expanded or renovated several times thereafter.
Buy
There are many souvenir shops at the two exit gates. You may find Turkish hand made articles. Haggling is possible. The best way is to compare prices in two or three more shops before you buy.
It is not a good place to buy carpet and leather, you can buy them in big shops at Selçuk with a reasonable price.
Don't buy "Roman coins" offered to you by men walking around or working at the site. They aren't real. If they were, it would be illegal to take them out of the country. Trying to leave with coins - real or fake - can lead to you being held at the airport until customs agents confirm that the coins are fake. Real coins can be purchased in shops with certificates permitting export.

Eat
There are many fast food and small Turkish restaurants at the both gates. You can find many nice restaurants on the way to Selçuk or Kuşadası or in the towns.
Drink

There are many cafés at the both gates.

Sleep
There are no accommodations on site in ancient city. Nearest options are in
Selçuk
, 4 km away. There are also lots of people visiting Ephesus on a day-trip from coastal
Kuşadası
, a bit further away.
Go next
In Selçuk, there is an impressive Byzantine ruin, the Church of St. John, and the Ephesus Museum, which holds artefacts found at the site.
House of the Virgin Mary is a popular Catholic and Muslim pilgrimage site, about 6 km from Ephesus.
Consider visiting some of the other Seven Churches of Asia, including Sardis and Pergamon, both less than four hours from Ephesus, and containing impressive ruins.
You may want to consider a visit to another archaeological site in Aegean Turkey: Aphrodisias. With an entrance fee of 15 TL, it has perhaps more value than Ephesus but it is around 165 km away from Ephesus.