Erbil
Erbil
(Hawlêr in Kurdish and also transliterated as Arbil) is the capital and largest city in
Iraqi Kurdistan
, and the fourth-largest city in
Iraq
. It is one of the oldest continually-inhabited sites of human civilization, and is also a rapidly-growing and urbanizing center for the oil industry and NGOs in the Middle East.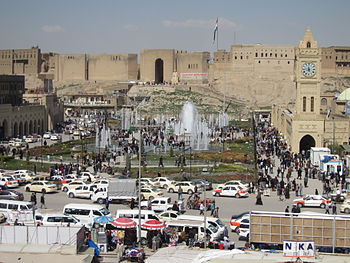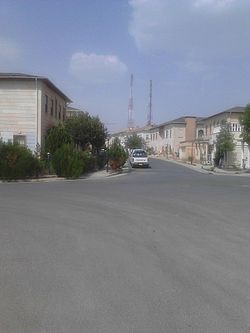 Districts
Old Erbil The historic and geographic center of the city. Home to most major tourist sights, including the Citadel, Qayseri Bazaar, and museums, as well as many government offices.
South Erbil Neighbourhoods immediately south of the old city include Minaret Park, Shanidar Park, and Iskan Street.
Northwest Erbil Brand-new developments between 60 Meter Road and 100 Meter Road, west of Ankawa include many of the city's restaurants and hotels, as well as Sami Park and many upscale villa and apartment communities.
Northeast Erbil Developments east of Ankawa and outside 60 Meter Road include Erbil's three major shopping malls, hotels and restaurants, and sprawling, brand-new villas and apartment towers.
American Village On the eastern outskirts of Erbil, this community contains a large number of foreign companies and workers as well as a popular bar.
Komari Where the stadium and Hawler Plaza Hotel are located.
Ankawa Christian suburb to the north of the city and close to the airport, home to most of the city's bars, many hotels, and a large expatriate community.
Understand
Climate
Erbil has a hot-summer Mediterranean climate (Csa), meaning it has extremely hot summers and cool wet winters. January is the wettest month.

Get in
Visas
Citizens of the EU, the US, Canada, Japan and Australia are given a free stamp of 30 days on arrival. After that you must visit the residency office to extend your visa. Other nationalities must have an Iraqi visa before arrival.
By plane
Erbil International AirportServes Northern Iraq with a growing number of international airlines. Several airlines suspended flights due to fighting in Nineveh province, west of Erbil, in fall 2014 and have not resumed flights, but may in the future. This includes Etihad (to Abu Dhabi), Iran Air (to Tehran), and Tunisair (to Tunis).

Austrian Airlines has flights between Vienna and Erbil on a daily basis.
Turkish Airlines, Iraqi Airways, and AtlasJet fly to Istanbul daily or almost-daily. Pegasus and ZagrosJet each fly three times a week to Ankara; Turkish and Pegasus also fly to Antalya during summer.
Middle East Airlines flies to Erbil from Beirut on 7 flights per week; ZagrosJet flies three times a week.
Royal Jordanian has daily flights to Amman, while ZagrosJet has two flights weekly and Iraqi Airways has several flights a week to Amman.
Qatar Airways flies 4 times a week between Erbil and Doha.
FlyDubai has flights to Dubai daily, while Emirates flies twice a week to Dubai.
Lufthansa flies two weekly round-trip flights from Frankfurt.
Other destinations are served with less frequent flights. In Europe, destinations with at least weekly flights include
Berlin
(Iraqi Airways),
Dusseldorf
(Iraqi Airways),
Stockholm
(ZagrosJet),
Copenhagen
(Iraqi Airways and ZagrosJet),
London
(Iraqi Airways), and
Amsterdam
(ZagrosJet).
Egypt Air
has flights four times a week to
Cairo
, while
Mahan Air
has three flights weekly to
Tehran
.
Iraqi Airways
provides frequent flights to other parts of Iraq, but the security situation in these places is rarely safe even for experienced travellers.
By bus
There are many
Iran
bus companies that run services connecting
Iran
to Erbil. This is about or 10 hours.There are many cities in Iran that connected to Erbil by bus including
Tehran
,
Isfahan
,
Tabriz
,
Shiraz
,
Kurdistan
, and
Ahwaz
. The VIP buses travel from Tehran to Erbil every day, 2 buses per day. If you take move by bus to Erbil, you should stop in Piranshahr city, at the Iran-Iraq border, to show your passport. If you have an Iranian passport, you don't need a visa to cross the border. Companies include
Bus companies also connect Erbil to
Diyarbakir
in
Turkey
(10–15 hours) and
Istanbul
(36–48 hours). The list of companies here is incomplete; are at least two other Turkish companies running buses from Erbil to cities in Turkey - look around for flyers on Iskan Road. Arrival time depends on border formalities (around 1 hour from Turkey to Iraq in May 2019 and 2 hours back to Turkey).
Cizre Nuh (Tel Erbil: 0750 340 47 73) runs everyday at 15.30 from the New City Mall, 60m Road to Istanbul (US$100) via Silopi (US$40), Diyabakir and other cities in between. Tickets can be brought at the New City Mall, Flyaway on Barzani Namir and at a Phone Shop on Shekhi Choly close to the Bazaar.
Can Diyarbakir (Tel Erbil: 0750 895 62 17-18-19) leaves daily from Family Mall on 100mt Road to Istanbul via Ankara, Diyarbakır and other cities in between.
Best Van runs from Ainkawa Road in Erbil to Istanbul via Adana, Aksaray, Ankara (14:00) and Diyabakir (16:00, via Hasankeyf, Batman). Bus from Diyabakir to Erbil departs at 11:00.
Get around
Public transportation is available in the form of taxis and some bus routes, but automobiles are the main mode of transportation. Compared with other cities in the Middle East, shared taxis and buses are very infrequent and impractical. If you don't know your way around or have a guide with local knowledge it is inadvisable to try public transporation alone.
In terms of taxis there are several choices:
Airport Taxi

phone: +964 750 507 0000

address: Airport

Taxi service at the Erbil Airport

Hello TaxiErbil's branded taxi company and has English speaking drivers, but at highly inflated rates. USD is accepted. From the airport to Erbil center the rate is US$15, to Ankawa $10.

"Street Taxis"Generic independent taxis which will take you most places in Erbil and Ankawa. Rates are negotiable, however, for a drive across town (15–25 minutes) expect between 3000-6000 Iraqi dinars. It is acceptable to pay at the end of a ride without negotiating the price beforehand.

phone: +964 (750) 7372288

address: Italian Village, Villa 137

Most of their rental cars have automatic transmissions.
See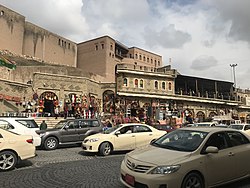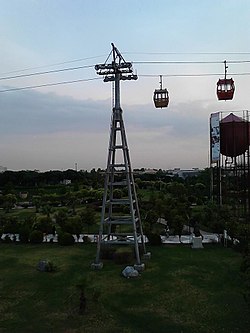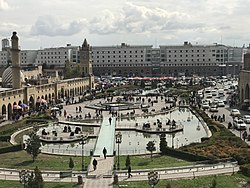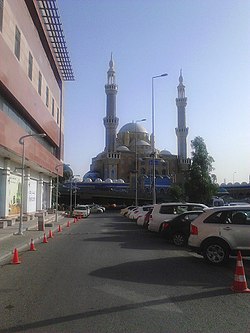 Citadel of ErbilThe Citadel an in the centre of the city. It is a round structure, 30 meters high which dominates the old city and has been built upon seven layers of civilization. The total area of the Citadel is 110,000 m². The history of its building dates back to 6000 years and has been continuously inhabited since its founding. The citadel has seen the reign of many historic civilizations including Sumerians, Akkadians, Babylonians, and Assyrians. Other ancient powers including the Achaemenian, Seljuks, and Sassanians also dominated the Citadel before being finally conquered by the Muslims. The Citadel of Erbil consists of three main quarters: Topkhana, Saray, and Taki, with a total of 605 houses in the areas. Picturesque view from the upper floors of the opposite shopping center. As of November 2014 the Citadel was undergoing a major restoration. While visitors can walk to the top and see the main square and road, the back streets are blocked off. Construction and excavation make the views much less picturesque, and mosques were closed.
Grand MosqueErbil's historic central mosque, still open despite renovations on the Citadel.

phone: +964-66-25 11 660

Small museum that displays textiles produced in Iraqi Kurdistan, as well as traditional clothing and other artifacts. Located in a restored early-twentieth century traditional house.
Mudhafaria MinaretThe 36 m high Mudhafaria Minaret dates back to the late 12th century AD and the reign of Erbil king Muzaffar Al-Din Abu Sa'eed Al-Kawkaboori. It has an octagonal base decorated with two tiers of niches, which is separated from the main shaft by a small balcony, also decorated. Another historical minaret with turquoise glazed tiles is nearby.
Quayseri MarketErbil's historic covered bazaar, built out of vaulted yellow brick. It is similar to many others found throughout the Middle East and North Africa, but with less tourism than most. Market stalls sell everything from cheap toys and pirated DVDs to bulk spices to fine jewelry and carpets.
Jalil Khayat MosqueErbil's largest mosque, built in 2007 in a neo-Ottoman Style. Very impressive inside.
Hawler Museum
address: Municipality Street, near Francoise Haririr Stadium, 1 km from the Citadel

Small archaeological museum run by the Erbil Governorate.The Erbil Civilization Museum is in the city center opposite the City Hall. It is divided into three historical sections. Antiques are exhibited according to eras starting from ancient periods until advanced ages. The origin of some exhibits goes back to 5000 BC and reflects the patterns and ways of life in Kurdistan and Iraq. A rich library is adjacent to the museum. It is considered among the most prestigious and historical libraries of the city
Mound of Qalich AghaAn excavation here in 1996 found tools from the Halaf, Ubaid and Uruk periods. On the grounds of Erbil Civilization Museum.
Jalil Khayat MosqueThe largest mosque in Erbil, named after Jalil Khayat who took the initiative for construction, but passed away in 2005 before it could be completed. His sons finished the project in 2007. The mosque architecturally resembles the style of the Mosque of Muhammad Ali in Cairo, and the Blue Mosque in Istanbul. It is widely regarded as having one of the most beautiful interiors. It relies on a combination of islamic architecture and al-Abbasi design, except for the domes which are of Ottoman design. Standing 48 m tall, the main dome with a diameter of 20 m dominates the mosque. It is surrounded by 4 half domes and 12 quarter domes. With an area of 15 000 m², the mosque has a capacity of 1 500 to 2 000 visitors.
Mohamed Jolly MosqueMosque built in 1884.
address: 6XGR+WP

Constructed from 1978 to 1981 with labour from volunteers, the church was designed in a distinctive Babylonian style including a main gate modelled after the Ishtar Gate. It includes a large yard and expansive gardens.
Erbil Gem Museum
address: 52R5+3H
Parks
Shanidar ParkShanidar park feats an aerial cable car connecting with Minaret Park.

Sami Abdulrahman ParkAbdulrahman Park is Erbil's newly-constructed central park, spanning hectares at the edge of the city. It includes gardens, a jogging track, and ample walking paths, is mostly well-lit at night, and is a popular local gathering spot on weekends and evening.

Shar Park

address: In Front of Erbil Catidal

Peshmerga Park

address: Kwestan Quarter
Do
Stroll around in the deserted city inside the citadel in the centre of Erbil. Hundreds of houses that appears to have been abandoned in a hurry. Walk into the court yards, sleeping rooms and bed rooms or up to the rooftop terraces to enjoy an spectacular panorama of Erbil or ponder what life might have been in this place before the inhabitants were repopulated.
In season, see the Erbil SC football team play a match at Franso Hariri Stadium, south of the city center. Erbil SC is a regular winner in the Iraqi Premiere League, runner-up in the Asian Football Cup, and beloved by many locals.
Explore Erbil's nascent local art scene at the Shanadar Gallery, in Shandar Park, then take in Kurdish, Arab, and Persian music at one of the many restaurant/show venues in the city.

phone: +964-750-777-0578

address: Sami Abdulrahman Park

Annual marathon organized since 2011, with departure and finish line in the Sami Abdulrahman Park. In addition to the full 42 km marathon, there are also 10 km and 5 km tracks.
Buy
Quayseri MarketIn addition to sightseeing, Erbil's historic bazaar provides good opportunities to haggle for carpets, jewelry, traditional Kurdish clothing, and other handicrafts.

Majidi MallA large, Western-style shopping mall opened in November 2009, with stores such as Mango, Adidas, and Levis as well as Turkish and Gulf brands. Also has a very large hypermarket in the basement of the mall, and a food court at the top.

Family MallThe largest shopping mall in Erbil (and one of the largest in Iraq) with predominantly American, European, and Turkish clothing labels and other stores. Includes a movie theater and food court

Royal MallThe most centrally located of Erbil's large, Western-style shopping malls. Includes a popular food court as well as clothing stores

Mega Mall

phone: +964 750 742 9391

phone: +964 750 193 3330

address: Kirkuk Road,Near to Franso Hariri Stadium

Tablo Mall is one of the famous malls in Erbil City, it has 270 shops, a hypermarket, games hall for kids, furniture shops and many cafeterias.

Langa Market

phone: +964 781 057 7040

address: Peshawa Qazi (100m Street), Near to Rizgary Teaching Hospital, Erbil
Eat
Many good restaurants exist in Erbil. However, the vast majority serve kebabs and chicken, with some Lebanese and Turkish restaurants. Options for foreign food are limited. Most restaurants, except those in high-end hotels, do not serve alcohol or accept credit cards.
Budget
Iskan StreetPopular street lined with cheap Kurdish and Turkish kebab shops, as well as one of the center of (male) social gathering. Kebabs are usually served with a soup, bread, and assortment of pickled vegetables.

India GateOffers surprisingly good curries and other British-Indian fare. Erbil has a large population of Pakistani workers, who run the restaurant and sometimes patronize it.

Abu AfifErbil's most famous bakery and confectionery, and stems out of an equally famous Baghdad bakery that has been open since 1973.

Second CupAmong the best places in Erbil for European-style espresso drinks. Also offers light sandwiches and an attractive space.

Sandwich shopsShops near the Quayseri Market offer a cheap, quick lunch of kebabs and bread.
Mid-range
Abu ShahabAn iconic (and physically sprawling) Erbil restaurant serving standard Kurdish cuisine (salads, soups, and meat-based entrees), as well as a popular spot for local celebrities.

Saj Alreef RestaurantServes a smorgasbord of standard Asian, Western, and Middle Eastern Cuisine. Like Abu Shahab, this is a local icon and sprawling emporium.

Tarin RestaurantFeatures fairly typical, heavy Kurdish restaurant cuisine, with live music (Arab, Kurdish, and Turkish) and an attractive outdoor garden. Serves alcohol.

ZahleServes Lebanese mezzo and meats, in a more intimate environment than most Erbil restaurants and with attentive service. Serves alcohol.

O'CaffeeGood Italian cuisine, including oven-baked pizzas, good pasta dishes, and Western-style salad. Also has one of Erbil's better espresso bars

Kebab Yasin (Main)

phone: +964 750 461 6610

Good Middle Eastern, halal, excellent kebabs.
Splurge
Drink
You can buy a wide variety of beer, wine, and liquor at pretty reasonable prices in Ainkawa, the Christian suburb of Irbil. Just look for any of the local liquor stores. A liter of Jack Daniels for about US$22 is cheaper than back in Tennessee where it is bottled! Remember that Erbil is a predominantly Muslim city: drinking in public is unacceptable and public drunkenness is frowned upon.
In addition, the bars at the major luxury hotels (such as the Divan and the Rotana) are popular gathering spots.
Sleep
There is an active
couchsurfing
community in Erbil, which offers a low cost alternative for hotels if you only plan to stay a few days in Erbil.
Budget
Hotel below the main gate to the CitadelOne of the cheapest options in town. Numerous other hotels exist in this area or just west of it.

Hotel Ali

address: Bata St

Basic but clean, shared bathrooms, squat toilets, Sat TV.

Lonia MotelOffers rooms which includes a bedroom, sittingroom, kitchen and bathroom. Free internet is included.
Mid-range
Splurge
phone: +964 66 210 5000

address: Gulan Street

Major luxury hotel with several restaurants, popular bars and lounges, a duty-free shop, and large gym and pool. Along with the Rotana, a center of the high-society social scene. Higher security than in other hotels.

phone: +964 66 210 5555

address: Gulan Street

Major luxury with spa and outdoor swimming pool, plus popular bars and restaurants. Along with the Rotana, a center of Erbil's high-society social scene. Security is tighter than in other hotels.
Go next
Sulaymaniyah
is an easy 2-3 hour drive. Described as the centre of education and culture in Kurdistan. The city features the best museums in Iraqi Kurdistan, good hotels and a number of pleasant parks including Chavvy Land.