Erfurt
Erfurt
is the capital of the German state of
Thuringia
(Thüringen). It is also its largest city and a major transportation hub.
Understand
With over 200,000 inhabitants today, Erfurt was an important trading town during the Middle Ages, and has many beautiful old buildings and parks. Its university was one of the oldest in Germany, before it shut down early in the 19th century, but a refounded incarnation dating to just after reunification claims the old and august tradition.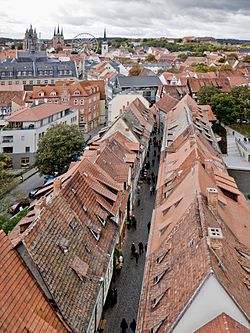 phone: +49 361 66400

address: Benediktsplatz 1

They also offer guided city tours.
Get in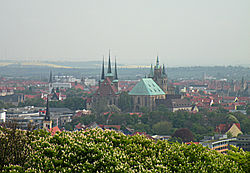 By car
Erfurt lies on the intersection of two motorways (
Autobahnen
): A4 and A71.
Distances on the motorways to some cities:
Berlin
300 km,
Leipzig
150 km,
Dresden
215 km,
Kassel
150 - 200 km depending on route,
Frankfurt
260 km,
Munich
(München) 400 km,
Hanover
220 km
By train
Erfurt HauptbahnhofWhile the station itself is a fairly run-of-the-mill affair for a city of its size with the usual shopping and fast food options, it is one of the central hubs of Germany's high-speed rail system. Here a high-speed line inaugurated in December 2015 linking Erfurt and Leipzig at a maximum speed of 300 km/h and thus slashing travel times along the entire Frankfurt-Dresden corridor intersects with the main North-South spine in Eastern Germany with a new and upgraded line from Erfurt to Nuremberg similarly allowing 300 km/h at its heart. Starting with the schedule change 2017, Erfurt is one of only two or three intermediate stops of "ICE Sprinter" from Frankfurt or Munich to Berlin and most of Germany is accessible in journey times easily competitive with flying. Regional trains are timed to reach the long distance lines and some are explicitly set up to enable service to some secondary cities that lost ICE service with the rise of the Erfurt hub. Even if you connect through Erfurt, trains usually wait for one another in the case of small delays and most connections are same-platform. Even the "regular" ICE southward has not stops between Erlangen and Erfurt.
There are hourly ICE connections with Leipzig (45 minutes), Nuremberg (1:20 hrs), Berlin (1:45–2 hrs), Frankfurt (2:10 hrs), Munich (2.5 hrs), Stuttgart (3:40 hrs) and Hamburg (under 4 hrs), once in two hours with Dresden (2 hrs).
By plane
Erfurt-Weimar airportAs of August 2016 operations are modest and mainly cater to people from Thuringia flying to Mediterranean tourist destinations, in part because fast train connections make domestic flights from ERF rather pointless. Tram line number 4 offers a convenient connection to the city center and the main station in about 25 minutes (at a 20-minute interval).
The most useful alternative is Germany's most frequented airport at
Frankfurt
(
FRA
), easily reachable by train within 2.5 to three hours. Other nearby airports are at Leipzig/Halle (LEJ; just over an hour by train), Nuremberg (1:45 hrs) and Berlin (TXL or SXF; 2.5 hrs). Munich Airport—Germany's second major airport—is about 3.5 hours from Erfurt by train.

Get around
The city centre is quite compact so walking is often the best way to explore the city.
Regular tram services cover much of the city; they are supplemented by buses. On most sections trams have service intervals of at least every 10 minutes during daytime, becoming less frequent in the evenings. Night buses are available throughout the night after midnight; these run once or twice every hour and meet at the very heart of the city centre (
Anger
) or depart from the main station (within walking distance from
Anger
).
Info about public transport (in German language)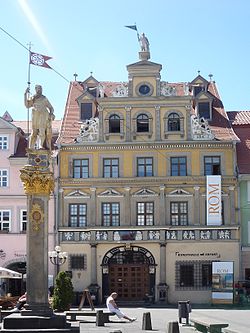 See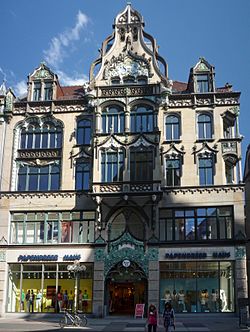 Much of Erfurt's charm is found in its narrow streets, many of which are pedestrianized, with their beautiful old houses, green areas and little bridges across the Gera river and the
Stadtpark
and the
Nordpark
on different sides of the city center.
In the tourist office you can buy a small guidebook in one of several languages that leads you through the city along the main sights.
address: Domstufen 1

Severikirche

address: Domplatz

One of the most important gothic buildings in Germany.

KrämerbrückeA bridge with houses built on either side, mostly used for shops. Once this style of bridge was rather common in medieval European cities. However, in many cities such bridges were abandoned due to fire safety concerns or fell victim to the demands of car culture. It is by far Erfurt's most iconic landmark.

Fischmarktwith its Burgerhouses and town hall.

address: Augustinerstraße 10

Monastery where Martin Luther lived. The main gate of the old university (third oldest German university, shut down in the 19th century and reopened in 1992)

AngerMain square of the city. Full of stores with the old Post Office building.

Petersberg Citadela historical defence system and a great lookout over the city
Jewish heritage
The history of Jews in Erfurt is not a continuous and not always a happy one, but they did leave a mark on the city and there is Jewish life once more in Erfurt today. The first Jewish congregation (with a synagogue dating to around 1094 in its oldest parts) was driven out due to a pogrom caused by slanderous rumors that local Jews were in some way responsible for the Black Death that hit Erfurt in 1349. However, by 1354, a congregation had established itself again in Erfurt and would continue to thrive until the Erfurt city council decided to expel the Jews in 1453/4. During the 19th century, the Jewish congregation of Erfurt grew and thrived once more and by 1932 it had 1290 members. Unfortunately few survived the Nazi era and most that did, fled Germany. Still, Erfurt retained the only Jewish congregation in the entire GDR and since the collapse of the Soviet Union, it is growing once more, in part thanks to immigration from former Soviet Republics. During the 1349 pogrom, a wealthy Jew hid a treasure of considerable monetary and incalculable historic value in the cellar of a building near the Old Synagogue. He did not survive the pogrom and thus the treasure was only rediscovered by chance in 1998. It has since been exhibited in several places, including New York City, London and Tel Aviv before returning to Erfurt. It is now exhibited in the Old Synagogue museum.
address: Waagegasse 8

Oldest surviving European Synagogue, today a museum that has an impressive collection of 14th century Jewish jewelry. In 2015 it was proposed as a UNESCO world heritage site.
The synagogue was in use as such until the 1349 pogrom and was converted to a warehouse afterwards. This "forgetfulness" of its history proved a serendipitous blessing in disguise as the Nazis never knew or cared enough about this part of Jewish history to destroy it in the same way they destroyed Jewish lives and heritage elsewhere. It was only in the 1980s that people started to care about this building again and after reunification, the Erfurt city council bought up the building and restored it to its current state, turning it into a museum.

New SynagogueThis synagogue sits on the site of the 1884 building plundered and burned down by the Nazis in 1938 and later razed. The Nazis had forced the congregation to sell the land on which the building sat afterwards, but astonishingly the city council gave the land back to the reestablished congregation in 1947. There was debate on the style of the to be built synagogue, with early suggestions rejected as "too ecclesiastical" by the anti-religious GDR authorities so the resulting building is pretty modest and betrays its 1950s origins. Unfortunately it has to be under police surveillance due to fear of antisemitic attacks and you can see security cameras near the entrance.

Medieval MikvehA Mikveh is a ritual bath fed by "living" water (in this case a nearby river, which however had much more water in the Middle Ages than it does now). This Mikveh was in use during the same time as the Old Synagogue and is attested in tax records as early as the 13th century. Those same tax records also attest the surrounding area as densely populated by both Jews and Christians. The Mikveh was damaged during the 1349 pogrom but used again after 1354. Following the 1453 expulsion of the Jewish community the mikveh fell into disuse and was converted into a cellar which was subsequently forgotten about. Only in the 2000s were archeological excavations undertaken to unearth this part of Erfurt's Jewish history and it opened as a museum in 2011. Not all questions that science can answer have yet been answered about this site and research is ongoing. You can see down into the Mikveh through a glass window outside the guided tours.
Do
EgaparkA huge and beautiful botanical garden and accessible by the Straßenbahn. Garden lovers can find many things to do and see. Check out for any exhibitions or programmes.

phone: +49 361 2233155

address: Theaterplatz 1

Watch an opera or play.

StadtparkTake a walk around the town park and see the green side of the city

address: Benediktsplatz 1

Join a historical city tour organised by the Tourist Information to have better and entertaining insight into the long lasting history of the town.

RelaxRight at the Wenigemarkt or behind the Krämerbrücke beside the river you can have a beautiful look at the old houses standing on the 'bridge'.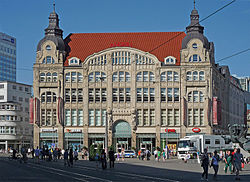 Buy
Shops on the Krämerbrücke offer unique crafts and souvenirs. Around the city centre, along the street Anger, Bahnhofstraße and all the way to the Fischmarkt and Domplatz along Schlösserstraße and Marktstraße you can find almost every apparel shop a European heart desires, from H&M over Mango to Zara, Esprit, C&A and many, many more!
There are also a few shopping malls and other shopping opportunities spread over the whole city:
address: Anger 1

Shopping mall directly in the city centre. Offers the opportunity to shop for apparel, electronics, groceries and more on four floors.

address: Nordhäuser Straße 73 t

Shopping centre approx. 20 min outside the city centre. Shop for apparel, groceries, electronics and more. Post office, drug store and "Sparkasse" (a German bank)also inside. Special events happen around holidays or around special themes (e.g. fashion, sport etc.)

TEC (Thüringer Einkaufszentrum)

address: Hermsdorfer Str. 4

Shopping mall 10 minutes outside the city centre. Shop here for groceries or electronics. Only a few apparel shops are here. The several shops open at different times, have a look at the website for details!
Be aware: most shops (besides most grocery stores) are only open until 8pm. Sundays all shops and stores are closed! (Exemption: a few Sundays each year are open for sale)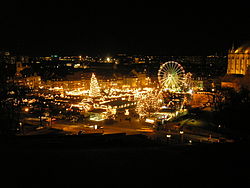 Eat
The Thüringer Bratwurst (famous grilled sausage) comes from Erfurt, and the city has numerous stalls selling this world-famous delicacy. Don't miss out to try one or more to sample on the differences.
address: Marktstraße 21

Supposedly an excellent ice cream shop.

address: Am Fischmarkt 19

Nice location with the option to sit outside and watch passing by people, good breakfast and food in general.

phone: +49 361 26 26 943

address: Michaelisstraße 41

Old school German cuisine in medieval setting.
Drink
address: Kürschnergasse 8

Nice cafe and bar with the opportunity to sit outside and have a nice look at the Gera river. Every day they offer a different special.

address: Michaelisstraße 45
Dance
Erfurt has numerous small bars in the city center. When looking for a nice bar to have a drink or two don't miss taking a look at the Michaelisstraße near Fischmarkt where you can find numerous bars that offer a variety of drinks and snacks. Of course most of the cafes and restaurants mentioned in the "eat and drink" section also offer alcoholic beverages and are open until late.
If you intend to go clubbing or dancing, Erfurt can also offer some clubs, most of them are open on Wednesdays, Fridays and Saturdays.
Sleep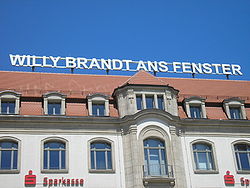 For budget travelers Erfurt offers a few hostels and low budget hotels or pensions.
address: Puschkinstr. 21

address: Walkmühlstraße 13

phone: +49 361 64450

address: Theaterplatz 2

Modern architecture and good atmosphere.

phone: +49 361 55 10 0

address: Juri-Gagarin-Ring 127

Erfurter HofThis hotel was the site of an important event in GDR-FRG relations, when Willy Brandt stayed here during a 1970 visit. The visit was the first meeting of East and West German heads of government, but besides the political deliberations (which provided few concrete results) there was a memorable scene when Erfurters broke through police and Stasi barricades demanding to see Willy Brandt with the words "Willy Brandt ans Fenster" until he ultimately did show himself in the window. Brandt reminisced about this moment as one of the most emotional in his life in his memoirs two decades later. A sign on the roof of the hotel reads "Willy Brandt ans Fenster" in commemoration of the event.
Go next
By train, Weimar is only a quarter of an hour away.
Jena is just half an hour by train.
Leipzig is 45 minutes by high-speed train.
Wander around on near-by Thuringian Forest, on which Thuringia called the "green heart of Germany".
Halle about 35 minutes away and has some great things to see. The largest city in Saxony-Anhalt is the birthplace of Handel and has a few castles.