Esch-sur-Sûre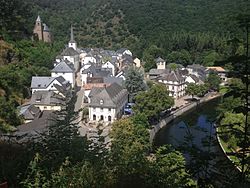 Esch-sur-Sûre
is a town located in the
Luxembourgian
Ardennes
. The town of Esch-sur-Sûre is rather small, counting just over 300 inhabitants.
Understand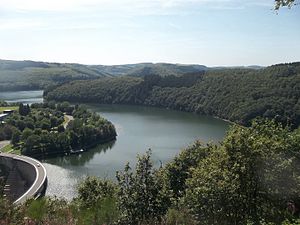 Esch-sur-Sûre is mostly known for the
Upper Sûre dam
, built in the 1960s to meet the country's drinking water needs.
The
-sur-Sûre
suffix of the town's name refers to the river
Sauer
, which is called
Sûre
in French. The name means nothing more than
Esch on the river Sauer
.
Get in
By public transport
To get to Esch-sur-Sûre by public transport, it is necessary to take a train to
Ettelbruck
first. From here, bus 535 runs every two hours to Esch-sur-Sûre. Other bus connections connect the small town to
Wiltz
and Rambrouch, which links to
Colmar-Berg
and
Diekirch
.
By car
When travelling from
Luxembourg City
's centre, use the Avenue Emile Reuter, turning onto the Rue de Rollingergrund (Route nationale 12), and stay on this National route. After having crossed the river Sauer (
Sûre
), take the first left turn leading you through a tunnel. This road will take you straight to Esch-sur-Sûre.
Get around
Having just over 300 citizens, Esch-sur-Sûre is a very small town. It can be travelled by foot very easily.

See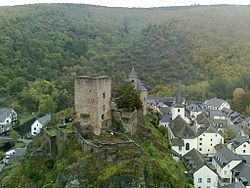 Esch-sur-Sûre castle ruinsThe ruins on top of the hill are the main attraction of the town. They can be explored for free, just make sure not to damage yourself with the steep hills that the castle ruins are built on top of.

phone: +352 89 93 31-1

address: 15 Route de Lultzhausen, L-9650 Esch-sur-Sûre

Information centre, permanent exposition about the park, sale of regional products.
Do
Bicycles, E-bikes and mountainbikes can be rented.
Guided tours of the town can be done.
Buy
phone: +352 26 88 90 03

address: 1 Rue du Moulin

Small and cozy shop that sells regional products.
Sleep
Connect
Go next
Explore the rest of the Luxembourgian Ardennes.
Had enough of the Ardennes? Try the
Mullerthal
region known for its scenic terrain or, if you're more into city trips, visit
Luxembourg
.