Eskihisar (Gebze)
Eskihisar
is a pleasant village in
Eastern Marmara
, on the northern coast of the Gulf of İzmit. Located just east of the
Asian suburbs
of almost boundless concrete jungle that is
Istanbul
, you are likely only here just to take the ferry across the Gulf to
Yalova
side, but, provided you have some time to spare, you could do worse than stopping by a little.
Get in
By car
From
Istanbul
, take D100 highway to east. Follow 'Eskihisar' signs once you left the suburbs of Istanbul behind and crossed the provincial boundary of
Kocaeli
. It
would
normally take about an hour from central parts of
Istanbul
, but the highway is almost always congested, at least in parts, unless you are driving between late at night and just after sunrise.
By minibus
The very frequent minibuses plying the route between Gebze and Harem, Istanbul's main bus station on the Asian Side (and easily connected to Sirkeci in the
Old City
by frequent ferries), may be useful for getting to Eskihisar.
By train
Frequent suburban trains (
banliyö treni
; 1.50 TL pp) depart from Haydarpaşa station in Istanbul's
Asian Side
to
Gebze
, making the route in roughly an hour. From Gebze station, Eskihisar is about 30 minutes away on foot. Minibuses may also be available.
However, no trains arrive at Gebze station as extensive rail rebuilding is taking place all around in northwestern Turkey, in preparation for the high-speed link between Istanbul and Ankara.
See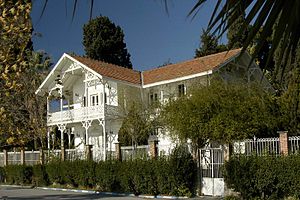 Eskihisar Citadel

phone: +90 262 655-63-48

A renovated white wooden Victorian mansion that wouldn't be out of place in the Princes' Islands. It used to be owned by and is dedicated to Osman Hamdi Bey (1842-1910), the founder of the Istanbul Archaeology Museum and one of the earliest modern Turkish painters.
Eat
There are some restaurants on the shore to the left of the ferry jetty.

Sleep
There are some hotels/guesthouses (pansiyon) in the streets to the left of the ferry jetty.

Go next
Your most likely scenario to arrive in Eskihisar to take the ferries to Topçular near Yalova across the Gulf of Izmit. Ferries are quite frequent and take about 40-45 minutes to reach the other side. While passengers without a vehicle pay 2.80 TL/person, flat fare for cars is 45 TL one-way, i.e. it is not dependent on how many people are riding in the car. Larger vehicles pay substantially more.