Essex (England)
Essex
is a large county in
East Anglia
,
England
.
Towns and villages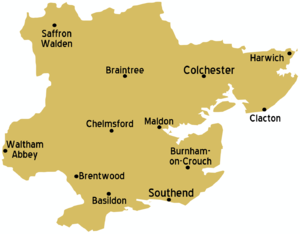 Towns
– Colchester Castle is the largest Norman keep in Britain
Great Dunmow – ancient flitch town, worth a walk up and down the high street
Villages
==Other destinations==
— Royal Forest
Foulness Island — Essex's largest island. Lies off the coast near Southend and has been under the control of the Ministry of Defence since 1916.
Understand
Contrary to popular belief and stereotypes, Essex is not actually an urban wasteland. Most of the county is rural, and has some very beautiful scenery that is not widely known to outsiders. Saffron Walden, in the north-west of the county, epitomises this defiance of the classic Essex stereotype, as do many of the smaller towns and villages.

Talk
Accents vary in Essex. In the northern and rural areas of the county, you are much more likely to hear the traditional East Anglian accent. But in the south of the county the most commonly heard is known as the estuary accent; some say this is a cross between Cockney and East Anglian.

Get in
Stay safe
Contrary to popular belief, Essex actually has one of the lowest crime rates in England. However some poorer towns in the more urbanised south and west of the county should be approached with caution, especially at night.
As with the rest of the UK, in any emergency call
999
or
112
(from a land-line if you can) and ask for Ambulance, Fire or Police when connected.
==Go next==
nl:Essex (Engeland)
sv:East Anglia