Eucla
Eucla
is in
Goldfields-Esperance
.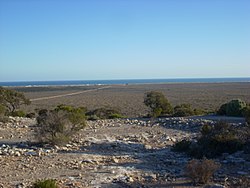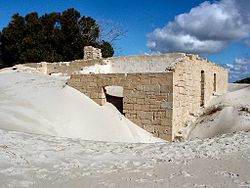 Understand
Eucla
is the easternmost town in Western Australia. Once an important stop on the telegraph line, it is now a scenic Nullarbor roadhouse at the point where the coastal cliffs move inland and the
Eyre Highway
drops down onto the Roe Plains.
Get in
190km west of Nullarbor Roadhouse in South Australia
180km east of Madura Roadhouse in Western Australia

See
Old Telegraph StationThe telegraph station building is half-filled with sand dunes, which along with other occasional bricks visible above the sand, gives a tantalising glimpse of the old town now buried under the sand.

BeachDesolate beach where you might be the only one there to enjoy the views to Antarctica. The ruins of the old jetty are to the west. To the east are several nice large sand dunes.

Traveller's Cross and Eyre Memorial

address: next to the caravan park

Memorials that offer good views down towards the beach.

Bunda CliffsBetween Eucla and Nullarbor, the highway runs close to dramatic sea cliffs. Several popular viewing spots are signposted (and usually visible by the gaggle of caravans) but there are also other roads (short, decent dirt roads) leading to the cliffs. Be very careful as the cliffs are unstable. Note that closer to Nullarbor, the cliffs steeply overlook the sea, but close to Eucla, the cliffs roll down to a lower level. Therefore, it's worthwhile to visit all the lookouts.
Buy
Petrol is 50c/litre more than Perth or Adelaide, but 10c cheaper than the Nullarbor Roadhouse.

Eat
Eucla Motor HotelOffers patchy pub food at high prices.
Sleep
Eucla Motor Hotel

phone: +61 8 9039 3468

The only game in town, this complex includes basic motel rooms for $125 single (extra for more people), "Budget Motel" rooms, and a caravan park.
Connect
Telstra probably has service, but others might not. Wifi is not available and even the TV channels are limited.

Go next
West
Mundrabilla 100km
Madura 180km