Eugene
Eugene
(pop. ~160,000) is a city in
Oregon
at the southern (upper) end of the
Willamette Valley
near the confluence of the Mckenzie and Willamette rivers. It is best known for being the home of the University of Oregon.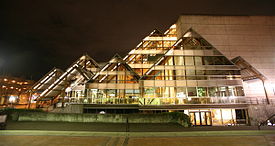 Understand
Citizens of Eugene are environmentally aware people who love their coffee and their microbrews. Residents range from arch-conservative Republicans to militant anarchists. However, overall the population is typical Pacific Northwest, i.e., leaning toward a greater degree of social responsibility, respect for nature, and diminished consumerism. Eugene is home to the University of Oregon, aka "The Fighting Ducks." Eugene was the second home to the rock band, the Grateful Dead, and author Ken Kesey, a U of O grad, lived in nearby Springfield, leading some to see this city as a "hippie Mecca."
Along with neighboring
Springfield
and surrounding towns, Eugene forms part of the Eugene-Springfield Metropolitan Area.
Saturday Market
has been continuously in operation since 1970, rain or shine and claims to be the oldest open-air market of its type in the United States.
Visitor information
Get in
By plane
Additional domestic & international connections are made in
Chicago
,
Portland
,
Seattle
,
San Francisco
,
Los Angeles
and
Salt Lake City
depending on the airline(s) you choose.
There is no public transportation (Lane Transit District (LTD) buses) to/from the airport, so you'll have to hire a cab, shuttle, or rent a car.
The next nearest major airport for commercial flights from additional domestic & international destinations is at
Portland International Airport
(
PDX
), north. Most travelers would fly into Portland at a more competitive airfare and rent a car to drive to Eugene. If you do not plan to rent a car, Groome Transportation offers regularly scheduled shuttles from Portland International Airport into town (See By bus in the below).

By train
The Amtrak train station is at the located at 433 Willamette St in downtown Eugene. It is served by:
Amtrak Cascades... runs twice daily between Portland & Eugene via Oregon City, Salem & Albany and 4x daily from Portland to Seattle and twice daily from Seattle to Vancouver BC. Additional services from Seattle to Vancouver and from Portland to Eugene are by bus (Amtrak Thruway) (See Below under By bus):
Amtrak Coast Starlight makes an once daily trip in each direction between Seattle and Los Angeles along the same route with the same stops as the Amtrak Cascades between Seattle and Eugene (except Tukwila, Vancouver WA & Oregon City). The train continues south from Eugene with additional stops in Chemult (nearest train station to Bend) and Klamath Falls, Oregon before crossing into California (or arriving into Eugene if going northbound).
By car
Travel time by destination and route:
From Interstate 5 (I-5) Eugene and Springfield are accessed from exits #189 ("30th Ave South Eugene") through #196 ("Randy Pape Beltline SR-569 Eugene-Springfield") along I-5. To get to downtown Eugene from the north, exit at #194 and go west on Interstate 105 or go east on SR-126 to Springfield from the same exit. From the south, downtown can be reached via Franklin Blvd (Hwy 99) at Exit #192. There are (5) exits along I-5 to reach Eugene and Springfield:
Portland, OR (via I-5 for ): 2 hours
Seattle, WA (via I-5 for ): 5 hours
Medford, OR (via I-5 for ): 3 hours
Sacramento, CA (via I-5) for ): 7.5 hours
San Francisco, CA (via I-5, 505 & I-80 for ): 9 hours
SR-126 Passeses through Eugene as W 11th/10th Ave and through Springfield as Main St/'A' St. A bypass highway of OR Hwy 126 bypasses around Springfield in the north from Main & Pioneer Pkwy east of Springfield, becomes I-105 west of the I-5 junction at Exit #194 and continues into W 7th & Jefferson west of downtown Eugene as Interstate 105.
Florence, OR (via Hwy 126 for ): 1 hour
Bend, OR (via Hwy 126 for ): 3-4 hours
Boise, ID (via I-84, US 20, and Hwy 126 for 446 miles (718 km))ː 7.5-8 hours
SR-99 Goes from I-5 at Exit 192 and pases along the north side of the University of Oregon as Franklin Blvd, across downtown as 6th / 7th Ave and continues northwest as "Hwy 99" to Junction City where it splits between SR-99W & SR-99E. Going south SR-99 goes along I-5 to Exit #188 ("SR-58 Oakridge Klamath Falls"), through Goshen as Franklin Blvd and runs parallel along I-5 as a separate road for through Creswell and Cottage Grove and merges back into I-5 at Exit #170 in Veatch.
Corvallis, OR (via SR-99 & 99W for ): 55 minutes
By bus
Intercity buses typically have their own stops in different parts of town. Some may have an additional stop at the Amtrak Station on 433 Willamette St. See the linked websites below:
address: (bus stop) 5th Street Public Market at 296 E 5th Ave

Service from Vancouver BC via Bellingham, Seattle, Tacoma, Portland and Albany. No additional stops between Albany and Portland.

phone: +1 458 206-3876

address: (Depot) 355 S 'A' St, Springfield

Greyhound travels primarily on Interstate 5 between Portland and Sacramento via Salem, Corvallis, Eugene, Roseburg, Grants Pass, Medford, Weed, Redding, Chico, Red Bluff, Oroville and/or Marysville. Passengers transfer to other buses in Seattle, Sacramento or Portland to continue to additional destinations. Take the 'EmX Eugene' or the 91 bus to go into downtown Eugene from the transit station next to the Greyhound station/stop. The old bus station on 10th & Pearl in downtown Eugene is closed.

phone: +1 877 693-3785

address: (bus stop) 2125 Franklin

Direct shuttle service to/from Portland International Airport (PDX). Additional stops are at "The 515" Apartments (515 E Broadway) and UO Law School (1515 Agate St). Contact them to determine exact pick-up locations.
phone: +1 541-484-4100

address: (bus stops) Amtrak Station @ 433 Willamette Station and Hayward Field @ 1515 Agate St

Tickets can also be purchased from Amtrak or Greyhound.
phone: +1 541-923-1732

address: (bus stops) Amtrak Station at 433 Willamette and Greyhound Station at 355 S 'A' St in Springfield

Connects Bend to Eugene, Florence and Coos Bay. Passengers connect to Eastern Point (across eastern Oregon to Ontario) and the High Desert Point (Redmond, Bend, Sunriver, La Pine & Chemult) in Bend
Get around
Bike - Eugene has an excellent system of bike routes, and has bike friendly streets, and its bike paths allow you to ride along rivers, mountain trails and through covered bridges.
Bicycle rentals are available from RENT A BIKE +1 541-579-5552. They drop off and pick up their bicycles, and charge only $30 for 3 days, or $45 for 1 week.
See
Oregon DucksThe teams representing the University of Oregon, competing in the Pac-12 Conference, are Eugene's most famous contribution to the sports world. Ducks sports have benefited enormously from the financial support of Phil Knight, UO alum and head of Oregon-based sports equipment giant Nike. The highest-profile Oregon team is the football team, which rose to become a perennial national contender in the early 2000s and also infamous for its highly colorful and variable uniforms. Oregon also has an extremely rich tradition in track and field, with Hayward Field known for its enthusiastic fans; the city has become known as "Track Town USA" because of this. Hayward Field is being rebuilt in a project that is scheduled to be complete in 2020; the new stadium, expandable to 30,000, will host the 2021 World Championships in Athletics. The main sporting venues (including Hayward Field) are all on campus. The football stadium, Autzen Stadium, is famous as one of the loudest and most intimidating venues in American sports. The basketball teams have played at Matthew Knight Arena (nicknamed "Matt Arena"; named for Phil's son, who died in a scuba diving accident) since 2011. Ducks baseball, revived in 2009 after nearly 30 years, plays at PK Park (not named for Knight), which is shared with the minor-league professional Eugene Emeralds.

address: PK Park, 2735 Leo Harris Pkwy

Minor League Baseball team with games during the summer.

phone: +1 541-682-3615

address: Lane Events Center and Fairgrounds - Ice Rink 796 W. 13th Avenue

Minor league hockey team with games from October to February.

Hult Center for the Performing Arts

address: West 7th Avenue & Willamette St.

Large performing arts center.

phone: +1 541-687-2746

address: 291 W 8th Ave

Small concert hall featuring alternative performances. Ask about work trade opportunities between 3PM and 6PM Monday through Fridaymaybe you'll get to see the show for free!

Hayward FieldOne of the best-known historic track and field stadiums in the United States. Hayward Field has hosted three Olympic Trials, and a variety of National, NCAA, and Masters championships. University of Oregon. It is being rebuilt, and will host the 2021 World Championships in Athletics.

First or Last Friday Artwalk. Popular art walk in downtown with all the local galleries participating. Free

Jordan Schnitzer Museum of Art

phone: +1 541-346-3027

address: 1430 Johnson Ln

At the University of Oregon. Free on Wednesdays between 5PM and 8PM.

Museum of Natural and Cultural History

phone: +1 541-346-3024

address: 1680 E 15th Ave

At the University of Oregon.

phone: +1 541-465-1506

address: 194 W Broadway

Formerly the Lord Leebrick Theatre Company. Community theater with a diverse schedule. See website for current shows and times.

phone: +1 541-683-4368

address: 996 Willamette St

Local dinner theater in downtown. See website for current shows and times.

address: 492 E 13th Ave

A unique, two-screen arts cinema housed in a cool old church/mortuary. Shows indie movies. A second location, the Bijou Metro, has opened downtown on Broadway.

Cuthbert AmphitheaterAn outdoor music venue in Alton Baker Park that gets some pretty big shows. Since it's outdoors, you can hear just fine throughout the park. During most shows, the real party is in the park in front of and around the amphitheater.

Pre's Rock

address: 16xx Skyline Blvd

A memorial to Olympic runner and local legend, Steve Prefontaine, at the site of his fatal car crash. In honor of him, the Prefontaine Classic, is held annually in Eugene in his honor.

phone: +1 541-345-1571

address: 1910 E 15th Ave

A non-profit art gallery housed in a historic church building built in 1895. Known for its annual Día de los Muertos (Day of the Dead) exhibit in October.

phone: +1 541-485-1320

address: 33275 Fox Hallow Rd

The Cascades Raptor Center is a nature center and wildlife hospital that specializes in raptor rehabilitation.

phone: +1 541-682-5380

address: 95 Crest Dr

The Wayne Morse Family Farm, a City of Eugene park, was the home of Oregon's long-time United States Senator, Wayne Morse. The 27-acre (110,000 m2) home was originally a working farm called Edgewood Farm. Owned by the Morse family, it includes the Morse home, a natural wooded area, and an open meadow. Formerly named Morse Ranch, the park is listed on the National Register of Historic Places
Do
Local tour operator, specializing in Willamette Valley wine tours. A safe way to enjoy wine tasting in comfort and style.
address: Hobby Field - Creswell OR

A local skydiving company with classes for all experience levels, from beginners to professionals, about 10 miles (16 km) south of downtown Eugene.
Outdoors
Eugene is a great city for outdoors enthusiasts and cyclists. There are many well-maintained hiking trails, and there are bike lanes on most major roads.
Spencer ButteA large butte south of downtown. Head south on Willamette St about 1.5 miles past the post office. The trail head is easy to miss but is on the top of a crest in the road on the left hand side. There is a large parking lot with signs and restrooms. Trail to the summit is about 2 miles each way with about 700 feet of climbing. Trail is well marked until about 1/4 of a mile from the summit which requires a small amount of rock scrambling.

Skinner's ButteA small butte just north of downtown. Original site of Eugene Skinner's cabin after which the town is named. This butte offers an excellent view of Eugene, and the Cascade mountains to the east. This butte was also the site of a scene from the movie Animal House. To reach the butte, head north on Pearl St. until you pass the large retirement home on your left, turn left at the next street (in between 3rd St. and 2nd St., unmarked) and after 1/4 of a mile make a right (unmarked). To get there by foot, you can hike up a trail opposite the train station and next to a Victorian styled house. If the weather is nice, you can go rock climbing at the natural basalt columns on the butte, or hike on some trails near the peak.

Ridgeline trailExtensive set of hiking trails south of town. To find them, head south on Willamette St., one mile south of the post office, and shortly after 52nd street make a left at the trail head parking lot.

Running trails. Eugene has several bark trails specifically for running.
Amazon Trail1 mile long, and near South Eugene High School.

Rexius Trail

address: Amazon Parkway, just south of Amazon Trail

3.5 miles long.

Pre's trail

address: in Alton Baker park, just north of downtown off of Coburg Rd.

~4 miles long.
River Bank TrailPaved bike path running along the north and south sides of the Willamette river. There are more pedestrian bridges in Eugene than there are vehicular bridges, you can see many of them from this trail. A good place to start the trail is Alton Baker Park, at 1820 Roosevelt Boulevard. You can sometimes rent bikes in the summer near the park's duck pond.
Eugene Area ParksThis reference features a guide to Eugene and Springfield Area parks, displaying the greatest parks in the area with descriptions, interactive maps, images and 360˚ panoramas.
Disc GolfThere is a new 18-hole course in Alton Baker Park and a smaller, (often crowded) 9-hole course at Westmoreland Park in West Eugene.
SkateThere are many skate parks throughout the city. The skate park in Underbridge Park (aka Washington-Jefferson Park) is the largest covered skate park in the country.
Events
Eugene Weekly
is a good source for 'what's happening' in the area.
Sasquatch BrewfestCraft beer festival with live music (early June).

phone: +1 541-346-5666

Held late June through mid-July; presented by the University of Oregon.

phone: +1 541-343-4298

Second weekend in July. One of the biggest "hippie" gatherings. Tons of great food, great hand made products sold by local vendors, and live music to be had.

Whiteaker Block PartyAugust. Large, free outdoor festival in the Whiteaker neighborhood: Live music, street performances, food, drink, etc.

Scandinavian Festival

address: Junction City

An annual Scandinavian-themed festival in nearby Junction City that has been happening for more than 50 years. August.

phone: +1 541-682-4292

address: Lane Events Center, 796 W. 13th Ave

An annual mid-summer celebration featuring food, music and other entertainment.

Eugene CelebrationEarly Fall. A multi-day community gathering, covering a city block of downtown. Features live music, street performers, vendors and a parade on the Sunday morning of the Celebration. Parade entrants represent the entire diverse Eugene community.

address: Mount Pisgah Arboretum

Mushroom-themed harvest festival. October.

ClayfestOctober. A three-day ceramics only show and sale featuring over 60 local artists. Clay Fest draws artists from all over Oregon. This is a great opportunity buy unique handmade pieces directly from the artists who make the work.

address: E 13th Ave between University and Kincaid Sts

Bi-annual student street fair kind of like Saturday market, but more student-oriented. Fall/Spring terms.
Learn
Center for Appropriate Transport. Learn about sustainable transport, cargo bikes, frame building, and bicycle repair.
Wellsprings Friends School
Northwest Christian University
Buy
Eat
There are food carts/trucks scattered all over the city, especially near bars.
Go blackberry picking at one of Eugene's many ridiculously out of control wild blackberry patches.
Budget
address: Five locations in Eugene

Cafe Yumm!'s specialty is rice bowls with beans and salsa or other sauces. They also serve soup, salads, tempeh/tofu skewers, and sandwiches.

address: Two locations: W11 Ave and Coburg Rd

Serves quality pseudo-Hawaiian plate lunches and dinners with their "special sauce," along with a selection of Hawaiian beers.

address: 933 Pearl St

Serves lunch and dinner, real NY style pizza, with a variety of meat and vegetarian choices, plus the option to create your own pizza from a large list of toppings.

phone: +1 541-515-6926

address: 2540 Willamette St

Serving authentic Liege waffles with an amazing assortment of toppings, such as bacon, cardamom, garlic, fruit, and the list goes on and on. Also serves omelettes and they have some local microbrew on tap.

The Pantry and Pub

phone: +1 541-343-0485

address: 1810 Chambers St

Diner meets pub, and serves freshly-cooked burger standards. Excellent fries. Friendly service. Good vegetarian options.

address: 86714 McVay Hwy

Serving fresh made sandwiches, coffee, bakery items, sweets, snacks and beer. Mini health food market and cafe with drive-through window for coffee. Omnivorous, herbivorous and diets of all kinds.

El Super Burrito

address: 2566 Willamette St

Very inexpensive and locally owned. El Super Burrito is the best burrito and taco you can get for your money in the city.

phone: +1 541-868-8666

address: 20 E Broadway

A fun-but-gimmicky doughnut store chain with additional locations in Denver and Portland. Known for unusual toppings like bacon slices with maple-frosting, Capn' Crunch, and powdered Tang.
Mid-range
Brail's

phone: +1 541-343-1542

address: 1689 Willamette St

Breakfast.

Cornucopia

phone: +1 541-485-2300

address: 295 W 17th Ave

Fresh and local breakfast, lunch and dinner.

Marche Restaurant

phone: +1 541-342-3612

address: 296 E 5th

Lunch or dinner.

Morning Glory

phone: +1 541-687-0709

address: 450 Willamette St

Breakfast.

Pizza Research Institute

phone: +1 541-343-1307

Innovative gourmet vegetarian/vegan pizza. Lunch and dinner.

Sweet Life

phone: +1 541-683-5696

address: 755 Monroe St

World-class desserts, including vegan options.
Splurge
phone: +1 541-687-2433

address: 3443 Hilyard St

A small, personal restaurant; Bruno changes the menu weekly, featuring local and seasonal ingredients.

Lucky NoodleAsian cuisine with great atmosphere, delicious food and wine.

Mazzi'sHas the best Italian food in town. Prices are reasonable, considering the quality of the food; a typical dish is $12-18. Outstanding wine selection as well.

phone: +1 541-485-4444

address: 27 E 5th Ave

A great place to get a steak. Dine in the romantic atmosphere of an historic railroad dining car. The main section of the Oregon Electric Station is the original depot built in 1912.
Groceries
address: 125 W 11th Ave

Natural grocery store downtown. Also has prepared sandwiches and salads as well as a large wine selection.

Plaza Latina

address: 1333 W 7th Ave

A large Latin American grocery store with a deli that serves excellent and cheap Mexican dishes.

address: 357 Van Buren St

A natural foods store in a barn.

address: 748 E 24th Ave

address: 70 W 29th Ave

Eugene's largest Asian market.
Drink
Bars
Eugene's main bar scene is centered around Broadway and Olive St (the "barmuda triangle") in downtown. Alternatives can be found in the Whiteaker neighborhood (Blair Blvd), which is experiencing a brewery renaissance of sorts, and around the UO campus. Expect crowds every Thursday, Friday and Saturday night, especially during the school year when college students fill the streets.


Breweries
Eugene has a thriving brewery scene, largely in the Whiteaker neighborhood, northwest of downtown.


Coffeeshops & teahouses
Eugene has an excellent variety of coffeeshops.


Wineries
The wineries of the Willamette Valley pride themselves in offering a relaxing and inviting experience for guests from downtown Eugene tasting rooms to vast countryside vineyards.


Connect
University of Oregon Knight Library

phone: +1 541-346-3053

address: Knight Library at 1501 Kincaid St (on campus main library)

Oregon's biggest library, named after "Uncle Phil". The university has other libraries on campus, see the url link of this listing for their locations and hours.
A number of coffeeshops in town do offer wifi internet access too. Hotels also offer wifi for their guests as well.
By telephone
The area codes for Eugene and Springfield are 458 and 541. 10-digit dialing is required throughout the region, i.e., the 541- or 458- area codes must be dialed with all numbers.
By mail
Sleep
The Eugene Hotel, whose large sign is a prominent feature of Eugene's skyline, is actually a retirement community.

Budget
Mid-range
Splurge
Go next
Cascade Mountains 1-2 Hours by car.
Oregon Coast 1 hour. Cities include Florence,OR and Yachats, OR. Eat at Mo's in Florence, take a hike en route at Kentucky Falls and hit the Hobbit trail just north of Florence. Some of the largest coastal Sand Dunes are south of Florence with various tour companies and quad rentals available on the highway south of Florence.
Cape Perpetua Interpretive Nature Center (on coast north of Yachats)
McKenzie River 15 min - 3 hours. Take Hwy 126 east which runs along River corridor into mountains. Various waterfalls and fishing spots abound.
Rafting Guided or self-guided rafting trips are available through Oregon River Sports +1 541-334-0696, along the Mckenzie River or Alton Baker Park. An eight-person raft is $95 a day including all needed equipment. Hourly rental in the park is $10 and is a great way to spend an afternoon.
Mt. Pisgah Arboretum South Est of town at "LCC" exit on I5
Fern Ridge Reservoir A reservoir and wetlands area just west of Eugene. Take hwy 126 (W 11th Av) towards Veneta.
McCredie Hot Springs on the right just past mile-marker 45 on highway 58.
Dexter State Park a large reservoir in the foothills of the Cascade Range near Lowell, OR (About a half hour drive. There is also an LTD bus once or twice/day) The park has an excellent disc golf course.
Blair Lake and Meditation Pool (Wall Creek), take highway 58 to Oakridge, left on Union St, right on 1st, ten miles or so to a left turn on Forest Service Road 1934. Meditation Pool is on your left after about 3/4 mile (trailhead, about 1/3 mile walk to the pool), Blair lake is all the way at the top. Be sure to detour near the top when you see a road going off to the left marked by a trail marker (picture of two people hiking) for a spectacular view. Blair lake has campsites and hiking, Meditation Pool is a warm spring.
Willamette Pass Popular skiing area 69 miles east of Eugene on Hwy 58. Summer activities include gondola rides to the summit, Mtn biking, disc golf and hiking. Shuttle service to Willamette Pass available every day they are open. Departs from Dick's Sporting Goods at the Delta Oaks Shopping Center in Eugene. Departs at 7:15AM and returns approximately at 5:45PM.