Eureka Springs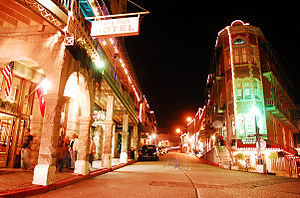 Eureka Springs
is a quaint resort town in the
Ozark Mountains
of
Arkansas
, with eclectic dining and shopping, art galleries and local crafts. The massive Beaver Lake is just outside of town. It is a Victorian village and has a European look and feel, with Victorian cottages and homes on steep winding streets.
The entire city is listed on the National Register of Historic Places, and with good reason. Not many towns sprang up overnight like Eureka Springs. On July 4, 1879, the town was founded and named. By the end of the year, approximately 10,000 were living there. The attraction was the area's numerous cold water springs, thought to have healing properties. Naturally, this claim was fairly short lived, and when the boom busted, a town full of Victorian homes balanced precariously on limestone bluffs was left in the Ozark wilderness without much of an economic base. As a result, few new buildings followed, and those that were there were rarely razed or renovated. Dozens, if not hundreds, of Victorian homes have remained ranging from tiny cottages to elaborate mansions.
Today, the city is passionate about preserving this treasure. In the Spring of 2001, Eureka Springs was named one of 12 Distinctive Destinations by the National Trust for Historic Preservation.
You've never seen anything quite like it.
Get in
By car
Driving - Eureka Springs in remotely located in the Ozarks and the best way to get there is drive. You can travel south from Springfield, Mo or Branson, Mo. on US 65 to US 62 and then west. It is about 1-1/2 hours from Springfield and about 45 minutes from Branson. Eureka Springs is at the crossroads of US 62 (east/west) and US 23 (north/south), both are two lane highways and have curves and hills.
By plane
Northwest Arkansas Regional Airport (XNA) 50 miles southwest (mountain miles - takes longer to drive in the Ozark hills)
Tulsa International Airport (TUL) 160 miles west
Springfield/Branson Regional Airport (SGF) 100 miles north
Get around
Because parking is limited, many tourists find it convenient to walk or take the
trolley
.
Access to the downtown historic district is somewhat limited to individuals with disabilities. Sidewalks are rough native stone and often steep.
Streets in the historic area are very narrow and the operators of large vehicles like RV's and one ton pickups will find manuvering through town to be a real challenge.
See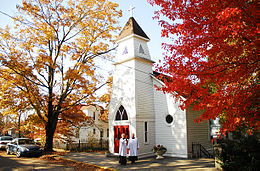 The Great Passion PlayOutdoor play of Christ's Passion in 4100 seat amphitheater. Performances from the last Friday in April to the last Saturday in October. Tickets $23.50 Adults, $10 Children 6-11, Under 6 Free.

Christ of the Ozarks, Seven story statue of Christ with outstretched arms. On the grounds of The Great Passion Play, it can be seen from Historic District of Eureka Springs. Open 24 hours a day and free of charge to visit.
Historic District, This is also referred to as the loop. It includes the downtown area on Spring Street. The architecture is Victorian, and you get the impression you are in an artisan village. There are galleries, restaurants, gardens, healers, craft shops, street musicians, spas and nightclubs.

Eureka Springs and North Arkansas RailwayHeritage railway offering scenic train excursions. Be aware that the "excursion" trip is very short - no more than a couple of miles to a wye juncttion turn around and then back to the depot.

Thorncrown Chapel, designed by notable architect E. Fay Jones, an apprentice of Frank Lloyd Wright.
Pivot Rock, an unusual rock formation.

Car Shows, Festivals and ParadesEureka Springs is a popular weekend gathering spot for car and motorcycle enthusiasts, artists and musicians. Check the Eureka Springs Advertising & Promotions Commission's web page for a schedeule of events.

The Rosalie Tour & Wedding Home

address: 282 Spring Street

Built in 1889 by JW Hill, The Rosalie is "the prettiest and fanciest home on The Boulevard"! It is a magnificent example of Steamboat Gothic design and Eastlake architecture. Tours and weddings by previous appointment only.
Do
Onyx Cave, 6 miles east of Eureka Springs, oldest tour cave in Arkansas. Tours given with short range FM receiver.

Turpentine Creek Wildlife Refuge

phone: +1 479 253-5841

7 miles south of Eureka Springs on Highway 23. 450 acre USDA licensed refuge for big cats. Open 9AM till dusk every day except Christmas. On-site bed & breakfast.

Promised Land Zoo10 miles North of Eureka Springs on Highway 23. 120 acre USDA licensed 4 mile drive thru, walk thru, petting zoo and more. Over 500 animals from all over the world. Fun for all ages and open everyday all year round.

address: 16311 Hwy. 62 West

Every summer, Inspiration Point Fine Arts Center hosts budding opera singers in three operas performed in repertoire. One of the most picturesque spots in the south central USA, Inspiration Point is a look-out site perched atop Rock Candy Mountain, between the beautiful White River Valley and Beaver Lake.
Eat
address: 5 Center Street

Serves Italian food.
New Delhi Cafe, 2 North Main., Features American and Indian food. Live music Friday and Saturday nights. thenewdelhicafe.com +1 479 253-2525
Mud Street Cafe 22 G South Main Street, +1 479 253-6732. Great underground ambiance.

Ermilio's Italian Home Cooking

phone: +1 479 253-8806

address: 26 White Street

Wonderful Italian food located inside an old home on Eureka's Historic Loop. Excellent menu, wine list and wait staff.

The Grand Taverne Restaurant & Lounge

address: 37 North Main Street

Casual, fine dining located on the lobby level of The Grand Central Hotel. American cuisine with French influence.
Sleep
There are many places to stay here that will fit every budget and need, but it is advised to make reservations several weeks in advance because Eureka Spring is a very popular tourist location.
Budget
Alpen Dorf Motel

address: 6554 Highway 62

Alpine Lodge

address: 2038 East Van Buren

East Mountain Lodge

address: 3031 E. Van Buren

Edelweiss Inn

address: 2066 E. Van Buren

Fisherman's Haven & Family Resort

phone: +1 417 271-3599

address: Rt. 1, Box 1050,

Golden

Rates: $53 - $80 RV Rates: $15 Rooms have fully equipped kitchenettes with 2 full size beds, swimming pool, playground, boat & swimming dock, also have fully equipped RV spots available.

Fly Rod Inn Motel

address: 14582 Highway 62 West

Retreat at Sky Ridge Cabin Resort

address: 637 County Road 111

140 acre pet friendly cabin resort with uniquely themed cabins, 2 stocked fishing ponds, Turtle Moon Community Labyrinth and the Sky Ridge Pavilion Event Center overlooking Beaver Lake. Fully-furnished deluxe cabins with Jacuzzi, king bed, covered porch, & wood burning fireplace. Wedding gazebo & covered picnic area for 40+ with huge party grill.

Sherwood Court

address: 27 Glenn Avenue

Statue Road Inn

address: 909 Passion Play Road

Swiss Village Inn

address: 183 E. Van Buren

Thurman's Lodge

address: 163 East Van Buren

Trails Inn

address: 2060 E. Van Buren

Wagner Inn

address: 3064 E. Van Buren, Hwy 62 E
Mid-range
Bavarian Inn and Restaurant

address: Highway 62 West

Brackenridge Lodge

address: 352 W. Van Buren

address: 6 Douglas St

Candlestick Cottage Inn B&B is on a quiet wooded hollow, yet only a one-block walk to shops, galleries and restaurants. Private jacuzzi suites with individual decks and porches. Full breakfast served each morning on treetop porch or continental delivered to your suite. Small weddings performed.

Cherokee Mountain Gallery & Log Cabin Resort

address: 5307 Hwy 62

Log cabins are situated on a privately owned 45 acre mountain top.

Country Music Inn

address: 139 Huntsville Road

Land-O-Nod Inn

address: 109 Huntsville Road

New Orleans Hotel

address: 63 Spring

Oak Crest Cottages

address: 526 West Van Buren

Pine Top Lodge

address: 2035 East Van Buren

Pointe West Resort

address: 11882 Hwy 187

Roadrunner Inn

address: 3034 Mundell Road
Splurge
1882 Harvest House Bed and Breakfast

address: 104 Wall Street

1882 Harvest House is a restored Victorian home; its land grant is signed by Abraham Lincoln. This home has reportedly been used for inn keeping since Eureka Springs' earliest days. Includes full breakfast. Heavy woods are located behind the house; throughout the day deer and other fauna graze on the serene, spacious grounds. Private parking on premises adjoin the gardens under a very large oak tree, its age estimated between 125 to 200 years old.

1884 Bridgeford House Bed and Breakfast

address: 263 Spring Street

B&B on the trolley car and the horse drawn carriage routes, listed on the National Register of Historic places. The "Secret Garden" has been honored with Eureka Springs Garden Club's Award for "Garden of the Season."

1886 Crescent Hotel & Spa

address: 75 Prospect

1905 Basin Park Hotel

address: 12 Spring Street

Rates: $89 - $199 One of the world's most unusual hotels; it is built against a hillside and each floor is a "ground" floor with a fire door leading onto the hillside.

address: 5 Ojo Street

Two old historic homes and two cottages on historic loop only a short walk to downtown. Three-course plated gourmet breakfast. 9 rooms all with jacuzzis. Weddings performed onsite. Packages also available.

All Seasons Inn

address: 156 Spring Street

Angel at Rose Hall Bed and Breakfast

address: 46 Hillside Ave.

Walking distance from shops, restaurants, and galleries. Private, off-street parking is provided.

Arsenic & Old Lace Bed and Breakfast Inn

address: 60 Hillside Ave

We are 2 blocks from the Eureka Springs Historic Loop, shops, restaurants, and galleries. Private, off-street parking is provided.

Autumn Moon CottageAutumn Moon Cottage is a spacious two-story cottage located only two-miles from Historic Downtown Eureka Springs on the shore of a private lake resort. Fully equipped kitchen, fireplace and gas BBQ. Separate Jacuzzi room overlooking the lake.

address: 257 Spring Street

Located in the historic district of Eureka Springs. Victorian Inn. Jacuzzi tubs, kitchenettes, screened in back porches. Only an 8 minute walk into the heart of town.

address: 42 Armstrong St

Cliff Cottage Inn is a bed and breakfast that specializes in romantic getaways and elopements. Six suites are located in restored Victorian houses directly off Armstrong Street. The cottage and the studio are set farther back for a more secluded atmosphere. All rooms have either a jacuzzi or a hot tub. Complimentary breakfasts delivered to all rooms (except the cottage) every morning. The inn is a short walk from downtown. Rates are roughly $200 per night, but vary by room.

Evening Shade Inn Bed and Breakfast

address: 3079 East Van Buren

Private luxury bed and breakfast suites and private cottages located on 10 wooded acres in city limits. Full breakfast delivered to your suite/cottage each morning. Desserts in your room each evening. Elopement weddings performed. Great for honeymoons, anniversaries, romantic getaways. Specials and Packages also available.

Eureka Matterhorn Towers

address: 130 W. Van Buren

Grand Central Hotel & Spa

address: 37 North Main

All luxury suites with two person jacuzzis, refrigerators, microwaves and coffee makers. On site parking, full service spa and salon. The Grand Taverne Restaurant on lobby level. Located in historic downtown.

Island Motel and Resort Rentals

address: 5 Woodsdale Drive

Palace Hotel & Bathhouse

address: 135 Spring Street

Promise Mountain Group/Private Rentals

address: 355 CR 3023

phone: +1 479 2538439

address: 2865 Mundell Road

Beautiful lakefront cottages and suites nestled in the Ozarks. Amenities include Jacuzzi tubs, full kitchens, lake views and elopement venues.
Near
These are properties are located on Beaver Lake near Eureka Springs.
address: 1234 County Road 120

On Beaver Lake about 8 miles from Eureka Springs. A private adult luxury cabin resort on Beaver Lake with jacuzzis, fireplaces, full kitchens, indoor fishing dock and Marina.

address: 1216 Dam Site Road

A couples/adults only resort on Beaver Lake about 12 miles from Eureka Springs. Private area with jacuzzis, fireplaces and full kitchens. Near the Beaver Dam Site Park.