Euro 2020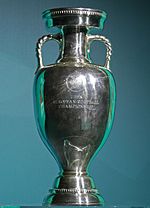 The
2020 UEFA European Football Championships
or
Euro 2020
is scheduled to be held from 12 June to 12 July 2020.
To celebrate the competition's 60th anniversary, the tournament will be held across the entire
European continent
for the first time.
Wembley Stadium
in
London
,
England
will host the semi-finals and final.
The other host nations are
Azerbaijan
,
Denmark
,
Germany
,
Hungary
,
Ireland
,
Italy
, the
Netherlands
,
Romania
,
Russia
,
Scotland
and
Spain
.
Ticket applications for the general public have now closed but further opportunities for fans to buy tickets will open later in 2019 and 2020. A ticket resale service will also be operated by UEFA in 2020, to enable the general public to buy unwanted tickets for face value.
Understand
Euro 2020 will be the 16th edition of the UEFA European Football Championships, which has traditionally been hosted by one host country or a pair of joint host countries. In 2012, then-UEFA President Michel Platini announced that the tournament would be hosted in several nations as a one-off event to celebrate the 60th anniversary since the first championship in 1960 as well as to limit the financial impact that hosting the tournament would have on a single nation after the European debt crisis. The tournament is one of the most prestigious in international football and is the second most important championships for European national teams after the FIFA World Cup.
19 nations bid to host the tournament and the 12 successful host nations were announced in 2014.
24 teams will take part in the tournament and the qualification tournament, which is underway, will conclude in March 2020. The championship will see 51 matches played, with teams initially divided into six groups before progressing to the knock-out phases of the competition. Qualified teams will be drawn into groups on 30 November 2019, at which point fans will know which cities their teams will play in during the group stage.

Host cities
Twelve cities will be hosting matches during the tournament. To ensure that fans and teams don't have to travel too far during the group stage, the host cities have been divided into six pairings. Each pairing will host all the games of one group as follows:
If the team of a host nation qualifies for the tournament, they will play their group matches in the pairing that includes their country. This will include a minimum of two matches at home.
Round of 16 matches will take place between 27 and 30 June in
Bucharest
,
Copenhagen
,
Bilbao
,
London
,
Glasgow
,
Dublin
,
Budapest
and
Amsterdam
.
Quarter-final matches will take place on 3 and 4 July in
Saint Petersburg
,
Munich
,
Rome
and
Baku
. Semi-final matches (7 and 8 July) and the final (12 July) will take place in
London
.
AmsterdamThe capital of the Netherlands will host matches at the Johan Cruyff Arena. The stadium has a capacity of the 55,000 and hosted matches at UEFA Euro 2000 as well as the finals of the 1998 UEFA Champions League and 2013 UEFA Europa League. Amsterdam is known for its liberal attitudes, cultural heritage and network of canals which criss-cross the city. The Netherlands and Romania will play matches at the stadium if they qualify.
Matches:
Group C: 14 June, 18 June, 22 June
Round of 16: 27 June
BakuThe Azerbaijani capital will host matches at the Baku Olympic Stadium - the home of the national football team. The 68,700 capacity stadium is near Boyukshor Lake, in the northeast of the city, and has hosted the 2015 European Games, UEFA Champions League matches and the 2019 UEFA Europa League final. The city will host the group stage matches featuring Azerbaijan and Italy if either of those teams qualify.
Matches
:
Group A: 13 June, 17 June and 21 June
Quarter-final: 4 July
BilbaoBilbao, in Spain's northern Basque Country will host matches at the San Mamés Stadium, the home of Athletic Bilbao. The city contains many impressive modern buildings and is the centre of modern Basque culture. Next to the estuary, the stadium capacity is 53,332. Spain and the Republic of Ireland will play in matches at the stadium if they qualify.
Matches:
Group E: 15 June, 20 June and 24 June
Round of 16: 28 June
BucharestThe largest city in the Balkans, the Romanian capital will host matches at the Arena Națională, the national stadium of Romania. The stadium was the host of the 2012 Europa League final and has a capacity of 54,000 with a retractable roof. Romania and the Netherlands will play group matches in the stadium if they qualify.
Matches:
Group C: 14 June, 18 June, 22 June
Round of 16: 29 June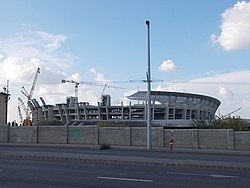 BudapestThe historic capital of Hungary will host matches at the brand new Puskás Aréna, expected to be completed in in 2019. Intersected by the River Danube, the city is known for its natural thermal baths, scenic setting and architecture which led it to be nicknamed the 'Paris of the East'. The new stadium will have a capacity of nearly 68,000 when completed and will host group matches featuring Hungary and Germany if they qualify.
Matches:
Group F: 16 June, 20 June, 24 June
Round of 16: 28 June
CopenhagenIn the Danish capital, the Parken Stadium will host Copenhagen's matches. Just north of the inner city in the Østerbro district, the stadium has a capacity of 38,065 and is the home ground of FC Copenhagen and the Danish national team. It was previously the host of the 2000 UEFA Cup Final and is also used as a major music venue. Copenhagen will host the following matches, including matches featuring Denmark and Russia if either of those teams qualify.
Matches:
Group B: 13 June, 18 June and 22 June
Round of 16: 29 June
DublinAlmost half the population of the Republic of Ireland live in the capital, which will host matches at the Dublin Arena (better known as the Aviva Stadium). Since it opened in 2010, the 50,000 capacity stadium has hosted Ireland's national football and rugby union teams. The city is known for its vibrant nightlife and warm welcome and will host group stage matches featuring the Republic of Ireland and Spain if either of those teams qualify.
Matches:
Group E: 15 June, 19 June, 24 June
Round of 16: 30 June
GlasgowScotland's largest city and the third largest in the United Kingdom, Glasgow will host its matches at the historic Hampden Park. With a capacity of 52,000 Scotland's national football stadium has hosted the finals of three European Cup/UEFA Champions Leagues, two UEFA Cup Winners' Cups and the UEFA Cup. A former European City of Culture and host of the 2014 Commonwealth Games, Glasgow is one of the UK's major economic centres and is an easy gateway to the rest of Scotland. The city will host the group matches featuring Scotland and England if either of those teams qualify.
Matches:
Group D: 15 June, 19 June, 23 June
Round of 16: 30 June
LondonConsidered one of the world's leading 'global cities' and the largest city in Western Europe, the English and British capital will host seven matches at Euro 2020, including the semi-finals and final. A megalopolis, the vibrant and multicultural city is the most-visited city in the world among international tourists with an estimated 31.2 million tourists per year and hosted the Olympic Games in 1908, 1948 and 2012. England's national stadium, the historic Wembley Stadium in North London is the second largest stadium in Europe with a capacity of 90,000 and, before being rebuilt in 2007, hosted the finals of the 1966 FIFA World Cup and UEFA Euro 96 as well as seven European Cup/UEFA Champions League finals. England and Scotland will feature in matches in London if they qualify.
Matches:
Group D: 14 June, 19 June, 23 June
Round of 16: 27 June
Semi-finals: 8 July, 8 July
Final: 12 July

MunichCapital of Bavaria and Germany's third largest city, Munich will host matches at the Allianz Arena. Germany's gateway to the Alps and Bavarian culture, the city is known for its Gemütlichkeit (friendliness) and annual Oktoberfest celebrations. The 70,000 seat Allianz Arena hosted matches at the 2006 FIFA World Cup as well as the 2012 UEFA Champions League final and will also host matches at the UEFA Euro 2024. Germany and Hungary will play matches here if they qualify.
Matches:
Group F: 16 June, 20 June, 24 June
Quarter-final: 3 July
RomeThe ancient city of Rome was once known as the capital of the world but now settles for being capital of Italy and will host the first game of Euro 2020 at the the 72,000 capacity Stadio Olimpico. The stadium, which was a venue for the 1960 Olympic Games, was rebuilt for the 1990 FIFA World Cup and hosted that tournament's final as well as the finals of the UEFA Euro 1980 and four European Cup/UEFA Champions Leagues. Rome is famous for its classical heritage and the historic centre is a UNESCO World Heritage Site. Italy and Azerbaijan will play matches here if they qualify for the tournament.
Matches:
Group A: 12 June, 17 June, 21 June
Quarter-final: 4 July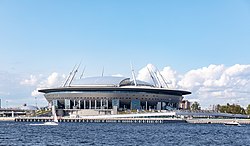 Saint PetersburgRussia's second city, Saint Petersburg is the most northerly city to host matches at Euro 2020, which will be played at the Krestovsky Stadium. One of the world's leading art and cultural centres, the city is known for its elegant architecture and canals as well as its 'White Nights', which see the sun never fully set in the summer. The 68,000 seat stadium on Krestovsky Island was built for the 2018 FIFA World Cup and also hosted matches at the 2017 Confederations Cup. Russia and Denmark will play matches here is they qualify.
Matches:
Group B: 13 June, 17 June, 22 June
Quarter-final: 3 July
Prepare
Qualifying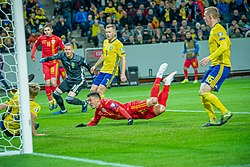 The tournament's qualifying campaign has already begun, involving all 55 European national teams. Teams have been divided into ten groups and each team will play 8-10 matches to determine who qualifies from their group. It is possible to buy tickets to watch these matches, which take place in March, June, September, October and November 2019. Tickets can be purchased from the national associations.
Tickets
Tickets are released in three tranches. Until applications open, it is possible to
register your interest
to receive information about the ticketing process from UEFA.
First tranche: general public
The application window for the first tranche of tickets has now
closed
and UEFA has emailed applicants to inform them about whether their applications for any of their tickets have been successful. If you have applied for tickets, you can also log into your UEFA ticketing account to see the outcome of your application. Applicants will now have a limited period in which they can pay for their tickets before they are reallocated - you must either pay for all of the tickets that you have successfully been allocated or forfeit all your tickets.
Any applicants who have been unsuccessful in the lottery during the first tranche will be automatically entered into the 'Fans First' programme, giving them priority access to purchase any new tickets which become available due to unsuccessful payments or ticket returns. UEFA will send out emails to unsuccessful applicants when such tickets become available.
The majority of tickets were released in this window, with 1.5m tickets released to the general public. For any matches where demand for tickets exceeded supply, the tickets were allocated through a lottery. The application window opened 14:00 CET 12 June 2019 and closed 14:00 CET 12 July 2019 and applicants had an equal chance of success regardless of when they submitted their application during the window.
Second and third tranches: supporters
In December 2019, the
second tranche
of one million tickets will be released to supporters of teams which have qualified for the competition. Supporters will only be able to buy tickets for matches featuring their team and they will need to meet the eligibility criteria set out by their national football associations. These criteria will vary depending on your association's rules and they may, for example, require fans to be members of the national supporter's club or to have accrued points by attending previous matches featuring their team.
The same process will occur in April 2020 for supporters of teams which qualify through the play-off process, in the
third tranche
of tickets.
====Ticket resale====
From March/April 2020, UEFA will make available an official resale platform for fans to sell their tickets at face value to other fans. Apart from hospitality packages, this will be the only way to acquire tickets legally and without risk outside of the three tranches of ticket releases.
Important dates
6 August 2019: Applicants for first tranche tickets learn whether they have secured tickets
December 2019: Second tranche applications open for eligible supporters of qualified teams
April 2020: Third tranche ticket applications open for eligible supporters of team which have qualified through the play-offs
Pricing
Due to the range of countries hosting Euro 2020 and the differences in income of their citizens, the host cities have been divided into two clusters for the purposes of ticket pricing. The different phases of the tournament and priced differently and, within each stadium, seating is divided into three categories:
Category 1: Central
Category 2: Corners of the pitch
Category 3: Behind the goals
Fans first: 13,000 'fans first' tickets will be available at each semi-final and the final. These are category 3 tickets but priced at under €100, with significantly fewer available than standard category 3 tickets, meaning that there is less chance of success than in applying for a standard category 3 ticket.
Cluster A: Amsterdam, Bilbao, Copenhagen, Dublin, Glasgow, London, Munich, Rome, St Petersburg
| Header text | 'Fans first' | Category 3 | Category 2 | Category 1 |
| --- | --- | --- | --- | --- |
| Group stage and round of 16 | N/A | €50 | €125 | €185 |
| Quarter-finals (Munich, Rome and St Petersburg) and opening match (Rome, 12 June) | N/A | €75 | €145 | €225 |
| Semi-finals (London) | €85 | €195 | €345 | €595 |
| Final (London) | €95 | €295 | €595 | €945 |
Cluster B: Baku, Bucharest, Budapest
| Header text | 'Fans first' | Category 3 | Category 2 | Category 1 |
| --- | --- | --- | --- | --- |
| Group stage, round of 16 and Baku quarter-final | N/A | €30 | €75 | €125 |
Get in
As the tournament will be played across the continent, it is best to see the
Get in
sections for each host country to determine the best way to travel to the competition.
Visas
Euro 2020 is being hosted by 11 countries and many of them will have distinct visa requirements which you will need to consider when travelling to the competition and between venues. Although neither UEFA nor most of the host countries have provided details about visas and entry for travelling fans, one of UEFA's requirements for host countries at the bidding stage was:
"it is of upmost importance that nationals and persons moving from one host country to another (including participating teams and fans) are granted a preferred and quick treatment and the liberty to travel between their home country and the host countries as well as between host countries without any restrictions and visa requirements. All foreign nationals with a valid passport attending UEFA EURO 2020 should be permitted to enter and exit the host countries and should be granted any relevant visas without reservation (other than in relation to public safety and security) without any cost (other than a minimal processing fee) and at short notice." —
UEFA Euro 2020 Tournament Requirements
To date, Russia is the only host nation to have provided further details, having passed a law in 2019 to provide visa-free entry for Euro 2020 ticket holders during the tournament.
As with previous major football events, it is possible that a system will be put in place to provide fans with visa-free entry to host countries if the fan has secured a ticket. Details about this will likely be released closer to the date of the tournament although it is unknown whether such a system would allow entry to all Euro 2020 host nations or just the host nation that the fan has a ticket for. Furthermore, it is unknown whether provision will be made for expedited entry by travelling fans without tickets.
Six of the twelve host nations are in the
Schengen Area
, which operates a common visa policy. Visitors can travel between the countries of the Schengen Area without needing to pass through border controls provided they have a visa for a Schengen country. These countries are
Denmark
,
Germany
,
Hungary
,
Italy
, the
Netherlands
and
Spain
.
Get around
By plane
Due to the large distances, it is likely that flying will be the quickest option for travelling between host cities although this will likely be the most expensive option. The best fares can typically be found with the numerous low-cost airlines such as Eurowings, EasyJet, Norwegian, Ryanair, WizzAir etc but it is worth checking price comparison sites to find the best deal.
It is likely that the large number of fans travelling between host cities will mean that flights will be booked up well in advance and this will inevitably drive the price up. Ahead of the 2019 UEFA Champions League final, routes between Madrid (the venue of the final) and the United Kingdom (the home of both finalists) saw flight tickets inflated by up to 4 times the normal price around the weekend of the tournament. Added to this will be the fact that the tournament will be hosted at the start of the holiday season in Europe, where routes become busier as families begin to travel for their summer holidays.
To get the best price, it is advisable to book well in advance. Many fans will start booking their flights around the time of the draw in November 2019 once they know which cities their teams will be playing in.
If you are planning to fly into a city on the day of a match you are attending, it is worth noting that many of the budget airlines fly into airports which are named after a city but are actually some distance away. For example, London Southend airport is actually 90km away from Wembley Stadium and a 1 hour train journey from central London. It is advisable to check the distance of the airport from the stadium to ensure that you have enough time to make it for kick off.
Within Europe's Schengen Area, flights between Schengen countries (including host countries Denmark, Germany, Hungary, Italy, the Netherlands and Spain) are effectively treated as domestic flights without customs or passport checks on arrival.
By train
Europe has an extensive railway network, which can be comfortable and efficient - particularly in Western and Central Europe. Catching the train between host cities can be a good way to see much of the continent and might be a good option for routes which are expensive or fully booked. It will certainly be slower though, taking up whole days as you will likely have to change several times. In some places it is simply impractical to use as a quick form of transport (for example the train to Baku from other host cities will take over 4 days and the train to St Petersburg from any host city will take at least 2 days) although the train could still be fun option if you want to stop to visit other European cities along the way.
The train will be particularly useful between cities that are clustered relatively close together. When travelling between the host cities in the
British Isles
, this could very well be a better option than taking the plane. The same could be true between Bucharest and Budapest. To get a good idea of train options, the
Deutsche Bahn website
provides a comprehensive travel planner in English.
Tickets can be expensive if bought on the day, although you can typically get good discounts if you book in advance. There are a number of flexible passes which might be of use for fans planning to travel between multiple host cities. The
Inter Rail
(for Europeans) and
Eurail
(for non-Europeans) passes work like flexible tickets on almost all European rail networks which might be a good option for fans who want to travel with their team but won't know in advance which cities they will be playing in as the tournament progresses. The passes are valid in all host countries apart from Azerbaijan and Russia. It is also valid on Eurostar trains to London but reservations must be made in advance and a reservation fee is applicable.
Many international routes also have sleeper-train options, which can save on the cost of a hotel for the night as you travel to your next city. If travelling by rail to/from Dublin, you will need to get the ferry from/to
Great Britain
- most likely to Holyhead - which may well be included in the price of your rail ticket.
Go next