Evansville
Evansville
is the largest city in
Southern Indiana
and the third-largest city in the state. It is the county seat of Vanderburgh County and the regional hub for the
Indiana
,
Kentucky
, and
Illinois
tri-state area. As of the 2010 census, the city had a total population of 117,429. In 2008 a population estimate put the Evansville Metropolitan Statistical Area at 350,261.
Settled in 1812, the city sits on a gentle horseshoe bend on the Ohio River and often referred to as "River City." One of the most popular attractions in the region is Tropicana Evansville (formerly Casino Aztar, the first riverboat casino in the state of Indiana). Evansville is also home to the University of Evansville and to the University of Southern Indiana.
The broad economic base of the region has helped to build an economy which is known for its stability, diversity, and vitality. In 2004 Evansville was named an "All-America City" by the National Civic League. In 2008 it was voted the best city in the country in which "to live, work, and play" by the readers of Kiplinger, and in 2009 the 11th best.
Get in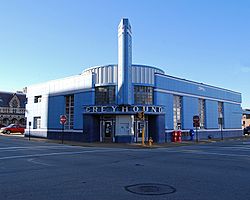 By plane
By train
There is no passenger train service to this city.
By car
US Highway 41 bisects Evansville. Interstate 69 (formerly I-164) connects Evansville with Interstate 64, 20 miles to the north. Interstate 69 will eventually provide a direct link to Bloomington and Indianapolis.
By bus
Downtown Evansville can be reached via bus lines transiting the classic 1938-era Greyhound bus terminal.
Get around

Highway 41 and Interstate 69 (formerly I-164) are the primary North-South routes, while Diamond Avenue and the Lloyd Expressway are the primary east-west routes through the city. Only the Lloyd Expressway takes you completely from one side of town to the other and despite its name, has numerous intersections and stoplights.

Understand
Unlike most of Indiana, Evansville is in the Central Time Zone (same as
Chicago
.)
The River City is known for its southern-style hospitality, economic vitality, and proud German heritage. Evansville's culture is a combination of Midwestern charms and Southern family values, and fairly distinct from the culture of Indiana's other major cities (South Bend, Indianapolis, Fort Wayne) likely as a result of being isolated from them geographically without a major highway to connect them. The strong economic base provided by giant Toyota and AK Steel plants has allowed the city to thrive in the face of the nationwide recession. Additionally, the vibrant growth of the University of Southern Indiana (established in 1965) has resulted in a strong youth presence and an active and enjoyable nightlife.
See
Evansville RiverwalkSometimes called the "front door to the city", the riverwalk follows the Ohio River and connects the Casino Aztar entertainment district to the downtown area and Sunset park.

The Pagoda Visitor CenterLocated off of the Riverwalk with an easily recognizable and memorable design, the Pagoda offers a wealth of information about Southern Indiana.

West Franklin StreetHistoric Franklin Street is home to many great events including Mardi Gras Franklin Crawl and The West Side Nut Club Fall Festival, one of the largest street festivals in North America. Restaurants include Gerst Bavarian Haus, Lamasco Bar and Grill, Maidens Brewery and Pub, PG Cafe, Smitty's Italian Steakhouse, Hagedorn's Pub, Thyme in the Kitchen

Haynie's Corner Art's DistrictAdjacent to the Ohio River in downtown Evansville Indiana, a creative community of 4 neighborhoods (Riverside, Culver, Goosetown, Blackford's Grove) define the Arts District. The heart of the Art District is a unique "corner" defined by a shift in the cities grid, multiple arteries meet at a fountain. Haynie's Corner is a symbol of community, advocacy, preservation, and regeneration its future sits with art, design, and architecture.

Angel Mounds State Historic SiteThe Visitor's Center gives a glimpse of understanding of what life was like from 1100 to 1450, when Angel Mounds was the largest Indian community in what would become the state of Indiana. Walking through the site's 100 acres, visitors view the remains of several Indian mounds and a reconstructed stockade which surrounded the city.

Mesker Park ZooLocated on over 50 acres, Mesker Park Zoo has over 600 animals including the oldest living hippopotamus in captivity in the United States. It also has giraffes, lions, zebras, a jaguar, and river otters.
Museums
Koch Family Children's Museum of Evansville

phone: +1 812-464-2663

address: 22 SE 5th St

cMoe reopened in Fall 2006 in the renovated former Downtown Central Library building with 18,000 square feet of exhibits. It hosts four main galleries, plus a multimedia theater entitled the 'Freedom Gallery.' 'Work Smart' focuses on engineering skill development and the freedom to build and create. 'Live Big' provides inquiry into our bodies and promotes the freedom to make choices. 'Speak Loud' is the arts area, encouraging the freedom of self-expression. 'Quack Factory' contains serious water play and large-muscle activities as it promotes the freedom to explore. Open Wednesday through Saturday, 9AM to 4PM and Sunday, Noon to 4PM.

Evansville Museum of Arts, History, and Science

phone: +1 812-425-2406

address: 411 SE Riverside Dr

The Evansville Museum's permanent art collection of American and European painting, graphic works, and sculpture dating from the 16th through the 20th centuries is exhibited in thematic galleries highlighting landscape, still life, genre works, and portraiture. Additionally, the museum features permanent and changing history exhibitions at the Museum provide a diverse educational opportunity for visitors of all ages. Such as Rivertown U.S.A. in which a sense of life in the Midwest is explored in the ten detailed shops such as the Doctor's Office of William M. Elliotta graduate of Evansville Medical College. Lastly the museum includes the historic Koch Planetarium. Closed on Mondays and Tuesdays. $4 suggested donation.
Evansville Museum Transportation CenterThe exhibitions of EMTRAC interpret transportation in Southern Indiana from the latter part of the 19th century through the mid-20th century. Divided into four areas, visitors first enter River/Rail/Aviation Hall. Highlights of this exhibit include an interactive riverboat pilothouse, an exhibition recalling Evansville's first contact with aviation, and a turn-of-the-century waiting room that overlooks the museum's historic railroad. Closed Mondays and Tuesdays. $2 admission fee.
USS LST-325Authentic World War II warship open for tours Tuesdays-Sundays. Docked on the Evansville riverfront, it is the last navigable ship of its kind in operation today. Call for hours and special group rates.
Do
Bosse FieldBosse Field is the third oldest baseball stadium behind only Chicago's Wrigley Field, and Boston's Fenway Park. The stadium once played host to the AAA Evansville Triplets, but now is home to the Evansville Otters of the Frontier League. The stadium can be seen in the movie A League of Their Own.

phone: +1 812 433-4000

address: 421 NW Riverside Drive

A $200-million entertainment facility that includes a 2,700-passenger riverboat casino, a 250-room hotel, several restaurants, shops, and riverfront pavilion. A new entertainment district featuring several bars and restaurants opened in the fall of 2006. It is a must /-do when visiting Evansville.

Fall FestivalThe second largest street festival in the United States. Games, rides, bands, talent shows, and food booths line the street during the first full week of October. The festival is best known for offering unusual cuisine such as the signature Brain sandwich.

Ford CenterThis arena seats 11,000 and hosts the University of Evansville Purple Aces basketball teams and the Evansville Thunderbolts, hockey team.

phone: +1 812-479-9732

address: 1801 Morgan Center Dr

phone: +1 812-730-4759

address: 49 N Green River Rd
Learn
University of Southern Indiana - This publicly funded institution has been among the fastest growing comprehensive state universities in the Midwestern United States.Record fall enrollment in 2010 reached 10,702. The University has a modern 300-acre suburban campus situated within wooded rolling hills. In October 2006, the University completed a master plan that provides the framework to double the size of the school and support a campus of over 20,000 students.
University of Evansville - A small, private university with approximately 3,050 students. Founded in 1854 as Moores Hill College, it is near the interchange of the Lloyd Expressway and U.S. Route 41. It is affiliated with the United Methodist Church. The university features liberal arts and sciences degrees, most with strong cooperative learning opportunities on and off campus.
Buy
Downtown Walkway

address: 800 N. Green River Road

Northpark Shopping Center

address: 4525 N First Ave

phone: +1 503-639-8860

address: 9585 SW Washington Square Rd

Local groceries: If you're lucky enough to be in for a celebration (or simply hanging out with friends), be sure and look for two unique party favorites: Grippo's barbecue flavored potato chips, Ski citrus soft drink. While neither of these is produced exclusively in Evansville, locals will invariably try to convince you they are. These delicious storebought staples simply aren't sold in most cities and can't really be compared to anything else. Caution: Grippo's are unnaturally spicy. Using sour cream as a dip is recommended.
Eat
phone: +1 812-475-9193

address: 501 N Green River Rd

Greek food. Authentic menu, wide selection of known Greek favorites. Their Three Bean Salad, served as a side dish, and lamb dishes are their specialty. Well decorated, seating ranges from cozy, intimate booths to tables to seat a large family. Generous portions.

phone: +1 812-424-1420

address: 2100 W Franklin St

German restaurant that reflects the town's heritage.

phone: +1 812 424-9871

address: 408 N Main St

Local craft beer and thin-crust pizza.

address: 222 Sycamore St

Burger bar located in a historic former Greyhound Bus station.

Indian GardenAuthentic Indian food.

phone: +1 812-476-4599

address: 5416 E Indiana St

phone: +1 812-474-0181

address: 406 S Green River Rd

Voted Best Chinese Restaurant by Evansville Living Magazine three times in a row.

Deerhead Cafe

phone: +1 812-425-2515

address: 222 E Columbia St

Live music, famous for double decker pizzas. Live jazz in the evenings (home of saxophonist Monty Skelton).
Drink
phone: +1 812-759-8229

address: 2404 Lynch Rd

Local craft brewery with tap room.

phone: +1 812-909-1956

address: 209 N Wabash Ave

Local craft brewery and pub.

Myriad Brewing Company

phone: +1 812-402-1515

address: 101 SE 1st St

Local craft brewery with tap room.

Peep Hole Bar

phone: +1 812 423-5171

address: 201 Main St

A nice, chill bar that often draws a good crowd after-work and late night. Located downtown within walking distance of Casino Aztar and the new Ford Center Arena.

KC's Time Out's Lounge

phone: +1 812 437-9920

address: 1121 Washington Sq

The best place to go on Sunday nights. Located and thriving in the nearly deserted Washington Square Mall.

Sportsmen's

phone: +1 812 422-0801

address: 2315 W Franklin St

A pool hall that is also quite popular with the bar crowd.

Someplace Else

phone: +1 812 424-3202

address: 930 Main St

The most popular GLBT bar in the area.
Sleep
Budget
Comfort Inn East Evansville Hotel

address: 8331 E. Walnut Street

On the East Side of Evansville

address: 19622 Elpers Rd.

5 miles from the airport and 8 miles to riverboat gambling.

Econo Lodge East Evansville Hotel

address: 5006 E. Morgan Ave.

Minutes from Evansville's main shopping area, Eastland Mall, and 10 miles to historic downtown, Evansville Zoo, Audubon Park and Ellis Park.

Microtel Inn & Suites Evansville

address: 1930 Cross Point Blvd.

Quality Inn North Evansville Hotel

address: US Highway 41 I-64

Close to casino action, frog follies, Lyle Station and indoor BMX Racing.

Sunset Motel Evansville

phone: +1 812 424-3566

address: 1608 N. Fares Avenue

Free Wi-Fi.
Mid-range
Drury InnNear the airport and also on the east side near Interstate 164 and the Lloyd.

address: 8015 E Division St

Very nice, clean mid-scale hotel for business or leisure.

phone: +01 812-471-7191

address: 8283 East Walnut Street

On a peaceful lakeside setting, 78 spacious suites offer separate living and sleeping areas, and fully equipped kitchens.
Splurge
Connect
By phone
Most telephone numbers in Evansville consist of +1 812 plus a seven-digit number, but the entire 812 area is now served by an overlay complex of two area codes, with 930 being the second. A local or in-state telephone call now requires all 10 digits of the local number be dialed (omitting just the leading +1 from a local landline call). The same holds true on the other side of the Ohio River; the western third of Kentucky, including Henderson, is served by its own overlay complex (270 and 364).
Signage on many established businesses may still display the original seven-digit numbers; dial 812 before these if no area code is indicated (or, if on the Kentucky side, 270).

Stay safe
Evansville is a safe town with very few areas that are unsafe even at night. The southern areas of the town are seen as the most rough but are just low-income residential.
Go next
Holiday World & Splashin' Safari - Holiday World is a large theme park located to the northeast of Evansville in Santa Claus, Indiana. It has three of the best wooden roller coasters in the world, "The Raven", "The Legend", and "The Voyage". Included in the price of admission is the water park Splashin' Safari. Splashin' Safari has several world class water slides, two wave pools, two lazy rivers and two family-attraction water play areas.
Historic New Harmony - One of two of America's great utopian communities. The town's unique history comes alive on guided tours offered to 15 historic sites. The Atheneum is a strikingly modern building designed by Richard Meier and provides an introduction to the community with an orientation film, communal history exhibits, and an observation deck. The New Harmony Inn offers a relaxing escape for tourists and the Red Geranium has been voted one of the best restaurants in the region. New Harmony Inn