Everett (Washington)

Everett
is a city in the
Puget Sound
region of
Washington State
28 mi (45 km) north of Seattle and 115 mi (184 km) south of Vancouver BC.
Get in
By car
From Interstate 5 (I-5) Everett is accessed from exits #186 (128th St SW) through #198 (WA-529 West Broadway) along I-5. To get to downtown from the northbound lanes, exit at Exit #193 (WA-529 Pacific Ave City Center). From the southbound lanes, exit at Exit #194 (US-2 Wenatchee/Everett Ave) and follow signs towards Everett Ave.
From Interstate 405 (I-405) follow signs towards I-5 North towards Everett or continue on the freeway which becomes WA-525 towards the Mukilteo Ferry. From I-5, I-405 is at Exit #182.
US Hwy 2 begins and ends in downtown Everett going east towards Stevens Pass, Fort Leavenworth (in the North Cascades), Wenatchee, Ephrata and Spokane in Eastern Washington. From I-5, US Hwy 2 is accessed from Exit #194 from both directions.
By train
address: 3201 Smith Avenue

The Sound Transit Sounder and Amtrak operate from Everett Station at 3201 Smith Ave. The waiting area and ticketing desk for Amtrak are in the lobby of the building, while the ticket machines and the Orca Card transponders for the Sound Transit Sounder trains are inside the building and out at the loading platform.

address: Everett Station

Sound Transit operates commuter trains down to Seattle in the morning and up to Everett via Edmonds and Mukilteo in the afternoons. They also operate additional trains for the Mariners and Seahawks home events.

address: (ticket desk & waiting room) Everett Station @ 3201 S Smith Ave

The following Amtrak routes serve Everett:
Amtrak Cascades runs between between Seattle and Vancouver twice daily serving Edmonds, Everett, Stanwood, Mt Vernon & Bellingham and from Seattle to Portland four times daily with twice-daily trains between Portland and Eugene. Additional service from Seattle to Vancouver and from Portland to Eugene are provided on the Amtrak Thruway Bus.
Empire Builder makes a once-daily trip in each direction between Seattle and Chicago via Edmonds, Everett, Leavenworth, Wenatchee, Ephrata and Spokane. In Spokane, the eastbound train is joined (or split going westbound) with another branch of the route coming from Portland to continue east towards Chicago.
By bus
The
bus transit center
for Sound Transit, Community Transit, Everett Transit and Skagit Transit is next to the Everett Station Building (3201 S Smith) at the southside. Greyhound and Northwestern Trailways' ticket desks and waiting area are in the lobby, inside the building while their buses use Bays A1 & A2 in the bus transit center:
phone: +1-866-235-5247

address: (bus stop) Tulalip Resort Hotel @ 10200 Quil Ceda Blvd, Tulalip

Goes up to Marysville, Stanwood, Burlington/Mt Vernon, Bellingham & Blaine from Seattle and Seattle-Tacoma International Airport on one route and west from Burlington to La Conner & the San Juan Ferry Terminal on another.

phone: +1 425-348-7100

Goes out to the surrounding cities and towns of Arlington (#201/202), Aurora Village in Shoreline (Swift); Bothell (#105/106 from Mariner P&R); Edmonds (115,116,130 from Aurora Village); Goldbrier (#270); Monroe, Lynnwood (#201/202,512); Marysville (#201/202); Smoky Point (#201/202), Snohomish, Stanwood (#240 from Smoky Point), Lake Stevens (#280), Granite Falls (#280), Woodinville, etc. They also operate express buses to downtown Seattle (#400s) and UW (#800s) in the morning rush hour and returning to various places Snohomish County (outside of Everett) in the afternoon rush hour.

phone: +1 425-252-2143

address: (ticket desk) Everett Station @ 3201 S Smith Ave, Suite #103

Travels primarily on Interstate 5 between Seattle, Everett, Mount Vernon, Bellingham and Vancouver BC. Passengers transfer to other buses in Seattle and Vancouver to get to additional destinations.

phone: +1 360-678-7771

Camano Island to Everett Station. The next nearest connection point for Island Transit is at the Clinton Ferry Terminal, in the south end of Whidbey Island for Rt #1 to Oak Harbor; 57 South Whidbey Shuttle to Freeland (local) and 58 to Scatchet Head.

phone: +1 206-553-3000

Operates buses in and around Seattle and the surrounding cities and suburbs in King County. Nearest transfer points to King County Metro from Everett are in Aurora Village, Mountlake Terrace, Bothell and Woodinville. If using the Orca Card the fares are transferable between Everett Transit, Community Transit, Pierce Transit, Sound Transit and King County Metro.

phone: +1 509-838-4029

address: (ticket desk) Everett Station @ 3201 S Smith

Goes east to Lake Stevens, Leavenworth, Wenatchee, Ephrata and Moses Lake & Spokane; and south towards Seattle and Tacoma. Passengers transfer to other buses in Wenatchee and Spokane to get to additional destinations.

address: (bus stop) Seattle Premium Outlets @ 10600 Quil Ceda Blvd, Tulalip

Express bus between downtown Seattle and Vancouver BC. Northbound buses going to Canada only pick up passengers in the U.S. while southbound buses going to Seattle only drop off in the U.S.

phone: +1-888-889-6368

Operates express buses to downtown Seattle (Rt #510,512,513) and Bellevue (Rt #532):
Rt#510,512 Rt #510 Downtown Everett, Everett Station, downtown Seattle during weekday rush hours. Rt #512 runs the same route, in both directions, during the middle of the day, evenings and weekends with additional stops in the South Everett Transit Station, Ash Way P&R, Lynnwood TC, Mountlake Terrace, NE 145th @ I-5 and NE 45th @ I-5 (nearest stop to UW).
Rt#513 downtown Seattle, Evergreen & S 79th and Eastmonk P&R in the southside of town. Transfer to Everett Transit #7 bus going northbound on Evergreen Hwy (Hwy 99) to get from Evergreen & S 79th to downtown and the Everett Station.
Rt#532 Ash Way P&R, Canyon Park, NE 195th @ I-405, Totem Lake P&R and Bellevue

Skagit Transit Rt 90xExpress bus from Chuckanut P&R (Burlington); Skagit Station (downtown Mt Vernon) and South Mt Vernon P&R. Going north passengers can transfer to the 80x bus (co-operated by Whatcom & Skagit Transit) in Mt Vernon to continue to Bellingham by public transportation.
By plane
Paine FieldWill serve limited commercial flights from March 2019 (pending FAA approval) with Alaska Airlines and United Airlines. Other airlines may follow suite in time as the terminal expands. A new terminal is being built with a rather cozy design and nice looking chairs and sofas, but with plans for only two gates and operation to start at full capacity, don't expect much in the way of relaxation or amenities here. Everett Transit (Rt #8) provides service to a transit hub at Seaway Transit Center and the downtown Everett Station, where buses to the region can be found.
The next nearest airport for more commercial flights with a wider array of airlines is at (
SEA
) 45 mi (72 km) south of Everett. Sea-Tac airport which serves much of the greater Seattle Metropolitan area and the Pacific NW.
The next nearest airport is at Bellingham International Airport (BLI) 66 mi (106 km) north of Everett. Alaska Airlines and Allegiant are the only airlines offering flight to/from Bellingham. Options besides taxi/limo or rental car are:

Get around
By bus
phone: +1 425 257-7777

address: (Bus Transit Center) 3201 S Smith

Operates buses within the city of Everett, to downtown from Everett Station (all routes ask driver), to Mulkiteo (Rt#18), South Everett P&R (#29) and Mariner P&R (#2).
See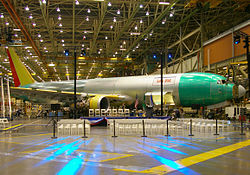 Everett Performing Arts Center
Everett Naval Station
Memorial Stadium
Snohomish County Historical Museum
Airplanes
At Paine Field, you can tour Boeing's huge assembly plant where most of their airplanes are built, as well as a few adjacent independent museums. However, if you only have time for one aviation museum on your trip, you might consider skipping this in favor of the
Museum of Flight
in Seattle's
Georgetown
, which is much larger and engaging than the Boeing tour.
Parks
Do
Theater
phone: +1 425-257-8600

address: 2710 Wetmore Ave.

The Village Theatre non-profit professional producing musical theatre company. Theatre programs including Kidstage, Mainstage, Village Originals and Pied Piper.

The Everett Historical Theater

phone: +1 425 258-6766

address: 2911 Colby Ave
Sports
Everett SilvertipsWHL US Division junior hockey team plays at Angel of the Winds Arena from September till March.

Everett AquaSoxAre a minor league baseball team. They start in mid-June and end in early September. They play home games at Everett Memorial Stadium.
Eat
Barney's Pastrami Dip

phone: +1 425-259-9078

address: 5130 Evergreen Way Ste 103

Pastrami sandwiches, whole or half. Extremely ugly dive with one fantastic item on the menu. Fresh bread, pastrami, and dill pickles. Less than $10 for a whole sandwich and a drink.

Teriyaki Burger Stop

phone: +1 425-259-4291

address: 3517 Rucker Ave East

Another great, but ugly dive in Everett. Spicy chicken is known locally as "crack chicken" because once you try it you need it on a regular basis. The menu includes burgers, teriyaki, & yakisoba.

phone: +1 425-405-3783

address: 6600 Evergreen Way

Everett is loaded with Thai restaurants, and Taste of Thai, the predecessor here, was one of the best. Phu Ping carries that on. Great food at reasonable prices. A local favorite for the lunch specials. The custard and sticky rice desert is a treat found at few Thai restaurants. In the back is a wonderfully well-stocked wine tasting room and store.

phone: +1 425-438-3888

address: 7825 Evergreen Way, Suite B

Lanna Thai is upscale Thai food. The restaurant, including a full bar is beautifully appointed, and the service is uniformly good. The lunch specials are a good value, but the Pad Thai is cooked ahead and inconsistent. Good, but not great.

Terezia's European Deli & Bistro

phone: +1 425-513-9846

address: 12926 Mukilteo Speedway

Terezia's serves meals at four tables along with running a deli counter. Lunch is a rotating menu of three or four Central European dishes - all excellent. The paprika chicken and potato soup are particularly good.

The Totem

phone: +1 425-252-3277

address: 4410 Rucker Ave

Perhaps the only real diner in Everett. The food is good and freshly prepared, with breakfast served all day. Nothing fantastic, but you won't go away hungry and the price is decent. Family owned since the 1950s with a big, cheesy fake totem pole out front.

Chiang Mai Thai Restaurant

phone: +1 425-423-8569

address: 12926 Mukilteo Speedway

It's in a strip mall, but the interior is pleasant and inviting. Standard Thai menu, good service, and decent prices. Worth a regular visit if it's closer than Taste of Thai.

Beijing Garden

phone: +1 425-339-9319

address: 3719 Rucker Ave

In a town loaded with Chinese restaurants, Beijing Garden stands out as one of the best. Small and cute, with barely adequate parking. A standard Chinese restaurant menu, with very well executed dishes. The hot and sour soup is the best in the area. Lunch specials are a great value at less than $6.

phone: +1 425-259-5554

address: 2811 Colby Ave St 98201

Baseball-themed, family-owned, large space with many large wall mounted TVs. Besides their fabulous hand tossed pizza with fresh made, family recipe, pizza. Plenty of room for a large party and it is the favorite pizza of the Everett Silvertips Ice Hockey Team. MLP pizza is also available at two locations in the Xfinity Arena a few blocks away. They use first class products in their foods such as Boar's Head meats. There are Grinders, Calzones, Breadsticks and more. Delivery is available as well.
Drink
phone: +1 425-257-9316

address: 1524 West Marine View Dr

A family-friendly brewpub on the waterfront within walking distance of Naval Station Everett and the marina. Happy Hour 2-6PM Monday through Thursday.
Sleep
Go next