Eyre Peninsula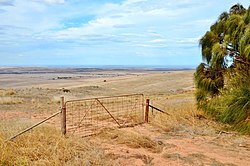 The
Eyre Peninsula
is a coastal region of
South Australia
offering some spectacular holiday experiences - particularly wildlife interactions.
Cities
- gateway to the north and west of the state
- Australia's seafood capital
Understand

As you travel around the region, expect to see many mentions of pioneering explorer Matthew Flinders, who first visited the Spencer Gulf in 1802. Everyone who was even a vague acquaintance of Flinders has some geographical feature named after them in on the Eyre Peninsula. Most bestowed with these honours never ventured closer to Australia than the gardens of their English country manor houses.

Get in
By plane
Commercial flights operate to
Whyalla
,
Ceduna
and
Port Lincoln
from
Adelaide
.
Port Augusta
also has scheduled flights.
In addition to the airports with scheduled commercial services, many towns have an airfield for charter flights and general aviation. Some charge low landing fees, or are entirely free. These airstrips have a few facilities, and car hire is not available.
Because of the geography of the area, charter flights across the gulf from the
Yorke Peninsula
and
Adelaide
are often short and quick, and may offer a practical alternative to access the area.
By ferry
SeaSA
is scheduled to start a 7-day per week service using a vehicle- and passenger-carrying ferry in September 2018. The Aurora will make the 2-hr run between
Wallaroo
on
Yorke Peninsula
and Lucky Bay 15 km from
Cowell
on the mid-east coast of Eyre Peninsula.
By car
Port Augusta is around 4 hours drive from
Adelaide
, which is at the start of the Lincoln Highway to
Port Lincoln
and the
Eyre Highway
towards
Ceduna
.
By coach
Premier Stateliner runs a daily services between
Port Lincoln
and
Adelaide
, with a second service terminating at
Whyalla
. This services
Cowell
,
Arno Bay
,
Cleve
,
Port Neill
, and
Tumby Bay
en route.
They also run several services a week to
Ceduna
, via Iron Knob,
Kimba
and
Streaky Bay
.
Get around
Driving the Lincoln Highway
The Lincoln Highway from Port Augusta to Port Lincoln is roughly a 4 hour drive down the east coast of the peninsula, and the main road route from Adelaide and the east. The road is a sealed (paved) good quality road, with a speed limit of 110 km/h. There are no overtaking lanes for its entire distance, but there are long straight sections will allow for safe overtaking in good visibility conditions. The road is used by two trailer road trains (trucks), which can take additional care and patience when overtaking.
From Port August to Whyalla the road travels away from the coast, and the terrain is arid. There are no real stopping off points on this section. From Whyalla south the road travels closer to the coast, and there are regular towns to stop and visit, each with piers, beaches, bushwalks, accommodation and food. South from
Whyalla
the main stopping off points with good facilities are
Cowell
,
Arno Bay
,
Port Neill
, and
Tumby Bay
- each less than an hour apart.
Do
The Eyre Peninsula is home to national parks, ancient caves, and the Nullarbor Plain - the vast, treeless plain that will fascinate anyone with an explorer's spirit.
You can have unforgettable sea adventures, like swimming with sea lions at Baird Bay, cage diving with Great White Sharks at
Port Lincoln
, and even swimming with tuna.
At Head of Bight it's the perfect vantage point for spotting giant whales as they undertake their annual migration through the Southern Ocean. Each year from May to October, this stretch of the Nullarbor Plain coastline becomes a free range creche for Southern Right Whales. Up to 60 of them annually migrate out of the Southern Ocean to these traditional breeding grounds and nursery; by the time they depart in spring, around 20 new calves will be ready for summer in the Antarctica.
phone: +61 8 8687 0411

address: Flinders Highway, Port Kenny

Private cottage, budget dorm accommodation or bush camping site. Private beach, cliff-top walk with outstanding views and Australian wildlife such as kangaroos, native birds, emus and wombats. Can provide personal tours and expeditions featuring the local fishing spots, rugged coastlines and adventure sports.

phone: +61 428 880 621

address: Coffin Bay Boat Ramp

Seafood and wildlife adventures to some of the states most pristine, unspoilt and spectacular coastline. 60 km cruise along the sheltered coastline of the Coffin Bay National Park, spotting seals, pelicans, penguins and dolphins. Oyster farm visits
Drink

Root beer is a very common drink in this area.

Sleep
phone: +61 8 8687 0411

address: Flinders Highway, Port Kenny

Farm retreat, part of the Youth Hostel Association (YHA). Also a member of 'Willing Workers on Organic Farms' (WWOOF). As a host farm, they provide international and domestic travellers a packaged experience life and the operations of a commercial rural property.