Füssen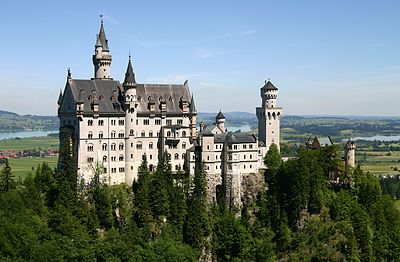 Füssen
in
Allgäu
is an enchanting town in south of
Bavaria
,
Germany
known for the
Hohes Schloss
and its Basilica and former Benedictine monastery of
St Mang
. The world famous
Neuschwanstein Castle
is situated a few kilometres to the east. Some visitors come to tour the castles and leave immediately afterwards leaving the beautiful little town unexplored. This is a great pity as there is much to see in Füssen and the surrounding area if you know what you are looking for! There are magnificent lakes with beautiful views and the "Kalvarienberg" which has the "Stations of the Cross" on it.
Get in
By train
From
Munich
, direct trains leave about every two hours and take two hours. There are more frequent connections if you are prepared to change trains somewhere along the way.
From
Innsbruck
, head to
Vils in Tirol
(a small town 7 km from Füssen), Ulrichsbrücke-Füssen (the stop before Vils) or
Reutte in Tirol
. Bus 74 runs from Reutte to Füssen via all these stations. Bus 71 runs from Vils directly to the castles. Innsbruck to Füssen takes about 3 hours.
By car
Füssen is on the end of the
Romantic Road
, coming from Augsburg as
Bundesstraße 17 (B 17)
. From
Munich
take the Autobahn A 96, leave at Landsberg Ost and follow the B 17. If you come from the north via Autobahn A7, take the last exit before the Austrain border.
By bus
Maybe the cheapest way to get there: Many bus tours are operated to Füssen from most parts of southern
Bavaria
, often including a visit of the fairy-tale castle Neuschwanstein. Watch for tours at Munich main station (
Hauptbahnhof
).
Get around
Füssen is small enough that a car is not really needed. There is a bus to the castles and the trains to Munich and Augsburg and the old town is easy enough to access by foot. You can walk to Neuschwanstein and Hochschwangau castles via some marked roads; travel times posted on the signboards are comfortable over-estimates.
There are some great areas nearby, like some of the lesser-known castles, which would be easier to reach with your own car. It is possible to rent a car in Füssen.
Another alternative is to rent a mountain bike. There are numerous shops, one even right at the train station. Füssen has invested a lot into developing a network of bike routes and paths to make biking easier.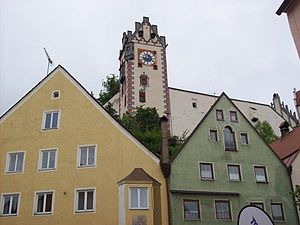 See
In the town
The State Gallery in the Hohes Schloss (Staatsgalerie und Städtische Gemäldegalerie im Hohen Schloss)
St. Mang's Abbey (Benediktinerkloster St. Mang)
The Füssen Heritage Museum (Museum der Stadt Füssen)
Outside
address: Neuschwansteinstraße 20

The mother of all German castles is only 3 kilometers away from Füssen. This fairy-tale castle is well known worldwide. Make sure to sit behind the driver while bussing to the castles. You can also walk to the castle, which is about 30 minutes walk uphill. Be warned that taking photographs is prohibited inside the castle.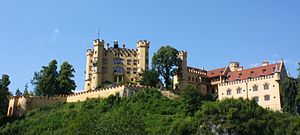 HohenschwangauThe castle directly across from Ludwig II's fairy-tale castle. This castle served as Ludwig II's home while he was growing up. The ticket office closes half an hour before the castle does. Make sure to sit behind the driver while busing to the castles.
Linderhof Palace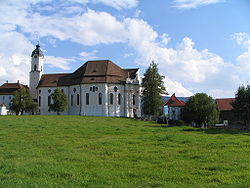 WieskircheThis pilgrimage church is one of the world's great rococo masterpieces, located only a ten-minute bus ride from Fussen in nearby Steingaden. A work of Dominikus Zimmermann and his brother Johann Baptist, it has been designated a UNESCO world cultural heritage site. Two bus trips daily; check at the station or Fussen tourist bureau for departure times.

FalkensteinAnother castle, this one is a ruin, a short distance from Füssen, near Pfronten. There is a great hotel and restaurant nearby, but driving there is a bit tricky.

Via ClaudiaFüssen is on the Via Claudia — the old Roman road from Donauwörth over the alps to Venice. You can travel the Via Claudia (or parts of it) by bike.

TegelbergA ski area, but in the summer you can take the lift to the top or enjoy a luge ride down the mountain. Enjoy the view, hike some trails and stop by one of the little restaurants.
Do
Visit Castles
Visit the Stadtpfarrkirche und former Abbey of St. Mang. The church (the Abbey was founded over 1100 years ago) is known for its very beautiful choir and orchestra Sunday Masses and historic organs
Swim in the public lakes: Alpsee, Obersee, Mittlerersee, Alatsee
Mountain Biking
Sauna
Sail on the Forgensee
Attend The Füssen Festspielhaus to watch a show.
Watch hockey at the Bundesleistungszentrum
Dance
Buy
address: Reichenstraße 37

You'll find a lot of souvenir shops around castle Neuschwanstein. Decide yourself what's worth the money.
Eat
Hotel RuchtiGreat food, typical Bavarian.

address: Kaiser-Maximilian-Platz 7

The "Bierstube" is a charming, bavarian snuggery with delicious, regional food and draft Beer from Munich. This is Füssens meeting point for the locals and a must see for visitors.
Drink
EisenschmiedNice atmosphere with some outdoor seating.
Sleep
Hotel SonneA modern, 4-star hotel, directly in the old town of fuessen. About 5 minutes away from Castle Neuschwanstein.

Hotel FantasiaA 2-star, design hotel, a 1 minute walk from town. About 6 minutes away from Castle Neuschwanstein.

Haus BagciA very friendly guesthouse a few minutes' walk from town. The rooms are very comfortable and the price is reasonable. There are apartments or double rooms.

Hotel RuchtiA smaller, 3-star hotel, minutes away from the old town, but in an area with almost no traffic. They have about 26 rooms and a great restaurant. Great people and great atmosphere, and wireless internet.

Youth HostelThe youth hostel is located behind the train station and is roughly a ten-minute walk. Most of the staff are not locals, but Germans from other parts of the country and want to complete their civil service in the area of the Alps, so they can be active in alpine sports.

phone: +49 170 62 48610

for travellers or family on a budget who wish to explore the region or who are looking for a weekend getaway. They offer private rooms for two to five people (suite) and are located in Füssen, near Neuschwanstein Castle. From the balcony or terrace you can enjoy the amazing view of the Alps.

Gasthof Engel

address: Hauptstraße 36, Hopferau

A small guesthouse with 100 years of family history if you don't mind going 10 minutes by car and be off beaten path. Nice authentic food, clean and affordable rooms, great breakfast! Child and pet friendly.

phone: +49 8362 93980

address: Kaiser-Maximilian-Platz 7

Hotel Hirsch is a traditional and welcoming hotel with modern amenities in the center of Füssen. It is a family run hotel in the 4th generation with Bavarian à la carte restaurant and most beautiful guestrooms.
Another option is to drive about 10-minutes via the Schnellstraße or hike about 1-hour along the beautiful wooded "fairy tale" trails that connect Füssen with the nearby Austrian village of Pinswang. There you will find several inns and private homes with guestrooms for travelers.
Go next