Fairbanks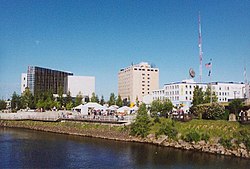 Fairbanks
is a town in
interior Alaska
. With 30,000 inhabitants, and a total of 100,000 in
Fairbanks North Star Borough
, it is
Alaska
's second-largest city. A junction of several major highways, will be a likely stop of most visitors to the state.
Fairbanks proper may be like a smaller version of a large American city. There's a Wal-Mart, a Home Depot and a McDonald's. Don't let this fool you: The greater Fairbanks area is true to its roots. There are plenty of Alaskan originals here.
Understand
Climate

Fairbanks' climate is subarctic bordering on continental, with frigid winters from October to March or April, short spring and fall seasons, and mild summers from roughly Memorial Day to Labor Day. July is the mildest month, with average highs of 73 Fahrenheit and average lows of 52; January is the coldest month, with average highs barely above 0 and average lows of -18. Being located in a valley and far from any large body of water, Fairbanks has little seasonal lag in both winter and summer.
As Fairbanks is located near the Arctic Circle, one can expect huge variation of daylight, in June the sun is up from 3am to 12:30am, but it never gets dark when it is night, in the winter there is only light from 10:30am to 3pm and dark for a long time.

Get in
By plane
By car
Fairbanks is 1488 miles (2395 km) from the start of the
Alaska Highway
in
Dawson Creek
,
BC
.
If you are driving up from Anchorage, the George Parks Highway is a beautiful trip. Plan plenty of time in your schedule for sight-seeing, meals and photographs. During the summer, when the roads are clear, the trip can easily be made in 7 or 8 hours, with stops for snacks and bathroom breaks - depending on road construction and motorhome-convoy-slowdowns. You will pass through
Denali National Park
on your way which is a popular attraction. However, if you plan to stay the night have reservations well in advance. By "lower-48" standards, accommodation near the park is either "4-star" or "rustic". Both can be pricey, but worth every penny, especially if you spend a day in the park.
Though many think Denali Park is the highlight of the trip there are long stretches of breath-taking beauty. It is not uncommon to see moose, caribou, dall sheep, bear, and other wildlife along the road - have your camera ready. There are plenty of gas stations scattered along the route, but as expected, the prices are much higher than in Anchorage or Fairbanks. Fill up before you leave.
There are several good places to eat along the way as well. Most places will have specialties like reindeer or buffalo on the menu as well as more traditional fare.
All in all, you should make the drive at least once. It's worth it.
By train
During the summer the
Alaska Railroad
provides daily service between Anchorage and Fairbanks, stopping in
Denali National Park
and other spots along the way. Trains depart Anchorage at 8:15AM, arriving in Fairbanks at 8PM. Winter services are limited to one service on Saturdays. Fares vary throughout the season, with rates between $167 and $210 for a one-way ticket.
Get around
By car
By far, the easiest way to get around Fairbanks is by car. Major car rental companies are located at the airport.
By taxi
Multiple taxi companies provide transportation throughout the city.
By bus
Bus service
, although infrequent, provides transportation throughout the downtown area. Fares are $1.50, or $3 for a day pass.
See
Creamer's FieldLocated in the northern part of town off of College Road, Creamer's Field Wildlife Refuge is a former dairy that is now a migratory stopover point for countless numbers of Canada geese, sandhill cranes, ducks, and other bird species. Numerous trails lead through the refuge and there is a visitor center located within the old farmhouse.

University of Alaska MuseumAn excellent collection of exhibits about the nature, history and cultures of Alaska; the displays on the Northern Lights are particularly trippy.

Ice AlaskaWhere the World Ice Art championships take place every year usually around February end or early March. Ice sculptors from all over the world come here and sculpt stunning ice sculptures. These sculptures are worth visiting both during day and night (due to the glow from ice).
Do
Tours
If you are visiting Fairbanks mid-May through the end of September, there are several tours that allow tourists to learn the history and culture of Fairbanks. The tours described below are the most popular and advised tours to take while visiting Fairbanks. All major lodges in the area can set you up on a number of local tours.
Events
Activities
Northern LightsFairbanks is one of the best places to see the northern lights. The northern lights are best seen between September and Mid-April on cold clear nights.
Arctic Circle Tour
phone: +1 800-208-0200
address: 3820 University Ave S
Flight seeAlaska has few roads. Getting around is about flying. Sure, it isn't cheap. Sample flights include village mail runs, Arctic Circle flights, Barrow or Deadhorse, and numerous other small villages. Some people hitch plane rides from the general aviation side of the airport as well as the float plane base. Bush pilots are for hire.
Buy
For those who have been camping extensively, one of the first things to look for in Fairbanks is a
shower
. Practically every laundromat in town also offers showers for between $3 and $7. Most will provide a towel and liquid soap, but be prepared for a quick cleaning as nearly all will utilize timers that turn the water off after only a few minutes.
The Red FoxHas a large collection of furs and leathers. And it has the smell.

phone: +1 907-456-1994

address: 300 Front St

The city's largest music store.
Eat
address: 2300 Airport Way

Alaska Salmon Bake is the mother of all cheesy tourist stops and is heavily trafficked by tour buses filled with foreigners and senior citizens, but for the hungry budget traveler the salmon bake probably provides the best value in Fairbanks. This all-you-can-eat smorgasbord of grilled salmon, cod, prime rib, lemonade, and blueberry dessert can be had for $36 per person (2018 price), which by Alaska standards is a bargain.

address: 4001 Geist Rd

This small coffee shop, which also offers a small variety of food items, is frequented by locals, college kids, and tourists alike. They roast their own coffee and offer specialties such as wood oven baked pizza.

Bun on the Run

phone: +1 907 479-2867

address: 3480 College Rd

Bakery and sandwich shop with outdoor seating. Everything is home-style. Summer only.

address: 1006 Cadillac Ct
phone: +1 907-455-6665

address: 2581 Goldstream Rd

Ivory Jacks offers casual meals to fine dining. Located just north of town in Goldstream Valley. There is an open mic every Saturday at 10PM where performers get to take a free CD home of their performance.

phone: +1 907 378-2812

address: 3412 College Rd #1, Fairbanks

Run by two friendly guys, they serve a simple menu of four different types of tacos and a special fifth one that frequently changes. Very good food. Casual, basic accommodations.

phone: +1 907 456-2200

address: 388 Old Chena Pump Rd

Good Asian food from pad Thai to BBQ beef. Great atmosphere as well.

Lin's Asian Bistro

phone: +1 907 479-8866

address: 1900 Airport Way

Slightly upscale Chinese dining, with an emphasis on presentation and a contemporary re-interpretation of American-Chinese cuisine.

Loose Moose Cafe

address: 3450 Airport Way

Has huge burgers made from Buffalo meat and a do it yourself topping bar. Frozen meat is also for sale here.

Pad Thai

address: 3400 College Rd

Pikes Landing Riverfront Dining & Sports Bar

phone: +1 907 479-6500

address: 4438 Airport Way

Great outdoor deck, fine dining indoors

address: 796 Chena Pump Rd

Has some menu items with game meats.

Siam Dishes

address: 338 Old Steese Hwy
Wok N' Roll Express

phone: +1 907 455-4848

address: 3535 College Rd

Chinese takeout. Not the best in town, but conveniently located by UAF; the noodle soups are good.

Wolf Run

address: 3360 Wolf Run
Drink
One traditional Fairbanks cruise is known as
"The Bar Float"
. The Chena River runs right through the center of town, with several of the bars that may be accessed right from the river. You can start at the put in near Pioneer Park, where Peger Road crosses the Chena River. There, they also rent canoes and kayaks. From here, you can float downriver past the bars known as
The Boatel
,
Chena's
,
Pikes Landing
, and finally taking out at
The Pumphouse
. The Chena is an easy-going river, but there's plenty of motorboat, canoe, jetski, and even airplane traffic during the summer so, as always, have a designated driver to keep it safe.
phone: +1 907 374-0468

address: 3677 College Rd Unit 4

Coffee and snacks served in an environment perfectly suited for broke college students. Great for studying, chatting, or listening to the frequent musical guests. Internet access (wireless & LAN) is available, with fifteen minutes free with any purchase, and prices of $2 per fifteen minutes thereafter.

phone: +1 907-888-2220

address: 414 2nd Ave

For the beer geek, Lavelle's is a please place to be, with 36 rotating taps, including wine and cider. This bar doesn't serve food, but frequently has food trucks outside in the summer, and outside food is welcome. It caters to a diverse crowd.

phone: +1 907 479-4646

address: 3412 College Rd

The late-night college bar for the UAF area. Just down the hill from campus. Subterranean. Funky. Legendary. Hangover Lounge Tuesdays. Open Mic Wednesdays. Live Music Thursday-Saturday.
Sleep
Hotels
Hostels
phone: +1 907 458-0095

address: 905 9th Ave

Close to Downtown Fairbanks. Dorm beds and tent space available. Free WiFi, computer terminals, coffee, and bicycle rentals.

phone: +1 907 479-2034

address: 2895 Mack Blvd

Clean, spacious and friendly. Only downside is the distance from the center of town. Close to the rail and airport though. Good Internet access with free wireless and a few desktops scattered about. Each bed is assigned a daily chore.
Stay safe
Unlike Anchorage, Fairbanks has had somewhat of a bad reputation for crime, especially in the 1980s and 1990s. While crime rates have improved since then and downtown Fairbanks is well policed, it is wise to avoid the area around South Cushman street after dark. It is the poorest and most dangerous area of Fairbanks, has high rates of drug activity, prostitution, sexual assaults and muggings, and suffers urban blight - but attacks on tourists are very rare and there's little reason for tourists to be in this area, anyway. Other constant problems in Fairbanks are break-ins in parked vehicles, house robberies, and petty theft. Don't leave valuables visible in your car, lock your car and house doors, and you should be fine.

Go next