Faisalabad
Faisalabad
(Urdu: فيصل آباد‎) is the third largest city in
Pakistan
and second largest city in Province
Punjab
,
Pakistan
.
Get in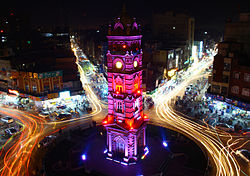 By plane
There are international flights to Faisalabad from:
It is used occasionally:
By bus
Faisalabad is connected with
Islamabad
(the national capital),
Lahore
(the provincial capital) and other big cities by motorway and National Highway. You can easily catch a comfortable bus from these cities for Faisalabad, like Daewoo Express, Khan brothers, Nadir coach, Ravi Express, Kohistan,Niazi Express, New Subhan, Hilal Travels and New Khan etc...
By train
Faisalabad is connected with all big cities of the country by rail. The most comfortable and affordable trains connects Faisalabad with Lahore and Karachi.
While in the city, you can hire a local cab or an auto rickshaw. There is a franchised bus service called "METRO"; it is also operated within the city. However, auto rickshaws stay out to be the favorite means of travel.
Get around
By rickshaw
Rickshaws are the most widely used and economical means of quick travel around the city.

By taxi
Some taxis are available at airport.
There're buses and rented cars.

See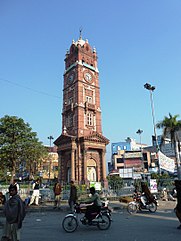 Ghanta GharThis is the main market of Faisalabad, the oldest area of the city. The market has eight bazaars, which together form a "Union Jack" (British flag), being a part of the construction work under the British Raj. Here you can find remains of " Raj" buildings, built before Pakistan came into being.

Gatwala Park - is situated on the Faisalabad-Shekhupura Road. It is a common picnic spot for schools and occasionally families.
D ground - is the second most important market after Ghanta Gghar. This is also the busiest area in the evening. Here local people usually come out in the evening just for an outing, or for shopping. You will also find a lot of restaurants here.
D-Ground - it is a commercial area having shopping malls etc.
Jinnah Garden - is also a beautiful park in the city commonly known as "Company Bagh". The tomb of H.E SIR CHARLES JAMES LYALL, is situated here. He was the founder of this city and the city was first named LYALLPUR in his honor.
Am Tex Waterfall - is located at Am Tex Squire, AbdullahPur.
Canal Park - is located at the west bank of Rakh Branch Canal. It is also a good outing place for families.
The Chenab_Club - The majestic Chenab Club standing in the shades of trees and complemented by vast lush green lawns, is located in the beautiful surroundings of "Jinnah Garden". The club is in the heart of the city, just a short walk from Railway Station and within walking distance of Clock Tower.
Gatwala park - It is a wild life & forest park located almost 10-15 km away grom central city.
Iqbal stadium - It is a cricket stadium there are amsument parks like sindabad and funnland and a lot of shopes.
Misaq ul Mall- It is largest shopping Mall in Faisalabad which located at Nishatabad.
Buy
Curtain & Sofa Fabric - You can buy excellent quality Jacquard and Plain Fabric for your home Decoration.
Clothing - Faisalabad is famous for its cloth and cloth related items throughout the world. It is the best market to buy home furnishings (bedsheets, curtains, towels etc.), personal clothing, and hosiery wear. Asia's largest cloth market(Arshed cloth market) is there.
Metro cash and carry:Wholesale shopping centre.
Hassan shopping mall.
AL Fatah shopping mall.
University shopping mall,
Misaq ul Mall- It is largest shopping Mall in Faisalabad which located at Nishatabad
Rex City - is a big computer market. Here you can find computer sales and service shop easily, as well as CD and mobile shops and computer software and hardware experts.
Metro Cash And Carry - Shopping point near Interchange Faisalabad.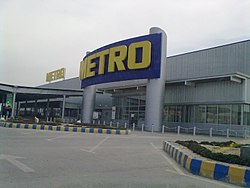 Eat
Cock'N'Bull

phone: +92-41-8738787

Fast food, Chinese, shawarmas, steaks, d-ground
Samosa - the samosas of Faisalabad are the best in Pakistan. A chock is dedicated to them, named Samosa chock. These samosas are different from any others because here you can get the chatani variety. The very famous name Chacha Samosay Wala is also in the D - Ground Market.Best samosay are found at the corner shop of bawanabazar-gol.
Tea - One of the very famous tea spots in Faisalabad is located in Madan Pura. The tea keeps cooking all the time and is really delicious here. Sweet rusks make a nice company alongside.
Dahi Bhale - these are also delicious. The best Dahi Bhale is being prepared by a Thele Wala at Jinnah Coloney, near Chatri Wala Ground.
Gol Gappe - these are really tasty. They are basically made with flour into a ball shape, and they are filled with black grams, onions, potatoes and other supplements. The most famous is a person who sells gole gappe on tehla in the start of the AminPur bazaar. A sour drink called "khatta" is served with them. A number of gol gappay carts can be found, lined outside Cricket Stadium. Their dahi bhala fillings and dippings are unique and not worth missing.
Biryani & Pulao - Biryani & pulao (special cooked rice) are also very popular. Jehangir's Murgh Pulao is most popular in the country. It was first started by Mr. Fatah about 60 years ago on the name of his younger brother Mr. Jehangir, Tabish biryani.
Dal Chawal - No city can boast of a better Dal Chawal serving than Faisalabad. Its one of the favorite foods here, popular outlets are located near Ghanta Ghar like Chamma Dal Chawal and Munna Dal Chawal.
Parathay - The ghanta ghar parathas are very famous and a large crowd comes to attend all night long. They come in different fillings as potatoes, mixed vegetable, chicken etc... A hot late night discussion culminated at Ghanta Ghar for Parathas is always an ever youthful experience.
Drink
Rabri - this is the most favourite drink of the people of Faisalabad. It is made by mixing peanuts, almonds & many other dry fruits in milk and is delicious.
Sugar cane rusk - also delicious.
Limo pani - very tasty. It is made up with lemon juice and water.
Lassi - Lassi is the traditional Punjabi drink. Lassi is available in all parts of the city easily. It is made using yogurt. The price of one glass or a Piala of Lassi is about Rs.20
Bangali Milk Shop at Clock Tower chowk is the famous one for Lassi.
Nirala sweets also very famous in the city.
Sleep
Budget
Hotel Grand

Royalton Hotel, Canal road — One of the best place to stay in town.
Rizak Hotel (Railway station)
Gravish Hotel
PC Hotel Faisalabad
Mid-range
Splurge
City Vista Hotel

phone: +92418501769

address: Kohinoor One Plaza, Jaranwala Road

phone: +92 41 2600428

address: Club Road

The only five star hotel in the city.
Stay safe
In the case of an emergency, call police by
15
from any landline phone. If you are using a cellphone, dial 911 for police rescue.
Ambulance Access To get an ambulance in case of an emergency, dial 115 from any landline or cellphone.
If you found yourself in serious trouble and need any type of emergency rescue or help then feel free to dial
1122
. The name of the emergency service is "Rescue 1122".
Go next