Falcón
Falcón
is a state in northwestern
Venezuela
.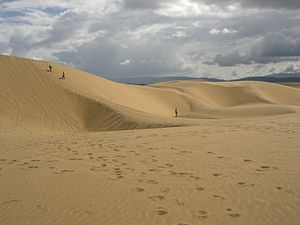 Cities
the capital of Falcón state, Coro is one of the oldest Spanish settlements in South America. It has Venezuela's best example of beautiful, colonial architecture in the town center.
-- the gateway to Morrocoy National Park
Other destinations
- A plethora of islets, coral reefs and sandy beaches make this one of the best beach and diving destinations in Venezuela. The islands are accessible by boat or lancha from either of Morrocoy's two gateways: Tucacas in the south or Chichiriviche in the north.
Los Medanos de Coro - This substantial sandbar connecting the Paraguana Peninsula with mainland Venezuela has become its own spectacular 'desert' replete with xerophytic vegetation, and vast sand dunes that are great for freefall jumps and tumbles! Easily accessible from nearby Coro.
Paraguaná Peninsula - More beaches on this windy peninsula, including some great spots for kite-surfing.
Adicora The Troja is located in Adícora, east of the Paraguana peninsula in Falcon State, which was born in the dunes of Coro National Park, a city declared World Cultural Heritage. Adicora, is a place of quiet beaches, surrounded by natural beauty esplendorosas, dunes, salt marshes and villages that look great example of Colonial architecture, famous also for the practice of windsurfing and skysurf. Paraguaná is free zone and free port zone, ideal for shopping white, lingerie, footwear, clothing and liquor. http://www.latrojaadicora.com
Understand
The Paraguaná Peninsula, like
Margarita Island
, is a free port, i.e. no sales tax or V.A.T. is charged. This makes it a popular destination for Venezuelans to stock up on whisky or buy consumer goods such as televisions.
Get in
José Leonardo Chirino Airport (CZE) and Josefa Camejo International Airport (LSP)

See
Sierra de San Luis - a small range of mountains with a refreshingly cool climate, a great place for hiking and seeing nature. You can stay at the lovely Casa de Campo (Tel: 0268 7472917, 0414 685 4037) which is on the road to Curimagua, about 5 km after La Chapa. Double rooms are about USD 40-50. Other options include the Posada Don Aguedo in San Luis (Tel: 0268 6663073) for about USD 15 a room or USD 5 for a dorm bed; Posada La Caburena (Tel: 0268 6611093) also in San Luis, USD 20 a room.
El Cabo de San Román - Venezuela's northernmost point, located on the Paraguana Peninsula and 100km north of Coro. The small town of Las Cumaraguas is close to the Cape and has some impressive salt flats you can visit.
Do
Kitesurfing at Adicora, on the Paraguana Peninsula.
Go next
Aruba
lies just 27 km off the Paraguaná Peninsula but at present the only way to get there is by plane from Coro. The journey is short and reportedly cheap, although Venezuelan exit taxes will probably have to be paid. A ferry service from the Venezuelan port of
Puerto Cabello
to Aruba,
Bonaire
and
Curacao
is planned although it is not clear when this route will enter service.