Falmouth (Massachusetts)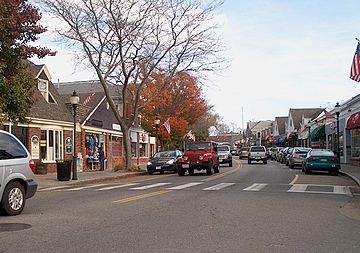 Falmouth
is in
Massachusetts
on
Cape Cod
's southwest corner. It includes the villages of
Woods Hole
, West Falmouth, North Falmouth, Hatchville, Silver Beach, East Falmouth, Teaticket, and Waquoit. It is the Cape's second most populous town.
Get in
By car
Falmouth is best accessed via
Route 25 to the Bourne Bridge
. At the traffic circle on the Cape Cod side of the bridge take
Route 28 south
. Traffic will be heavy at peak travel times during the summer. Falmouth is about a 70 mi (112 km)drive from Boston and will take at least 1.25 hours.
By bus
Get around
Visitor Information Center, 20 Academy Ln.
WHOOSH Trolley. Local seasonal service around Falmouth.
See
Galleries
phone: +1 508 548-2100

address: 114 Palmer Ave

Watch the husband and wife artists at work at their easels on landscapes, still lifes and portraits in this studio that doubles as a gallery.
Museums
phone: +1 508 548-4857

address: 55 Palmer Av
Parks
address: 45 Fells Rd

This beautiful ambling garden overlooks the Shining Sea Bikeway and Oyster Pond. A short bike or car ride from the village itself. A collection of old millstones & ship's anchors ranging from large to huge, decorate the pathways along the pond. Nice place for a walk or picnic.
Do
phone: +1 508 540-4195

address: 115 Palmer Ave

Top quality bike rentals 2/10 mile (.32 km) away from the path, friendly and knowledgeable staff.
Beaches
Lifeguards at all public beaches in season 9AM-5PM. Windsurfing allowed before or after these hours.
Falmouth Heights Beach, Parking (fee).
Old Silver Beach, Off Route 28A and Quaker Road, N. Falmouth, +1 508-548-7611, Parking, (fee), bathhouse, food. Arrive early.
New Silver Beach, N. Falmouth
Menauhant Beach, E. Falmouth, Parking (fee), food.
Surf Drive Beach, Parking (fee), food.
Chapoquoit Beach, W. Falmouth, Parking (fee).
Woodneck Beach, W. Falmouth/Quisset.
Golf
Sports
address: 790 Main Street

In Cape Cod Baseball League action. Eleven players drafted by Major League Baseball teams in 2005.
Theatre
phone: +1 508 457-4242

address: 7 Highfield Drive

address: 60 Highfield Dr
Tours
Events
Cape Cod MarathonThis annual marathon winds its way across Falmouth the third weekend in October.

Falmouth Road RaceOriginally a "pub crawl" now an annual event bringing some 10,000 runners to Woods Hole for the start of the 7 mile course. Also an important qualifying race for the professional running circuit. Usually held the last week in August.
Buy
phone: +1 508 540-8777

address: 352 Main Street

Fabulous pastries made here and, if you have cooking facilities, try the frozen chicken pies.
Eat
See
Woods Hole
village article for other choices.
Budget
Mary Ellen's Portuguese Bakery

phone: +1 508 540-9696

address: 829 Main St

A simple, small town diner.

phone: +1 508 457-1666

address: 227 Main Street

Nice quiet atmosphere, great, fresh sandwiches and pastries and fine teas.

phone: +1 508 563-3041

address: 358 North Falmouth Hwy

Standard diner fare.

Betsy's Diner

phone: +1 508 540-0060

address: 457 Main St

An actual 50s diner, not retro 50s.

phone: +1 508 540-6580

address: 323 Main St

Indian, open in winter.
Mid-range
Firefly Woodfire Bar and Grille

phone: +1 508 548-7953

address: 271 Main Street

Clam Shack

phone: +1 508 540-7758

address: 227 Clinton Ave

Fried seafood, right on Falmouth Harbor.

phone: +1 508 548-9191

address: 876 E Falmouth Hwy

phone: +1 508 548-9900

address: 164 Main St

Use of salvaged wood and ship parts creates a "below decks" atmosphere.
Splurge
phone: +1 508 548-2700

address: 220 Scranton Av

Fresh seafood, pastas and steaks, overlooking Falmouth Harbor. If the wait is long, be sure to take a stroll along the boardwalk and look at the boats docked at the marina.
Drink
phone: +1 508-457-7285

address: 681 Sandwich Rd

Open for wine tasting on weekends. Winery tours are Sa (July and August) at 2PM. Cabernet Sauvignon, Cabernet Franc, Merlot, Pinot Grigio, Seyval and Vidal. Produces 2500 cases of wine annually.

phone: +1 508 540-3930

address: 29 Locust Street

Great live music Th-Su Not a touristy place at all. Nice local crowd.

J.R. Brody's Roadside Tavern

phone: +1 508 444-8677

address: 734 Teaticket Highway

Took the place of McGanns Restaurant on February 17, 2009

phone: +1 508 548-0285

address: 273 Main St
Coffee
phone: +1 508 540-2233

address: 110 Palmer Av

Internet and coffee connection.
Sleep
Budget
Sippewissett Cabins & Campgrounds

phone: +1 508 548-2542

address: 836 Palmer Avenue

100 sites.

phone: +1 508 548-1458

address: 176 Thomas Landers Rd

200 sites.

phone: +1 508-540-2500

address: 824 Main St
Mid-range
Splurge
phone: +1 508 548-1230

address: 81 Palmer Ave

12 room B&B.

Sea Crest Resort & Conference Center

phone: +1 508 540-9400

address: 350 Quaker Rd

Large oceanfront resort with fine dining.
Go next