Famagusta district (North)

Famagusta district
is a region that spans both
Cyprus
and
Northern Cyprus
. This article covers only the
northern Turkish-Cypriot side of the district; see
Famagusta district (South)
for the Greek-Cypriot side of the district.
Cities
This area, being a rather remote place, mostly consists of towns and villages rather than cities.
- good beaches with restaurants, hotels and other facilities
- traditional village with a market aimed at visitors who are seeking traditional items and food, open every Sunday, also home to traditional restaurants
- remote, far, at the tip of the peninsula, and the gateway to a national park, this village is the only one in Northern Cyprus with a significant Greek Cypriot population
— the district capital has a medieval centre, and a modern ghost town on its outskirts
— village on the northern coast, fronting a popular beach
- also known as Galatya, the grape capital of Northern Cyprus, where most of the grapes, wine and zivania is produced. Close to the beach destination Bafra.
- major village on the northern coast on the peninsula
Talk
Turkish is the main language used throughout. The Turkish Cypriot dialect is common, but you will find some accents of mainland Turkish at the places inhabited by mainlanders. A Greek-speaking community is present at Dipkarpaz. English is widely understood at the big hotels, though in the less touristy places the level of communication is worse.

Get in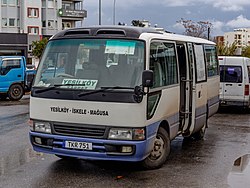 There are daily buses (mostly depart twice a day) to big villages such as Mehmetçik, Yenierenköy and Dipkarpaz from Nicosia, Kyrenia and especially Famagusta. From Famagusta, there is a regular bus connection to Yenierenköy, including Saturday and Sunday (14 TRY per person in 2019). From Yenierenköy, there is one bus per a day to Dipkarpaz. It doesn't go any further. The purpose of the bus connection Dipkarpaz-Yenierenköy is to take children from Dikparpaz to school in Yenierenköy the morning (leaving about 6 AM from Dipkarpaz, check with a tourist information office in Yenierenköy) and take them back to Dipkarpaz in the afternoon (about 1 PM).
The big hotels in Bafra have their own services from the Ercan Airport and Nicosia. You can also find shared taxis/dolmuş that will take to the area. Getting into the area using taxis would be quite costly. You could try hitchhiking, locals are willing to give rides and the area is considering to be safe.
Another option how to get to the top of the peninsula, is to hike from Dipkarpaz or even Yenierenköy. There is a marked hiking trail that goes from Yenierenköy marked with the letter B. The route is pleasant but demanding and takes a few days. Coastal restaurants on the southern side are good way of supplying food and water.
Get around
There are some bus services between the villages, but these are highly unreliable. By far the most comfortable and reliable means of transport, especially if you want to go to Dipkarpaz the Cape and the Golden Beach, and other places off-the-beaten-path, is renting a car. There is only one rent-a-car service in the area, Zag Rent-a-car in İskele. Alternatively, there are taxi services that operate in the area.

See
Historical places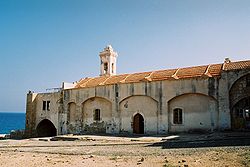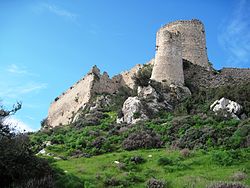 Aphendrika - ruins of an ancient marina, an ancient city and historical churches
Apostolos Andreas Monastery - an Orthodox monastery, this pilgrimage site lies a few kilometers SE from Cape Apostolos Andreas
Ayios Trios Basilica - a 5th-century basilica, near the village of Sipahi, with interesting mosaics
Kantara Castle - not Karpaz in the strictest sense, but a must-see when in this area, this picturesque castle offers breathtaking scenery, good hikes, and a beautiful glimpse of history
Panagia Kanakaria Church - a Byzantine church whose mosaics are famous as they were stolen during the 1974 conflict, but later reclaimed by the Republic of Cyprus and now on display in south Nicosia
Other destinations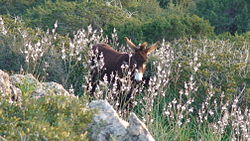 Cape Apostolos Andreas - the geographical endpoint of Cyprus
Karpaz National Park - famous for its wild donkeys, but also home to some very beautiful scenery. Do not miss the opportunity to take photos with the donkeys, who are so free that they can sometimes block the roads!
Karpaz Gate Marina - a picturesque recently-built marina near Yeni Erenköy, a beautiful place that attracts many visitors with yachts, restaurants and sometimes exhibitions
Karpas Golden Beach. Probably the best beach on the island, white sands, clear waters, completely unspoilt from development (apart from a few wooden bungalows). Turtle nesting place.
Do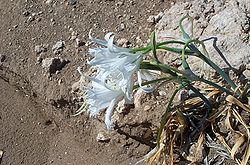 Beaches - the area is famous for its beautiful golden beaches, below are some of them:
Golden Beach - the most famous and perhaps the most beautiful beach in Cyprus, this remote idyllic beach is at the tip of the peninsula. With the colour of the sand and the sea, the cleanness and the length of the beach, it could be mistaken for a stereotypical Pacific island paradise! Has very limited facilities, so go there prepared.
Bafra - a stark contrast to the Golden Beach in terms of the facilities, home to some world-class 5-star hotels, and also a free facility of the municipality, this beach is also beautiful and clean with its golden sands
Boğaz - good beaches, good restaurants, good hotels, a classic for Cyprus! There was some pollution here in July 2013 due to a recent oil spill, so take care, look at the colour of the sea and ask if the pollution still exists
Makenzi - operated by the İskele Municipality, this beach has some simple but sufficient facilities and golden sands
Kaplıca - a beautiful beach with a nice hotel, spectacular views of the sunset
Water sports - sports such as jetskiing are available in Bafra and Kaplıca.
The Mehmetçik Grape Festival, takes place every year at the end of July and beginning of August in Mehmetçik. Local bands give concerts, a beauty concert is held, traditional folk dance shows take place and several other activities occur.
Eco-day, the expanded version of the Sunday market in Büyükkonuk, held yearly in May or June, with local bands giving concerts and traditional folk dance shows.
Sleep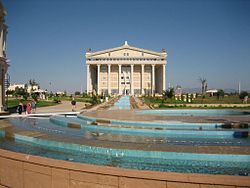 There are many accommodation facilities in Karpaz, below is just a selection:
address: Dipkarpaz, road to Apostolos Andreas

Wooden huts, nice restaurant, almost straight on the Golden Beach. Very basic amenities.
Büyükkonuk Municipal Pine View Bungalows, located next to a hilltop next to a forest, . Bungalows with sufficient amenities.
Çelebi Garden Hotel , Mehmetçik. Very recently built, clean and comfortable rooms, not so close to the sea.
Dipkarpaz Wooden Bungalows, located in the village, 2 km from the sea, phone number: +903923722306, email: karpazwoodenhouses@hotmail.com, operated by the municipality.
Exotic Hotel, Boğaz. 2-star hotel with a beach restaurant.
Kaya Artemis Hotel, Bafra. Luxurious 5-star hotel with an aquapark, casino, and frequent concerts.
Noah's Ark Deluxe Hotel , Bafra. Luxurious 5-star hotel with a spa and casino.
Tanyel Bungalows , 2 mins from Karpaz Gate Marina.

address: Dipkarpaz, road to Apostolos Andreas

Semi-wooden huts, OK restaurant, almost straight on the Golden Beach. Very basic amenities.
Theresa Hotel , on the road to Yenierenköy. 1-star seaside hotel with a nice restaurant, opposite a Byzantine church.

View Hotel

address: Dipkarpaz, road to Apostolos Andreas

Very old hotel with basic amenities, in major need of renovation.
Stay safe
This area is a very safe place and crime is extremely rare.

Respect
The area is one of the most conservative places in Cyprus: many mainland Turkish people reside there with some women wearing the headscarf. However, this does not mean that it is an intolerant area. Clothing such as shorts, tank tops and bikinis is not a problem - Cyprus can get very hot in summer! Homosexual displays of affection will certainly draw unwanted attention and stares.