Farmington (New Mexico)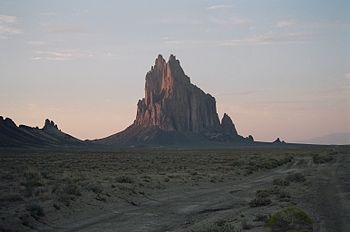 Farmington
is a town in the
northwest
region of the state of
New Mexico
,
United States of America
. It is notable as a gateway to
Navajo Nation
and the Four Corners area, and as a center for folk art, particularly Navajo weavings. Attractions associated with the nearby towns of
Aztec
,
Bloomfield
,
Kirtland
and
Shiprock
, about the nearest things that highly rural northwestern New Mexico has to "suburbs," are also covered in this article.
Get in
Farmington is connected by roads coming from all directions. US-64 runs east-west through Bloomfield, Farmington, and Shiprock. US-550 runs north-south through Bloomfield and Aztec, running from near
Albuquerque
to the south and
Durango
to the north. US-491 runs north-south through Shiprock, continuing south to
Gallup
and north to
Cortez
.
Farmington is served by commuter air links with Great Lakes Airlines, with flights to
Denver
under a codeshare agreement with United Airlines. No passenger trains serve the town.
See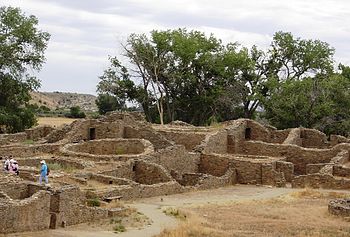 phone: +1 505 334-6174

address: 84 Ruins Road, Aztec

One of the many national parks and monuments of the Four Corners region, Aztec Ruins preserves the remains of a large pueblo village. A short trail winds through the ruins, allowing you to stoop through low doorways into the site and between the old walls. Another highlight is a massive restored kiva, which is quite impressive on the inside.

Salmon RuinsAn archaeological site related to those at much more extensive Chaco Culture National Historical Park to the south (see under "Get out"). On US 64 between Farmington and Bloomfield.

Ship RockLocated beyond the town of the same name, a spectacular monolith rising from the desert that has featured in many movies of the Wild West. It's well worth a visit for some photography.
Do
Farmington is known for its outstanding recreational facilities and events, annually hosting the Connie Mack World Series, the XTERRA Four Corners Off-Road Triathlon and The Road Apple Rally, the longest running annual mountain bike race in the country. World class trout fishing on the San Juan River, below the Navajo Dam, and golf at Pinon Hills Golf Course are top attractions year-around.
phone: +1 505 960-7000

address: 2752 Upper Fruitland Hwy

phone: +1 505 368-2300

address: 2710 E Hwy 64, Shiprock
Buy
Farmington is one of the top places to obtain Navajo rugs and other arts and crafts of the Navajo. There are several reputable dealers in town (as well as, unfortunately, several others ranging from schlocky to downright misleading), largely clustered in the downtown district or along US 64 west toward Kirtland. The
Foutz
galleries and posts, distributed through several communities in the region, have a long history of offering quality goods. The main Foutz frontage is at 301 W. Main Street downtown (
+1 505
325-9413), with others on the way to Kirtland and in Shiprock.
Hogback Trading Post
, in Waterflow
(15 miles west of downtown on US 64)
, is another outfit with a good reputation. If you encounter another dealer offering good work, add it here.
Keep an eye open for Navajo rug auctions, which can be an excellent way of acquiring a rug at prices below those found at the dealers. The
Crownpoint rug auctions
, at a tiny town in
Navajo Nation
and covered further in that article, offer a superbly diverse inventory of rugs and frequently excellent value for dollar, as well as a fascinating cultural experience. Lodging in Crownpoint is nonexistent, and if you go to an auction, you'll do well to secure lodging in Farmington first. Auctions are occasionally held in Farmington proper as well, although they usually aren't as extensive as those at Crownpoint.
phone: +1 505 326-5465

address: 4601 E Main St

A regional mall for the Four Corners area. Anchors are Sears, Dillards, JCPenney, and Ross.
Eat
Three Rivers Restaurant and Brewhouse

phone: +1 505 324-2187

address: 101 E Main St

Great American food, craft beer, pizza, and shuffleboard. Friendly staff. Three Rivers won best beer and best cider at New Mexico's Fair Pro-Am Competition, so beer lovers have a good reason to get off the highway.

Rubio's Fine Mexican Dining

phone: +1 505 334-0599

address: 116 S Main Ave, Aztec
Sleep
Holiday Inn of Farmington

phone: +1 505 327-9811

address: 800 E. Broadway

Generic chain hotel, nothing special, but not bad at all.

La Quinta Inn Farmington

phone: +1 505 327-4706

address: 675 Scott Ave

Likewise.

Kokopelli's Cave Bed & Breakfast

phone: +1 505 325-7855

address: 3204 Crestridge Dr

Located in an underground cave which was dug out of sandstone.
Go next