Faro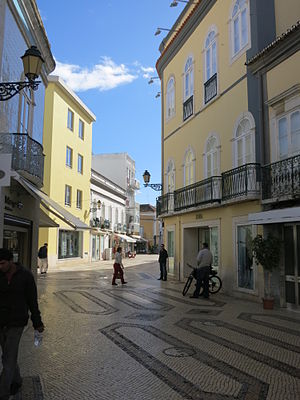 For the island in Sweden, see Fårö.
Faro
is a city in the
Algarve
region of
Portugal
.
Understand
Faro is the southernmost city in mainland Portugal. During summer, Faro is a popular destination for sun-seekers from northern Europe and the
UK
, especially due to the presence of its international airport. It also enjoys a reputation as being more friendly than many other parts of the region.
Outside of summer, the beach-goers are mostly gone, but it is still a base to explore the more remote areas of the Algarve, a convenient stop between Lisbon and Seville (or Spain in general), and what it loses in partying outside summer, it gains in peacefulness, reverting to a quaint and charming small city.
Get in
By plane
Faro AirportMany package tour and discount airlines arrive from the UK and Ireland, mainland Europe and Canada. There is a large group of Car hire agencies if you turn right after the main exit. From the airport, there is a possibility to go to the city by buses 14 or 16 operated by Proximo, departing roughly every hour. The price is €2.25.
By train
Faro train stationTrain station is a small building, which contains ticket office, small waiting area and kiosk. There are no luggage lockers inside the train station, but it is possible to store your luggage in tourism agency on 1st platform. The Alfa Pendular - a high-speed train, runs at least twice a day to and from Lisbon. About 2,5 hours, €20 one way, €25 on first class. The Inter City trains run more frequently but take a little longer, with more stops - about 3.5 to 4 hours. There are also regional trains along the Algarve coast to Lagos.
By bus
Faro bus stationThere is a daily bus service to and from Lisbon and Porto in the north of Portugal, as well as to and from Madrid and Seville in Spain. A fare from Lisbon to Faro costs either €18 (for an "Expresso" connection takes about 4 hours, stopping in Albufeira, Vilamoura and Quarteira) or €19 (for a "Expresso Qualidade" direct connection which takes just over 3 hours and includes a movie projection, a stewardess, and a mini-bar service) and can easily be bought at the bus station just before boarding. This bus station in Lisbon is next to a subway stop called Jardim Zoológico.
By car
Car hire is an option for visitors. You can arrange car hire at the airport, however, as with many tourist locations it is wise to arrange your vehicle hire prior to arrival - this can save both money (the airport car rental desks can be far more expensive) and disappointment as availability during peak season may be very limited. Organising it from home before you arrive is now a very simple process with numerous companies specialising in pre-booking car hire in Faro.
Roads can be quite busy, but if you want to see a bit more of the city and indeed the Algarve region then driving by car is an easy option. Driving in the Algarve region is far easier than in the rest of Portugal, there are more non-toll roads and road-signs are plentiful and relevant.
By boat
Main harbours: Portimao, Faro.
Get around
By bus
Urban buses are run by the
Eva
company, that also connect Faro with other cities in Algarve and Andalusia.
Local buses are run by the
Proximo
company. Buses 14 and 16 go around the city, to the airport and to the beach of Faro. Tickets can be bought from the driver for 2,25 euro.
By car
It can be difficult to find a parking slot in the center. Most of the parking stations near the restaurants and shopping malls are payable. However, there is a free car park located along side the bus station which is close to the Hotel Faro and a huge free car park located behind the old town heading in the direction of Olhao.
On foot
Downtown is small - and transport convenient: The train and main bus station being within 150m of one another. Walking is very viable for most visitors.
See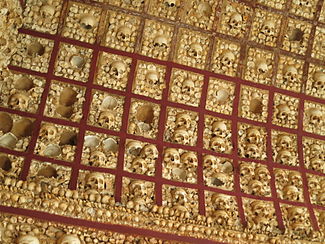 Bone ChapelWithin Igreja do Carmo church, this chapel is almost completely made of bones taken from a former monk graveyard.

Old townA well-preserved section of town off the harbor with cobblestone streets and 18th century Portuguese and Moorish-influenced architecture. It is great place for a peaceful and almost private walk back in time in an area that has been virtually untouched by modernity.

CathedralWithin the old town, the view from the tower over the old town and the Rio Formosa is a highlight.
Do
Ria Formosa: In Faro and Olhão you have the possibility to enjoy and make the most of Ria Formosa through a boat trip, or other eco tours and other activities to discover the nature and wildlife of this Natural Park:

phone: +351 918 720 002

address: (Doca de Recreio de Faro) Avenida da República- Stand 1, 8000-078

Formosamar is an ecotourism company in the Algarve that organizes several boat trips and ecotourism activities in the Ria Formosa Natural Park. There are several options to choose from, including birdwatching tours on traditional boats and boat trips to the Deserta Island and the Farol Island on a catamaran. Bike tours or bike rentals are also available.

phone: +351 914 539 511

address: (Doca de Recreio de Faro) Edifício Ginásio Clube Naval – Piso 0, 8000-541

Nature-based tours and activities (kayaking, eco-friendly solar boat trips, birdwatching or walking) in Ria Formosa and the Algarve.

phone: +351 918 056 674

address: (Doca de Recreio de Faro) Avenida da República- Stand 2

Natura Algarve is an ecotourism company in the Algarve that organizes boat trips, birdwatching and other ecotourism activities in the Ria Formosa Nature Park, which are available all year with several daily departures from the towns of Olhão and Faro.

Faro beachThis beach is several kilometers long and so normally never gets crowded, even in the height of summer. Most of the beach is gently sloping though it can take a sudden dip in places. There are the usual beach-side stalls and a public lavatory, but no showers. Praia de Faro is just past the airport, the airport bus stops there. A lot of people with early check-outs and late flights seem to go there on their last day.

phone: +351 289829525

address: Rua Leao Penedo

Officially established in 1851, the Faro Jewish Cemetery is the only remaining vestige of the first post-Inquisition Jewish presence in Portugal. It served as a burial place for a thriving 60 family community (also known as "Little Jerusalem"). The Jews of Portugal were expelled by the Inquisition at the end of the 15th century and settled in Gibraltar and North Africa. After the devastating 1755 Lisbon Earthquake, their descendants were invited by the Marquis of Pombal to help rebuild the economy. Although the community is long gone, the Cemetery still remains to remind citizens and travellers of its former glory. The Faro Jewish Heritage Centre features over one hundred graves in Sephardi style, with beautifully engraved slabs instead of headstones. Although the land was purchased by the Jewish community in 1851, the first burial, that of Rabbi Toledano, dates back to 1838. Apart from the Cemetery, there is also a museum, housing many objects linked to the history of the Jews of Faro, like the furniture from one of the two former synagogues of Faro or the facsimile copy of Gacon's 1478 Pentateuch in Hebrew - the first book ever printed in Portugal!
Eat
A Tasca

phone: +351 289 824 739

address: 38 Rua do Alportel, Faro

This is a typical Algarvian restaurant serving typical regional cuisine at average prices. They do not accept Credit Cards.

Camané

phone: +351 289 817 236

address: Ilha de Faro, Faro

A swanky beach restaurant with upmarket Portuguese cuisine. It's popular with business people and the richer Algarve socialites. They accept credit cards and are closed on Mondays.

Dois Irmãos

phone: +351 289 823 337

address: 20 Largo Terreiro do Bispo, Faro

Found in an old small corner house located in the square opposite the Cathedral. International cuisine. They accept credit cards.

Hotel Monte do Casal

phone: +351 289 990 140

address: Estrada de Moncarapacho á Estoi

A charming converted manor house in a comfortable rural hotel set back from the coast. The restaurant is run by a Michelin trained Chef called George who provides an exciting menu. Credit Cards accepted.

O Costa

phone: +351 289 817 442

address: Ilha de Faro

Located on Faro Island to the south of the airport, O Costa serve well presented cuisine prepared by chef Fabienne Costa who does credit to traditional Portuguese Algarvian dishes with a touch of finesse.

Le Marquis

phone: +351 916076540

address: Monte da Palhagueira, Santa Barbara de Nexi

Wonderful building and position, inside decor traditional in style but table settings and modern food. A very personal experience from Helma and Vincent. The menu was impressive, something for every palette.

Adega Nova

phone: +351 289 813433

address: 24 Rua Francisco Barreto, 8000-344

A unique restaurant in the middle of Faro that appears like a pub from northern Europe. Busy and lively restaurant with smoking and non smoking areas. Attentive, professional staff. Reasonably priced
Drink
Bar CheSsenta

address: Rua do Prior 34

On the Rua do Prior which is the main bar / cafe street in Faro, this small bar is decorated with many photos of Che Guevara and attracts a 20s-30s crowd with reasonably priced drinks. They do karaoke on some nights also.

phone: +351 966488531

address: Rua Conselheiro Bívar 72, Faro, 8000-255

A one-stop place, which is very well known and always full. It is divided between three distinct areas: The main (as you enter) has a very wide bar that attracts the older clientele, in the next room is the dance floor and a well equipped bar, an ideal place for the more rowdy nights and a chill out room over two floors, ideal for relaxing, playing pool or video games.

Bora Bar

address: 1 Rua do Compromisso

Located next to the Hotel Faro in the hub of nightlife of Faro, Bora Bar attracts a younger crowd and the staff are welcoming and friendly. Friday is ladies night and there are drink offers every night of the week.

Upa Upa Café Bar

address: 51 Rua Conselheiro Bivar

Very popular with both the locals and tourists, Upa Upa draws a rich mixture of people. Tables overflow onto its spacious patio. It's a great place to have a drink while mixing with the locals and other tourists.

Dux

phone: +351 289282468

address: Rua do Prior 38 8000

This nightclub is popular amongst the younger crowd and is frequented by both the locals and tourists. If you're looking to party until the early hours of the morning, this is the place to go.
Sleep
Faro has a thriving trade in both package deal hotels and short-term apartment rental. If that fails, locals have become very comfortable renting out every scrap of space in their homes to desperate travellers. Book months in advance for the high season and note that many places are closed during the low season.
phone: +351 289 813 252

address: Praça Alexandre Herculano, 27, Faro

First Hostel in Faro, Algarve, Portugal, is centrally located near Faro "Old Town", just a 5 minute walk from the marina and to some of Faro's most important monuments and museums. And remember the only deserted beach during the Summer in the Algarve is just 30 min. away by boat from Faro! 24 Hour Reception, BBQ Area, Breakfast,Common Room, Internet Access, Guest Kitchen, Linen Included, Luggage Storage, Outdoor Terraced Area and Bike Rental.

Pousada de São Brás de Alportel - São Brás, Charming Hotel

phone: +351 289 842 305, +351 289 842 306

address: 8150-054 São Brás de Alportel

A charming hotel located in the Algarve mountain range, only half an hour from the coast and near the most famous beaches in Portugal, this has and still maintains the most genuine characteristics of the region's culture. Near this charming Algarve hotel are some golf courses, such as the Monte Rei, the Benamor and the Quinta da Ria golf course, these are some of the best greens for the practice of golf in Algarve.
Hotel Eva is a 4-star hotel overlooking the harbor and the Cidade Velha. It is walking distance from everything and is well worth the few extra euro.

phone: +351 289 830 830

address: Praça D. Francisco Gomes N2 Faro

phone: +351 289 893 800

address: E.N. 125 Pontes de Marchil

phone: +351 289895060

address: Rua João Baptista Severino Urb. Monte da Ria - Montenegro 8005-237 Faro

Hotel Mónaco is the nearest hotel to Faro airport, Algarve University and Algarve Stadium.

Faro Lounge Guesthouse

phone: +351 969 989 369

address: 72 Av. da Republica Sao Pedro

A cheap guesthouse in Faro. They offer dorms for 12 and 16 people. I booked it well in advance and paid a deposit. A few hours before I got to Faro I received an email message telling me my reservation is canceled due to overbooking. I still haven´t received my deposit back.

Pensao Tivoli - Guest House Tivoli

phone: +351 289 829 825

address: Praca Alexandre Herculano, 6

A beautiful building with classic decor with restored antique furniture in most of the rooms. Clean and bright.

phone: +351 96 972 13 60

address: Rua Miguel Bombarda 33, Faro

Hostel 33 is in a building full of history in Faro, Algarve, Portugal, is centrally located in the old town area of Faro, 10 minutes from Faro Airport by taxi, 2 minutes walking distance from the bus station and only 40 metres from the Train Station, offer accommodation in 4, 6 and 8 bed mixed dorms and we also have twin rooms available, each with a private bathroom and balcony, 24h open reception desk, Full Wi-Fi coverage, Guest kitchen, Outdoor terraced área.
Stay safe
Faro and the Algarve region are reasonably safe year round. With that said,
pickpockets
are not unheard of, especially near beaches at night, so be on your guard.
Go next