Fayetteville (Arkansas)
Fayetteville
is in the
Ozarks
and the
Ozarks Region
of
Arkansas
.
It is home for the main campus of the
University of Arkansas
, and has many characteristics of a college town, including many bars, restaurants and specialty stores. It serves as a regional hub for live music and performances, with several venues. Fayetteville is also part of the booming Fayetteville-Springdale-Rogers-Bentonville metropolitan area in Northwest Arkansas, and has experienced dramatic growth since the 1990s.
Fayetteville's core area of interest centers around the historic downtown square and Dickson Street, which runs between Highway 71B (also known as College Avenue) and the University of Arkansas campus, and is the "main drag" for restaurants and bars. This area can be flooded with people during the very popular Razorbacks college sports games, or during a number of festivals, the biggest of which is the Bikes, Blues, and BBQ Festival. This downtown area, along with the UofA campus and a few historic neighborhoods on either side, is quite walkable. The rest of town, including several strip-mall shopping districts that extend along the highway and residential neighborhoods, is less accessible except by car; bus service is available, but is limited.
Get in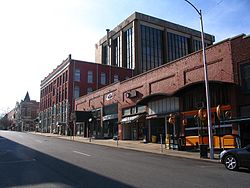 By plane
Northwest Arkansas Regional Airport (XNA), One Airport Blvd. Suite 100, Bentonville, Arkansas, +1 479 205-1000, Fax: +1 479 205-1001, . The Northwest Arkansas Regional Airport provides commercial flights from a variety of carriers. This is the main commercial airport for this area, including Fayetteville; its location allows it to serve the Northwest Arkansas Fayetteville-Springdale-Rogers area.
Fayetteville Municipal Airport, 4500 South School Avenue. Airport Administration: +1 479 718-7642, FBO Desk: +1 479 718-7641, Fax: +1 479 718-7646, . Drake Field/Fayetteville Municipal Airport (FYV) is owned and operated by the City of Fayetteville. Drake Field is a general aviation facility serving private, corporate, and chartered flights.
By train
For passenger service, the nearest
Amtrak
stops are on the Texas Eagle line in
Little Rock
, Arkansas, which is about a 3 hour drive away.
By car
Interstate 49 is the main highway coming from Fort Smith and traveling north into Missouri. Many state highways exist for more scenic entrance (namely US 71), but I-49 is the fastest route from the north or south. If coming from Tulsa, US Highway 412 is the best bet.
By bus
Greyhound Bus Lines (Jefferson Bus Lines), 1041 South School Avenue Highway 71B, . Main: +1 479 442-6265, Greyhound Package Express: +1 479 442-6265, Greyhound Charter: +1-800-454-2487, Hours Of Operation (Please call to verify hours before making travel arrangements), M-F 7:30AM-1:30PM, 2:30PM-5:30PM, Sa 7:30AM-1:30PM, Su-Closed, Holidays-Closed.
Get around
By taxi
Aransas Limousine Services Limited, +1 479 872-6600.
C & H Taxi Service, 3570 W 6th St., +1 479 521-1900.
Dynasty Taxi, 2201 S Thompson Ste. 8, +1 479 521-8294.
Own Boss, 400 West Appleby Suite 18, +1 479 575-9515.
By limousine
Arkansas Limousine Services Limited, +1 479 872-6600.
Coach House Limousines, 1155 W. 6th St, +1 479 445-4661.
Dynasty Limousines, 917 71 Plaza Ct. Ste. B, +1 479 443-5466.
Four Star Limousine Service, +1 479 444-8797, .
Jones Transportation Services, Inc., 1617 North Ramsey Avenue, +1 479 443-6646.
Special Occasions, 612 North College Avenue, +1 479 521-6724.
CTS Executive Transportation, 2943 Coachlite Ln, Springdale Arkansas, +1 479 841-9813
By bus
Jefferson Bus Lines, 1041 South School Avenue, +1 479 442-6265, .
Jones Transportation Services, Inc., 1617 North Ramsey Avenue, +1 479 443-6646.
Razorback Transit +1 479 575-7433 (RIDE), . Provides free transit around the campus area, to local apartment complexes, and out to the mall.
See
phone: +1 479 761-3325

address: 11333 West Arkansas Highway 74

West Fork, GPS: 35° 46.7' 46.7" N / 94° 15' 1.3" W. Enjoy hiking, backpacking and mountain bike trails that lead to backcountry areas of Devil's Den State Park and the surrounding Ozark National Forest. Sixteen fully-equipped cabins featuring kitchens and fireplaces are available throughout the year. The wood-burning fireplaces are available for use from mid-September thru mid-May. A park cafe and swimming pool (both open in summer only) overlook the lake. Groceries, gifts and snacks can be purchased at the park store. Also in the park are 144 campsites, a group camp, standard pavilion, and mountain bike trails.

Mt. Sequoyah Conference and Retreat Center

address: 150 NW Skyline Dr

An amazing view of all of Fayetteville.
The Statue of Liberty In front of Washington Regional Medical Center. A spectacular replica of the original Statue of Liberty in New York City.
The University of Arkansas The main campus of the University of Arkansas, home of the Razorbacks, is located at the west end of Dickson Street. "Track Capital of the World" and renowned center of SEC sports, the campus is situated atop one of the many hills in the town. Check out the many stadiums (football, baseball, track, gymnastics, basketball, soccer, etc.) and the many, varied academic buildings on campus. "Old Main" is the feature, the oldest and first building. It is situated in the 'arboretum' - which features one or more of every tree found in Arkansas. Also the Arkansas Union has a coffee shop and a movie theater, and Mullins library has free internet access, just ask the circulation desk.
Fayetteville Public Library Voted best library in the country several times.
The Confederate Cemetery Northeast of Fayetteville, east of the UofA campus. Located at the junction of Rock and Willow Streets. Started in 1872 by the Southern Memorial Association of Washington County, which paid to have the remains of Confederate casualties at Pea Ridge and Prairie Grove, as well as from less-storied combats, removed and reinterred in what remains a picturesque and moving site.

The Fayetteville National Cemetery

phone: +1 479 442-2566

address: 700 Government Ave

Headquarters House Museum Located at 118 E. Dickson, built in 1853 the house served as headquarters for both Confederate and Federal troops at various times during the civil war. The Battle of Fayetteville was fought on the grounds and across the street on April 18, 1863. office and bookstore, Mon. 10AM-noon, Thurs. 10AM-4PM, Sat 10AM-noon, Living history tours by appointment. Battle of Fayetteville reenactment/Ice cream social third Saturday in August.

phone: +1 479 444-0066

address: 930 S California Blvd

The house that Bill and Hillary lived in while they taught at the University of Arkansas. It has been turned into a small museum, including a gift shop and a short tour.
Do
Dickson Street Visit this high-energy 'bar row' home to various bars, nightclubs, and eateries. Specialty stops and jaw-dropping jewelry stores will catch your eye as you traverse up and down the area.

address: located on the downtown Fayetteville Square

Local farmers, growers, and others feature regional specialities on Tuesday, Thursday and Saturday mornings during the spring, summer and fall. The Saturday market features music and entertainment.

phone: +1 479 575-5151

address: 1295 S. Razorback Road, Suite B (ticket office)

Sports teams of the University of Arkansas, also affectionately known as "Hogs", with events nearly every weekend during the academic year. Sporting schedules can be found on the athletic program website. Men's and women's athletics are nationally competitive, fun to watch, and are usually reasonably priced. Make sure to wear red! Parking on campus can be tight for football or basketball, but not impossible, and certainly attainable for all other sports, including first-class track events, gymnastics, baseball, and more. Their key venues are listed immediately below:
Donald W. Reynolds Razorback StadiumThe Hogs' main football home, holding a little over 76,000. One or two home games a year are played at War Memorial Stadium in Little Rock.

Bud Walton ArenaHome to men's and women's basketball, holding over 19,000.

Baum–Walker StadiumHome of Razorbacks baseball; recently renamed from Baum Stadium.

Barnhill ArenaHome to two Razorbacks women's sports—volleyball in the fall, and gymnastics in the winter. While most college sports programs use the same arena for volleyball and basketball, that's not the case for the Hogs. After the basketball teams moved to Bud Walton Arena in 1993, the university decided to turn Barnhill into a volleyball-specific design (which could easily be adapted for gymnastics), and it's been home to those two sports ever since.
Bikes, Blues, and BBQ FestivalAnnual event held (mostly) on Dickson Street. Parades, music, shows, and more.
One Twelve Drive In Theater One of only 3 drive-in theaters left in Arkansas. Single screen showing double features weekends only (Fri-Sun) and on occasional Mondays such as Memorial Day and Labor Day; and also on Thursday evenings when school is not in session; open mid-March thru mid-November. Broadcasts the movies' soundtrack locally in FM Stereo (105.3). BoxOfc opens 1hr before dark/ShowTime. Admission: $6 per carload (covers both movies, for all passengers). 3352 Highway 112 North. +1 479 442-4542
Buy
Nightbird Books, the only independent bookstore in town.
Dickson Street Book Store, great place to find used or rare books.
Eat
Fayetteville boasts a large number of restaurants. There are a number of casual chains and fast food along the I-49 corridor and highway 71; there are also many restaurants downtown along Dickson Street. Below are some of the best-known and unique Fayetteville restaurants.
1936 Club D'lux Cafe

phone: +1 479 442-9682 or +1 479 521-4402

address: 300 West Dickson Street

An eclectic bar and restaurant features fine dining in a jazzy setting. They offer fresh seafood, pasta, black angus beef and other fine dishes.

phone: +1 479 443-7555

There are two locations on highway 71B, one in Fayetteville and one in Springdale. This is a full service restaurant specializing in fried, grilled, bbq'd, and roasted chicken in addition to catfish and ribs. AQ Chicken is a long-standing institution in the area for southern fried chicken, and has a few branches called AQ Express.
Arsaga's, Gregg and Township; Crossroads Village Center, Highways 265 & 45; 401 East Mountain at the Fayetteville Public Library; University of Arkansas Law Library. Local, independent friendly coffeeshops serving drinks, pastries, good soups and sandwiches. The Gregg & Township location includes comfortable couches, game boards, and quirky restrooms with blackboards and chalk. Free wifi. Live music and/or displays by local artists at some locations.
Bangkok Cuisine, 311 West Dickson, Downtown/Dickson Street, +1 479 527-9531. Authentic and unique Oriental dishes served in an a unique setting.

address: 324 West Dickson Street

Bordino's offers a distinctive menu of classic to eclectic Northern Italian cuisine, such as one of their favorites, the Salmon con Gongola. Dine in elegance and note the murals and decorations all created by local artists especially for Bordinos.
Brewski's Restaurant & Draft Emporium, 408 West Dicson, Downtown/Dickson Street, +1 479 973-6969. A great stop when relaxing after a hard work day or just eating with the family. Serves a full menu and houses numerous domestic and foreign drafts and Ales.
Butcher Block Steakhouse, 2396 North College, +1 479 521-2100. Serving great steaks in a friendly atmosphere.
Cable Car Pizza, 318 North Campbell Suite 101, +1 479 444-7600. A favorite pizza place with the local scene.

Catfish Hole #3

address: 4127 West Wedington

Family style dining serving steaks and fish.

Chili Red's Coney Island

address: 2334 North College Avenue

Serving homemade chilie and great coney dogs.

Chloe

address: 3878 North Crossover Avenue

Suite 1. Chloe serves high quality food in a convenient location with a warm and friendly atmosphere.
Dixie Cafe, 3875 North Shiloh, NWA Mall/North area, +1 479 444-6660. Great home cooked flavor in a friendly setting.

Doe's Eat Place

address: 316 W. Dickson

Fresh cut, aged steaks. Homemade hot tamales and seafood gumbo. A branch of the Little Rock institution.
Ed's Barbeque, 2772 Mission, +1 479 587-8646. A local flavor that is sure to please even the most discriminating of barbeque enthusiasts.
Elenita's Cafe, 727 South School, South, +1 479 443-6612. A little place that's big on Mexican flavor.
Hawg Wild Pizzeria, off Garland, sells gourmet pizzas with sunshine, wheat, and Guinness on tap (flowing freely).
Hugo's, 25 1/2 North Block, Downtown/Dickson Street, +1 479 521-7585. A quirky subterranean place with a variety of cuisines and dishes that's sure to please all who come, including good crepes and interesting burgers.
Hunan Manor, Wedington west of I-49, +1 479 521-3883. Unique among Fayetteville's Chinese restaurants because of its new building. Serves Americanized but fairly tasty Chinese dishes, in a striking avant-garde building with a modernist interior.
J.D. China Restaurant, 1466 North College, +1 479 442-5875. Buffet includes an unusual variety of mostly Americanized Chinese dishes, plus so-so sushi, and desserts including flan and cinnamon-apple-filled fried wontons. Among the better Chinese buffets in Fayetteville.
Jim's Razorback Pizza, 1968 Crossover, +1 479 527-6701. Here, great pizza, beverages and service are a tradition.
Jim's Razorback Pizza, 2620 W 6th, +1 479 443-2265. Here, great pizza, beverages and service are a tradition.

Joe's Bistro

address: 3061 North College Avenue

Fiesta Square. Fine food at moderate prices. Enjoy steak, seafood, and classic Italian dishes.

address: 324 West Dickson Street

"A Fayetteville Tradition." Established in 1980, this restaurant serves Tex-Mex food in a festive environment. On the Street Side, there is local live music every Tuesday.
Kate's Daylight Donuts, 1220 North Garland, +1 479 521-9573. Serving specially made donuts and a variety of other pastries.

Kirby's Grill & Bakery

address: 3722 North Front Street

Enjoy the huge variety of dishes available or savor the fresh baked goodness of the homemade bakery items.

Kosmos Greek Cafe

address: 540 W Dickson Street

Great Greek contemporary Greek food and happy hour drink specials.

address: 116 N Block St

Bakery and espresso cafe with breakfast and lunch, featuring delicious homemade breads, pastries and sandwiches. Just off the Fayetteville Square.
Noni's Grill, Highway 16 East, +1 479 444-9797. Great, one of a kind grilled sandwiches and beverages.

Northwest Port of Call

phone: +1 479 443-7700

address: 3582 Highway 112 North

Great tasting steaks and seafood served to your specific tastes.

Hawg Haus Brewing Company

phone: +1 479 521-BREW

address: 430 West Dickson Street

Across the street from the Walton Art Center. Haus-made Ales, and an array of traditional and eclectic appetizers, soups, salads, sandwiches, pizzas, steak, fish and more.
Ozark Mountain Smokehouse, 215 West Dickson, Downtown/Dickson Street, +1 479 442-2152. Friendly cuisine with that great smoked flavor.
Patio II, 324 W Dickson, +1 479 521-2194. Authentic Italian dishes served in a festive and friendly atmosphere.

Penguin Ed's B and B Barbeque

address: 230 East Ave S

Best Barbecue in town.

phone: +1 479 582-3330

address: 1830 North College Avenue

Casual, tasty Italian food in a long-standing Fayetteville restaurant.
Powerhouse Seafood, 112 North University, Downtown/Dickson Street, +1 479 442-8300. Enjoy great taste and flavor of the sea.
Rick's Iron Skillet, 1131 South School, South, +1 479 442-2200. The famous spot for homecooking flavor and service in Fayetteville.
Rick's Donuts & Bake Shop 2104 North College, +1 479 442-2166. Homemade, fresh and always delicious bakery items and sandwiches.
Rocco's Spaghetti Kitchen, 16 East Mountain, +1 479 443-6411. Authentic Italian dishes served in a unique and inviting setting.

address: 2217 N. College

A contemporary Fine Dining Restaurant new American. Fresh Fabulous Flavor
Sezchuan Express, 1525 South School, +1 479 443-0029. Authentic Oriental cuisine and dishes served in slightly spiritual atmosphere and setting.
Shogun Japanese Steak & Seafood, 637 West Joyce #104, NWA Mall/North area, +1 479 582-5714. Grilled to order steaks and seafood.
Thep Thai, S. School. Best Thai food in town. All the herbs fresh from the garden right out front.
Tim's Pizza, 2730 North College, College Avenue (71B), +1 479 521-4151. Great pizza and spirits, a local favorite.
Tim's Pizza, 1313 Mission, East, +1 479 521-5056. Great pizza and spirits, a local favorite.

Petra Cafe

address: 31 E Center St.

The best Middle Eastern/Greek food in the area. Down-town, local feel. Authentic hummus, babaganush, falafil, foule, gyro pockets, and the Petra specialty: made-to-order Turkish coffee (among others). Small seating capacity, prepare for a tight-squeeze.

address: 3009 North College

World Champion Barbecue

Wilma's

address: 481 S School Ave

Great Soul Food.

address: 3162 West Martin Luther King Blvd
Drink
address: 519 W. Dickson St

Go to George's Majestic Lounge to see some of the area's best musical talent.

Brewski's Restaurant & Draft Emporium

phone: +1 479 973-6969

address: 408 West Dickson St

Serves more varieties of beer on tap than any other bar in the city. Rogue Locker Stock's change regularly.

On The Mark

address: 2588 N Gregg Ave.

Large sports bar with dollar pool, table shuffleboard, darts and trivia. A good place to get away from the frat environment of Dickson street.
Sleep
Twin Arch Motel

address: 521 North College Avenue

address: 1122 South Futrall Drive

address: 2270 W. MLK Jr. Blvd

All suites with kitchens. Located just off of I-49, less than 5 minutes from the University of Arkansas.

address: 3901 North College Avenue

Chief Motel

address: 1818 North College Avenue

Clarion Inn

address: 1255 South Shiloh Drive

Clarion Inn Fayetteville

phone: +1 479 521-1166

address: 1255 South Shiloh Drive

address: 735 South Shiloh Drive

Cosmopolitan Hotel Fayetteville

address: 70 North East Avenue

address: 1234 Steamboat Drive

Courtyard by Marriott Fayetteville

address: 600 E Van Asche Drive

address: 2402 N College Ave

phone: +1 479 587-8600

address: 720 Millsap Road

address: 915 Krupa Drive

phone: +1 479 444-6006

address: 1251 North Shiloh Drive

phone: +1 479 582-0400

address: 465 North Arkansas Avenue

First built as a women's dormitory for the University of Arkansas, The Inn At Carnall Hall is now a four star hotel with a turn of the century charm.

address: 3910 Greathouse Springs R.

Meadow Street Bar And Grille

address: 70 North East Avenue

address: 2980 North College Avenue

Red Roof Inns

phone: +1 479 442-3041

Regency 7 Motel

address: 675 South Shiloh Drive

address: 728 Millsap Road

Stay-Inn-Style Bed & Breakfast

address: 117 West Rock Street

address: 1075 South Shiloh Drive

Supertel Hospitality

address: 1075 South Shiloh Drive

phone: +1 479 444-9800

address: 523 South Shiloh Drive
Splurge
phone: +1 479-442-5555

address: 70 N East Ave

phone: +1 479-966-4441

address: 2231 W Markham Rd
Game Day
Donald W. Reynolds Razorback Stadium, .
Game Day Info, Including tailgating and stadium rules, traffic info, and parking info.
RV information, Winn Creek RV Park and Campground, just 13.5 miles south of Fayetteville near I-49, offers the same low rates on game days as any other day throughout the year. It has full hook-ups, WiFi and paved level sites.
Go next