Fayum
Fayum
is a city in
Lower Egypt
to the west of the Nile, 90 km from Cairo.
Understand
Fayum is the forgotten gem off Egypt beaten track with so many interesting and manifold sites inside and around the city that it can easily compete with Cairo.

Get in
By microbus from different regions in Cairo e.g. Ramsis Square and also from different regions in Giza e.g. El-Remaya Square (Shotting Square)and El-Moneeb

See
Qaitbey MosqueBuilt by the wife of the eighteenth Sultan Qaitbey in the early 16th century. While not at all as impressive as other structures from the same period, it still showcases the historic importance of Fayum.

Medinet Madi Archaeological Park

Karanis

Hanging Mosque

Waterwheels

Lake Qaroun

Temple of Qasr Qaroun

El Nazla pottery Village

Hawara Pyramid, the last Pyramid in Egypt

Seila Pyramid

Lahun Barrage

Archangle Ghabriel Monastery

North of Lake Qaroun:
Qasr Sagha temple
Greaco Roman city of Dimeh
Petrified Forest
Cannon Balls Valley
Wadi Rayan Protected AreaWaterfalls, round hills, springs area, lakes, bird watching
Further afield
Pottery Village of Tunis

El Lahun pyramidsA pyramid associated with Senusret II, who ruled Egypt between 1897 BC and 1878 BC, during the Twelfth Dynasty.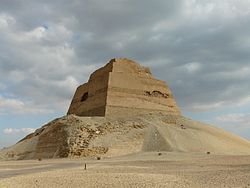 Meidum PyramidForgotten in the countryside more than 30 km northeast of Fayum, Meidum, a step pyramid, is one of the earliest pyramids ever built by the ancient Egyptians. The best way to get to this decidedly hard-to-reach site is perhaps to arrange a taxi in Fayum, or to look for the tours out of Cairo that combine a visit to Meidum with other off-the-beaten-path pyramid fields at Dahshur and Saqqara. No matter how you get there, you can be pretty sure that you will almost have all the site to yourself (along with few other lucky ones, at most).
Buy
Local crafts of Fayoum
Glazed Pottery (Tunis Village, South west of Lake Qaroun)
Pottery (El Nazla village, Ibshaway)
Carpets (Desya Village)
Palm products (Al A'lam -Ka'aby)
Patch work (Khalta village, South west of Lake Qaroun)
Eat
You can find local food of Fayum in one of the Eco lodges in Tunis village and the restaurants in lake Qaroun.
Fast food is also served in all the restaurants of Fayum city,
Sleep
Hotels in Fayoum vary from 5 star hotels to Eco lodges.
Fayum city
Honey Day Hotel

phone: +20 84 6341205

address: Gamal Abd El-Nasir St

Montazah hotel

Helnan Auberge Du lac
*****
****
Oasis hotel

Mandara Eco lodge

Queen hotel

Pastrodos Hotel
Tunis village
Zad el Mosafer guest house

Sobek eco lodge

Palm Shadows
Wadi Rayan Protected Area
Go next