Federated States of Micronesia
The
Federated States of Micronesia
is a country in the northwestern
Pacific Ocean
, composed of four major island groups just north of the equator.
Understand
Climate
Tropical; heavy year-round rainfall, especially in the eastern islands; located on southern edge of the typhoon belt with occasionally severe damage;
Natural hazards
: typhoons (June to December).
Terrain
The 607 islands vary geologically from high mountainous islands to low, coral atolls; volcanic outcroppings on Pohnpei, Kosrae, and Truk
;
Highest point:
Dolohmwar (Totolom) 791 m
History
;
National holiday
: Constitution Day, 10 May (1979)
;
Constitution
: 10 May 1979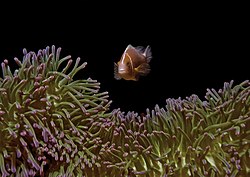 In 1979, the Federated States of Micronesia, a UN Trust Territory under US administration, adopted a constitution. On 3 November, 1986, independence was attained under a Compact of Free Association with the US; economic provisions of the Compact are being renegotiated. Previously, the area had been colonized by the Japanese, the Germans, and the Spanish
;
Independence
: 3 November, 1986 (from the US-administered UN Trusteeship)
Present concerns include large-scale unemployment, overfishing, and overdependence on US aid.
Culture
Each of the four states has its own culture and traditions, but there are also common cultural and economic bonds that are centuries old. For example, cultural similarities like the importance of the traditional extended family and clan systems can be found on all the islands. The islands are known for their stick dancing traditions.
Regions

There are 4 states:

Cities
===Ports and harbors===
- (Pohnpei)
(formerly Moen)
Other destinations
The remote atoll of Kapingamarangi is the southernmost island group in FSM.
Get in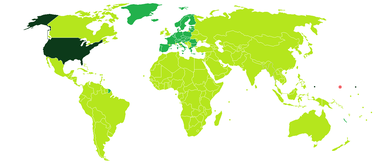 Entry requirements
If you are going to be in the FSM for less than 30 days you do not need an
entry permit
. Anyone who will be staying longer than that needs an entry permit. For citizens of the United States, Palau, and the Marshall Islands, this entry permit lasts 1 year. For everyone else, it lasts 60 days. You can get your entry permit on arrival, but if you're traveling for a purpose other than tourism, you need to apply for it in advance.
Most people will need to prove their citizenship with a passport that has at least 120 days of remaining validity, but if you're from Palau, Marshall Islands, or the United States, you can use your birth certificate or an FSM entry permit in lieu of a passport (but a passport still works, too).
If you need to apply for an entry permit on arrival, you must present an
FSM Arrival and Departure Record.
This is furnished by a carrier before entering the FSM. You will need a completed application form in addition to this.
By plane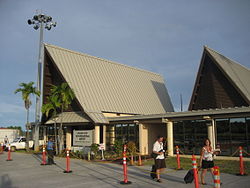 United Airlines operates a thrice-weekly "island hopper" flight (CO956 eastbound, CO957 westbound) traveling
Honolulu
—
Majuro
—
Kwajalein
—
Kosrae
—
Pohnpei
—
Chuuk
—
Guam
and vice versa. The full flight is fourteen and a half hours, leaving in the early morning and terminating in the evening, with a stop of about one hour on each island. There are also nonstop flights from various islands to both Honolulu and Guam.
Honolulu is the most direct gateway into the islands from North America. Guam is the most direct gateway from most places in Asia and Australia, although it is also possible to fly into the islands from
Manila
via
Palau
.
By boat
The major international ports are; Chuuk, Pohnpei and Yap. There are inter-island trading ships based in these major ports which visits the outlying islands.
Get around
By bus
Even though there are no bus scheduled service on the island, some buses are available to hire or charter. Also, on Yap there is a school bus that runs twice daily from Colonia to the villages.

Taxi
Taxi service is available throughout the islands and are inexpensive.

Car hire
There are self-driven cars available in the major towns of the islands. However, It is required to have a National Driver's License or International Driving Permit.

Talk
; Languages : English (official and common language), Trukese, Pohnpeian, Yapese, Kosrean, Ulithian, Woleaian, Nukuoro, Kapingamarangi

See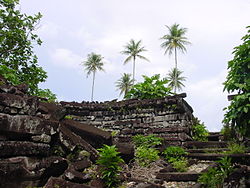 The countless islands are largely undeveloped and their sheer remoteness and Robinson Crusoë like-atmosphere are a major draw for visitors. There are gorgeous
sea views
all around, and the islands' scenery treats vary from beautiful
beaches
to lush
jungles
. There's world of colour under water and if you're willing to dive, there are some great opportunities to see
under water life
.
The
ruined city of Nan Madol
on
Pohnpei
is a true highlight and the site of ancient rituals, politics, and royal dwellings of the Saudeleur dynasty. It's a collection of 92 man-made islets connected with tidal canals, which gained it the obvious name of
Venice of the Pacific
. It's a magnificent archeological attraction, covering 18km2 partly reclaimed by nature. There are huge basalt pillars and stone structures which create an image of the temples, bathing houses, vaults and pools that once formed the centre of life here for centuries.
Of later date but still quite old are the
ruins of Lelu
, connected with a causeway to
Kosrae
. Constructed in the 13th and 14th century, this was the centre of the local royalty. Today, it's the stuff of adventure movies: tucked away in tick jungle and largely overgrown. The original purpose of several of the remaining structures is known, and on-site signs help to get a good idea.
The main island of
Yap
is famous for its
stone money
, which is still used for ceremonial gifts or payments. Sometimes huge in size, these stone "coins" are a sight in itself. Stroll to the village of Balabat to see the stone money bank and keep your eyes out for
traditional houses
. Although available on most islands, the village Bechiyal is home to Yap's oldest faluw (or men's house). Yap is also the place to see the best of the region's indigenous arts, as it houses the excellent
Ethnic Art Village
.
Do

Some popular activities are:
Diving,
Viewing, Traditional culture,
Swimming

Buy
Money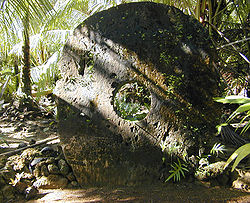 The ancient
Yapese
may be known for their
rai
stones ("stone money"), but the official currency of the FSM nowadays is the
U.S. dollar
("
$
", ISO currency code:
USD
). It is divided into 100 cents.
Sleep
phone: +691 370 3567

address: P.O. Box 135, Kosrae, Micronesia

18-room modern hotel with air-conditioned rooms and restaurant, or outside dining by the swimming pool. Free airport transfers, full service scuba dive operation including NAUI scuba instruction. Tour and rental cars arranged. Located adjacent to the Lelu causeway facing east to the Pacific Ocean, with 3 acres of manicured gardens.
Work
U.S. citizens may live and work freely in Micronesia.

Stay safe

The Federated States of Micronesia is generally one of the safest countries to visit. However, there has been some reports of crime in Weno, the capital of Chuuk. Crime is certainly a problem in Weno.

Stay healthy
Respect

Some islands are very traditional, especially Yap state. Be sure to respect their culture.