Feldkirch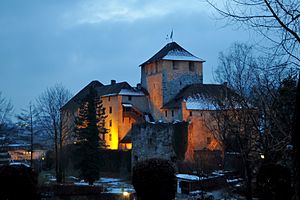 Feldkirch
is a historic city in
Vorarlberg
,
Austria
. It is on the border to Liechtenstein and can easily be visited in an afternoon. It is nestled in a picturesque place where three valleys meet and includes a well-preserved old town and the dominating edifice of the ancient Schattenburg Castle. While small, it is the best preserved and most scenic of Vorarlberg's cities. Many people make the mistake of passing through Feldkirch on their way to Liechtenstein or Innsbruck without exploring its wonderful charm. Don't make this mistake!
Understand
Stadtmarketing und Tourismus Feldkirch

phone: +43 5522 73467

address: Montfortplatz 1

Can offer advice on sightseeing, helps arrange accommodation, and sells tickets to special events and concerts. They have a good free map of the inner city, which is also available outside the office when it is closed.
Get in
Feldkirch lies in the Rhein Valley bordering Liechtenstein to the south and Switzerland to the west.
By plane
The closest international airports are in
Friedrichshafen
(46 km),
Zurich
(124 km),
Innsbruck
(154 km), and
Munich
(223 km).
By train
address: Bahnhofstraße 40-42

Use ÖBB's SCOTTY to look up train information online. Storage lockers available and free Wi-Fi in the waiting area.
By car
From Germany and Bavaria you will take the
Rheintal Autobahn
and cross at Lindau and continue southward. From Liechtenstein you head north. From Switzerland you have to cross east over the Rhein. From Tyrol and Innsbruck you will have to pass through the Arlberg Tunnel (toll) an incredibly scenic drive that takes you through the stunning Walgau Valley. The Arlberg Pass offers a free alternative but is only open in the warm weather months.
By bus
Get around
By foot
The old town centre is small, and easy to walk around. Most of the streets are pedestrianised. There is lots of parking available just outside the centre.
By bus
phone: +43 5522 83951

address: Herrengasse 14

8 daytime and 4 nighttime routes provide good coverage for most of the city and beyond. Schedules for all route can be downloaded here (in German); a route map is available here . Unfortunately the buses cannot accommodate bicycles. Free Wi-Fi is available on all buses, and at the central bus stop by the Katzenturm.

phone: +43 676-70 999 70

An on-call nighttime 'maxi-taxi' service is available. Call at least 30 min beforehand.
Taxi
phone: +43 5522 84 999

phone: +43 5522 84 200

phone: +43 5522 32002

MontfortTaxi

phone: +43 5522-83434
See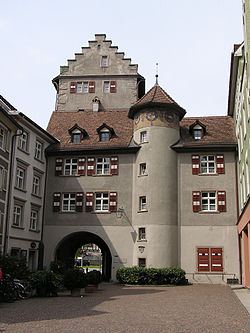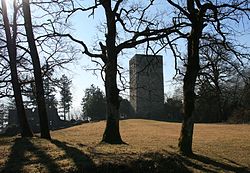 phone: +43 5522 71982

address: Burggasse 1

A 13th-century castle, on a hill to the east of the town and impossible to miss. It was once the seat of the Earls of Montfort. Today there is a local history museum and some restaurants inside.

address: Domplatz 6

The foundations of the church date to the 13th century. After suffering severe damage following serious fires, it was rebuilt in the Gothic style in 1478; it considered to be the most significant Gothic church in Vorarlberg.

City gates and towersCity gates and defensive towers of the medieval city fortifications have been largely preserved, and are well-worth seeing. The city walls were demolished at the beginning of the 19th century.
Churer TorBuilt in 1491 as part of the old city wall. This is also called the 'Salt Gate' (Salztor), as until the turn of the last century salt was stored here.

Katzenturm

address: Hirschgraben

This defensive tower, built in 1507, was once part of the town's fortifications. It is believed to be named after the canons (Katzen) which were kept in the tower, as the targeting devices were shaped like lions' heads. In the early 17th century the building was converted into a bell tower; the current bell was poured in the 19th century and is the largest bell in Vorarlberg. The bell is rung on major holidays and on Fridays at 15:00 (Todesstunde Christi: believed to be the hour of Christ's death).

Diebsturm

address: Hirschgraben 18

Built in the 15th century, this was once, as the name suggests, a prison. The city walls which once connected it to the other towers were demolished several decades ago.

Pulverturm

address: Mühletorplatz

The Pulverturm was built in 1460 and is the oldest of the city's four towers. As the name suggests, gunpowder was stored here. Today the tower is used as a meeting place by a local association.

Mühletor

address: Mühletorplatz

Wasserturm

address: Montfortgasse 17

This tower was built in 1482, and once had an entrance to the Ill River. This tower now also serves as a meeting place for a local club.
Do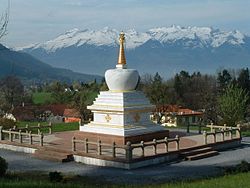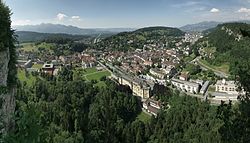 phone: +43 5522-706111

address: Im Buchholz 26, Frastanz

This Buddhist monastery was founded in 1982 by Geshe Rabten Rinpotsche, on the site of a former dairy. Resident monks include Tibetans, Mongolians, and Europeans. The monks hold regular seminars and evening lectures about meditation, and operate a small bookshop (daily 15:00-17:00). Several guest rooms are available for those interested in a meditation retreat.

phone: +43 5522 73467

address: Altes Hallenbad im Reichenfeldpark

For six weeks every summer this festival offers numerous concerts, including Sunday morning Jazz concerts as well as such big name acts as Calexico, Heather Nova, Tocotronic, Shout Out Louds, dEUS, Kosheen, Coldcut, and others. Additional highlights include cinema, short films, cabaret performances, poetry slams, quiz programs, fashion shows, and discussion panels.
The venues are completely rebuilt every year; designers are selected via an international architecture competition. Art and fashion competitions also enrich the festival.

Schwimmbad Felsenau

phone: +43 5522 72221

address: Fellengattner Straße, Frastanz

Built in 1903, this is the oldest continuously-operating public pool in Vorarlberg.

Wildpark Feldkirch

phone: +43 5522 74105

address: Ardetzenweg 20

A lovely little zoo where you can see the a big deal of animals who are or where living the alps, including wolves, Luchse, deers, wild pigs and so on.

HikingThe area around Feldkirch offers numerous hiking opportunities, with trails ranging in difficulty from short and easy to challenging full-day treks. Many of the trail heads can be reached by public bus. Some of the more popular routes include the Ardetzenberg, Stadtschrofen, and the Hohes and Niederes Känzele. The tourist office has excellent free hiking maps and can make additional suggestions.
Buy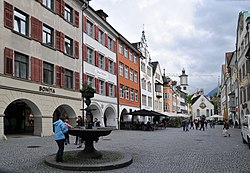 phone: +43 5522 51701-0

address: Bahnhofstraße 22, Frastanz

Located in a historic building, this is where the popular Vorarlberg beer is produced. Brewery tours (in German) are available on request.

address: Leonhardsplatz 4

Located in the centre of town and renovated in 2012, with numerous shops.
phone: +43 5522 74189

address: Leonhardsplatz 4

Also has a small restaurant/café, with takeout available.
MarktgasseThis street is a proper medieval German street, with its arches and covered walkways, and has been used as the town's central market area since the Middle Ages. A number of shops and cafés are located here, which also have outdoor seating during pleasant weather.
Weekly Market

address: Marktgasse

Well worth visiting. Vendors offer fresh produce, cheese, and flowers, as well as a large selection of food items imported from Italy and France.

Farmers' Market

address: Marktgasse

Only local products are sold.
Eat
phone: +43 5522 76543

address: Rösslepark 1

Serves excellent traditional Austrian food and beers. In summer outside seating is available in a pleasant garden.

phone: +43 5522 74312

address: Sternenweg 1

The western-most restaurant in Austria, offers traditional Austrian food.

New TomCat

phone: +43 5522-71998

address: Leonhardsplatz 4

Offers a range of innovative and creative dishes, with many vegetarian options. Outside seating.

Schlosswirtschaft Schattenburg

phone: +43 5522 72444

address: Burggasse 1

One of the best-known restaurants in Feldkirch, well-known for their giant Schnitzel and other traditional dishes.

phone: +43 5522 81790

address: Schmiedgasse 4

Really delicious and great value pasta and pizza, in a cosy restaurant. Outdoor seating available in the summer.
Drink
In the last few years a number of pleasant cafés have been established, inviting the visitor to linger awhile.
phone: +43 5522 72242

address: Schlossergasse 1

A well-established café.

Espresso Bar Unterberger

phone: +43 5522 85280

address: Marktplatz 23

phone: +43 5522 76355

address: Marktgasse 12-14

Also has a full restaurant.

phone: +43 5522 83983

address: Marktgasse 1
Sleep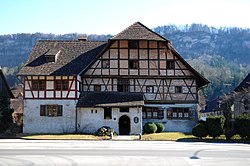 phone: +43 5522 72820

address: Schlossgraben 5

In the city centre. This is a family-operated hotel.

Best Western Plus Central Hotel Leonhard

phone: +43 5522 74600

address: Leonhardsplatz 2

phone: +43 5522 73181

address: Reichsstraße 111

The 700-year-old building is a former infirmary and has been renovated. Open year round, reception 07:00-23:00, no curfew, free Wi-Fi.
Connect
Free Wi-Fi is available at the train station, main city bus stop and bus station, and all main plazas in the town centre.

Go next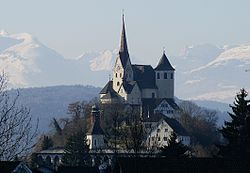 Rankweil10 km to the north and worth a visit, easily accessible by car, bus, or train.
phone: +43 5522 44224

address: Liebfrauenberg 10

This church is particularly noteworthy, and was founded as a fortified church in the 8th century; portions of the defensive walls still remain. It is now a pilgrimage destination.

address: Kirchstraße 25, Brederis

A unique open-air museum with the remains of a Roman estate dating from the 1st-5th centuries BCE.
Liechtenstein
, one of the smallest countries in the world, is only a few kilometres away.