Felixstowe
Felixstowe
is a major port and 'garden resort' on the east coast of
England
, in the county of
Suffolk
.
Understand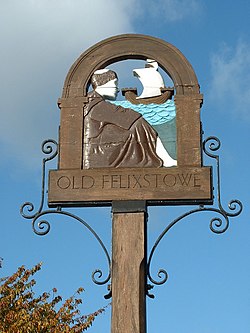 Lying on the coast between the Rivers Orwell and Deben, the town is normally considered to include the adjoining town of Walton and the area known informally as Old Felixstowe. A seaside town that is famous for its container port (the largest in the UK).
Get in
By car
Felixstowe is about 90 minutes - 2 hr drive from Central London. It is easily reached by road from the Midlands via the A14.
By train
address: Railway Approach, Felixstowe, IP11 9UD

On the Felixstowe Branch Line from the Great Eastern Mainline. Managed by and services provided by Greater Anglia. Regular train service from Ipswich
By boat
phone: +44 1728 666329

address: View Point Rd, Felixstowe, IP11 3TW

Ferry for foot passengers & bicycles from Harwich and Shotley
By bicycle
Get around

Buses routes 75, 76, and 77 start from Ipswich. The 77 route runs to Landuard fort and port viewing area, but the town is best explored on foot or bicycle.

See
Felixstowe is long past its heyday as a tourist resort, and is best visited now as a place to enjoy some seaside calm.
Felixstowe Ferry
is perhaps the most charming part of the town. It's in the far north, beyond the golf club, at the mouth of the River Deben. It's a popular place for sailing and walks. It has good real ale pub (see below). It is best to park at the cliff top car park as there is little parking at Felixstowe ferry.
The promenade stretches 1 mile north and south of the pier two limes in total, and expect for a small length there is a good path (it is part of the Suffolk Coast long distance path) between Landguard Fort and Felixstowe Ferry. North is generally quite pleasant, with landscaped gardens and quiet shingle beaches.
In the centre of the tourist area, by the sea, there are some excellent arcades, including the famous Mannings Amusement Park (including crazy golf). There is a Sunday market beside Mannings, and a car boot sale on Saturday
Further south the beach gives way to a very industrialised dock area. In the middle of this is a little wildlife haven, around Landguard Fort. It's popular with bird watchers.
The sea shore is the site of the last opposed invasion of England in 1667 and the first land battle of the Royal Marines. The fort was built in the 18th century, modified in the 19th century with substantial additional 19th- and 20th-century outside batteries. The fort is open every day from Easter to October.
The nearby submarine mining building houses Felixstowe museum's collections of local interest and is open Sundays & Wednesdays in summer.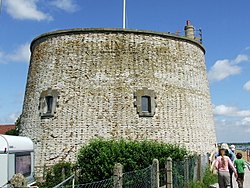 Do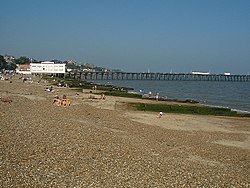 The fantastic amusement parks are a great day out, and for those looking to party away the night, you won't forget the über-cool bandbox nightclub.
phone: +44 1394 282370

address: Sea Rd, IP11 2DN

phone: +44 1394 275715

address: Sea Rd, Felixstowe IP11 2QN
Between the promenade and Felixstowe Ferry there's about a mile of beaches known as "The Dip". It's dominated by beach huts but not a bad place to enjoy the beach in the summer.
There are a variety of pleasant country walks around Felixstowe, particularly in the Orwell and Deben estuaries. However, you need a car to get to these areas from the town.
phone: +44 1394 286834

address: Ferry Rd, Old Felixstowe, IP11 9RY

phone: +44 1394 694600

address: Seafront, Felixstowe, IP11 2AE

Gym, swimming pools, studio

phone: +44 1394 411019

address: Cordy's Lane, Trimley St. Mary, IP11 0UD

Mainly birdwatching. 2-mile walk from car park to hides & centre, can be muddy. Park at end of Cordy's Lane 1 mile from reserve entrance. Dogs on leads.
Buy
The best thing that Felixstowe has to offer on the shopping front are two exceptional second-hand bookstores.
The Treasure Chest
and
Poor Richard's
are in the town centre. The former in particular is remarkably well-stocked and both are reasonably priced. The presence of two such shops in close proximity is justification for a visit to Felixstowe for any book affecionado.
phone: +44 1394 270717

address: 61 Cobbold Rd, IP11 7BH

Particularly recommended for second-hand and antique books.

Poor Richard's

phone: +44 1394 283138

address: 17 Orwell Rd, IP11 7EP

phone: +44 1394 277203

address: 290 High Rd, Trimley St. Martin, IP11 0RH
Supermarkets
phone: +44 1394 671333

address: Grange Farm Ave, Felixstowe, IP11 2XD

ATMs. Petrol station (different hours). Pharmacy (different hours).

Lidl

address: 2-4 Langer Rd, Felixstowe, IP11 2BU
Eat
There are a few restaurants of note, a few very good
Fish & Chip
shops, and a decent Indian and Chinese on the lower Hamilton Road.
phone: +44 1394 671144

address: 7-9 Hamilton Rd, IP11 7BE

Offers an all-you-can-eat buffet, as well as takeaway.

phone: +44 1394 282100

address: 8 Hamilton Rd, IP11 7AU

phone: +44 1394 273977

address: Sea Rd, Felixstowe, IP11 2DH
Drink
The few pubs in Felixstowe offering a wide of atmosphere to suit all tastes. The young and trendy should try either the
Grosvenor
which is behind the main shop street on Ranleigh road, or
The Alex
on the sea front. The Cork has a balcony with views across the sea.
phone: +44 1394 284137

address: 25-31 Ranelagh Rd, IP11 7HA

phone: +44 1394 282958

address: 123 Undercliff Rd W, IP11 2AF

The Cork

phone: +44 1394 283562

address: 129 Undercliff Road West, IP11 2AQ
Sleep
Felixstowe being an English seaside resort, there is no shortage of overpriced, poor-quality B&B accommodation.
phone: +44 1394 691929

address: Undercliff Road East, IP11 7LU

12-room hotel in renovated Edwardian building

phone: +44 1394 285511

address: Hamilton Rd.

Bawdsey Manor Bed and Breakfast

phone: +44 1394 411633

address: Bawdsey Manor, Bawdsey, IP12 3AZ

Large bed and breakfast in a beautiful house set in outstanding location in Suffolk.
Go next