Fenelon Falls
Fenelon Falls
, "the Jewel of the Kawarthas", is a community of about 1,800 permanent residents that grew up around the waterfalls that were used to power a flour mill. Lumbering and agriculture were important for the village. Fenelon Falls is home to lock 34 on the Trent-Severn Waterway between Sturgeon Lake and Cameron Lake. It is primarily a tourist town and therefore is most active during the summer season.
Understand
History

Fenelon Falls, originally named Cameron's Falls, was renamed after the township, which was named after François de Salignac de la Mothe-Fénelon, who founded a mission on the Bay of Quinté. In 1876, the Victoria Railway reached Fenelon Falls. In 1885, construction of the lock between Cameron and Sturgeon lake began.
In 2001, the municipal governments of the Town of Lindsay and the Village of Fenelon Falls were dissolved and merged, with Victoria County, into the new City of Kawartha Lakes.

Get in
By bus
Tok Coach LinesOne bus a day from Toronto's Union Station to the Town of Haliburton stopping at Lindsay and Fenelon Falls (Hasty Market, 109 Lindsay St., +1 705 887-2178). For a bus equipped with a wheelchair lifts, contact the Dispatch office +1-800-387-7097 ext. 247, at least 72 hours in advance.
By car
Fenelon Falls is 157 km from Toronto east along Highway 401 and north along Highway 35/115.
Get around
Highway 28 forms a central spine through the Kawarthas and attractions such as Petroglyphs Provincial Park and Stoney Lake are easily accessible from the highway.
Kawartha Lakes Taxi

phone: +1 705 928-1413

address: 28 N Bayou Rd.
See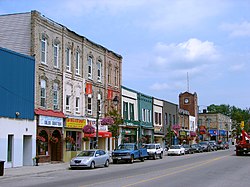 Maryboro Lodge, The Fenelon Falls Museum

phone: +1 705 887-1044

address: 50 Oak St

Housed in the 1837 squared timber home of James Wallis. The permanent exhibit showcases early life in the Kawarthas with a variety of native and settler artifacts.

Fenelon FallsIf you're in Fenelon Falls, you must stop to see the falls for which the village was named. They are lovely.

phone: +1 705 738-9576

address: 1427 County Road 8

A privately-owned museum specializing in pre-1914 transportation and early mechanical technology. It has five century-old vehicles and a 1895 Sawyer & Massey steam traction engine, rare mechanical music machines and an 1890s General Store.

The Fenelon Falls FairAgricultural fair with animal shows, exhibits, midway rides, tractor pulls, demolition derbies, bands and a dance.
Do
Victoria Rail TrailA 55-km trail that stretches from Lindsay 22 km through Cameron to Fenelon Falls, then 33 km to Kinmount. The trail is used year-round for hiking, horseback riding, cycling, snowshoeing, cross-country skiing and snowmobiling. The trail follows the former CN rail line. During the summer months the bridge crossing this waterway is swung open to allow boater traffic through. Therefore it is necessary to detour through the downtown and along highway 121. North of Cameron the trail travels towards Ken Reid Conservation Area.
Buy
Grr8 Finds Markets

phone: +1 705-887-4778

address: 27 Colborne St

A multi-vendor market with over of antiques, collectables and vintage finds. Lots of quality furniture, china, glass and silverware, vintage decor, nostalgia, advertising signs, jewellery.

phone: +1 705 887-7712

address: 10-B Water Street

Fine art, home décor, body products, jewellery, pottery, toys, bedding.
Eat
address: 9 Lindsay Street

Restaurant opening in autumn 2019 with a great view of the falls.

address: 38 Colborne St

Salads ($9-13), wings (1 pound $13), ribs ($16 half, $28 full rack), hot dogs and hamburgers ($13-15), poutines ($13-15), sandwiches ($13-14).
Drink
phone: +1 705-215-9898

address: 4 May Street, Fenelon Falls

Hand-crafted premium beer made in small batches in a Canadian-made brewhouse in the old village blacksmith's shop. It was founded by a Vietnamese immigrant who arrived in Fenelon Falls in the 1970s with no English, and his Polish-Canadian wife. Available in Fenelon Falls at the LCBO store, Sobeys supermarket and some restaurants.
Sleep
Stay safe
Blue-green algae
is a toxic form of algae that can be an occasional problem in this region. Do not swim or wade in water where this algae is present, do not drink the water, and do not let pets in the water. Blooms most commonly occur in late summer and early fall. They thrive in areas where the water is shallow, slow moving and warm, but they may be present in deeper, cooler water. Dense blue-green algae blooms may make the water look bluish-green, or like green pea soup or turquoise paint. Very dense blooms may form solid-looking clumps. Fresh blooms often smell like newly mown grass, while older blooms may smell like rotting garbage.
Poison ivy
is common in wooded areas. All parts of poison ivy, including the roots, contain a poisonous substance which causes an irritating inflammation of the skin of most people, the inflamed areas frequently developing blisters and accompanied by intense itchiness.
Go next