Fenghuang
Fenghuang
(凤凰;
Fènghuáng
) is a well-preserved ancient town in western
Hunan
Province, about a half hour south of
Jishou
. It is the birthplace of author Shen Congwen 沈从文 (1902-1988) and residence of artist Huang Yongyu 黄永玉 (1924 - ).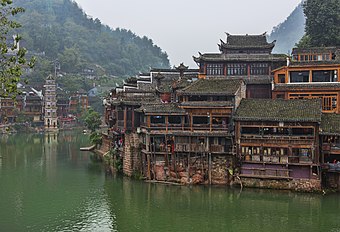 Get in
The easiest way to reach Fenghuang is by car or bus from Jishou. An expressway opened in 2012, cutting travel time from Jishou from 70 minutes to about 30 minutes. Expect buses and roads to be crowded on weekends and holidays, however.
By plane
Fenghuang is served by Tongren Fenghuang Airport (TEN), with service from
Guiyang
,
Guangzhou
and
Beijing
as well as a few other cities in China. The airport is 34 km away from Fenghuang. To get there from Fenghuang, you can either take a taxi or head to Fenghuang North Bus Station and ask for a ticket to Tongren Airport (铜仁机场). It costs ¥20 (Dec 2016) and has the destination printed on it. There is no indication of the airport in the bus station so just board a Tongren-bound bus and show your ticket to the driver. You will most likely be dropped off at an intersection close to the airport from where it is a 10-minute walk to the terminal building. It is not known how it works the other way round but there seems to be a tourist shuttle bus during the day until 16:30.
Other nearby airports include
Huaihua
or
Zhangjiajie
and transfer to Fenghuang. However, neither airport offers direct buses. Flights are also frequently canceled during off season.
By bus
Bus travel is probably the most convenient way to get to Fenghuang. There are direct buses from numerous cities in China, but the four most common direct routes are from Changsha, Jishou, Huaihua, and Zhangjiajie. Fenghuang has several bus stations and it is not easy to travel between them.
Ticket sellers at bus and train stations in Hunan will tack on travel insurance along with the sale of your ticket, so be sure to tell them not to include this. when you buy your ticket. Otherwise you will be paying an extra ¥1-3!
From Changsha (长沙): Eight buses leave a day from Changsha. Price: ¥120. Duration: 8 hours.
From Jishou (吉首): Buses leave approximately every 30 minutes from the north bus station (qiche beizhan 汽车北站), near the railway station (huochezhan 火车站), though during peak times they often leave more frequently. Buses arrive in Fenghuang's North Bus Station. Price: ¥20. Duration: 30-60 minutes.
From Huaihua (怀化): Buses leave hourly for Fenghuang's Western Bus Station. Price: ¥40 (June 2019). Duration: 2½ hours.
From Zhangjiajie (张家界): There are about 4 buses per day from Zhangjiajie City and one that leaves directly from Wulingyuan. Both terminate at the North Bus Station. Price: ¥65/¥75. Duration: 4½-5½ hours.
From Guì​lín (桂林): There is one bus leaving the South Bus Station at 11:00. The bus arrives at the North Bus station. Price: ¥160. Duration: 6 hours.
By train
Fenghuang does not have train station, however it is frequently faster to travel to either Jishou or Huaihua first and then travel by bus to the city center.
Get around
Fenghuang Old Town is only part of the city of Fenghuang. Taxis can take you from the bus stations to the main entrance to the Old Town, which is best explored on foot. The Old Town is largely not wheelchair accessible.

See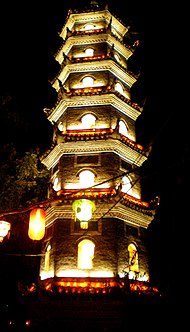 Most of Fenghuang's sites can be visited with a "through ticket" (通票). There are three versions. The first includes the Yang Family Ancestral Hall, East Gate Tower, the upper gallery of the Hong Bridge, and a few other smaller attractions for ¥98. The second ticket includes the first ticket plus the Gucheng Museum and Wanshou temple, costs ¥148, and is valid for 2 days. The third ticket is a Fenghuang regional through ticket that, in addition to the previous two through tickets, includes the Southern Great Wall and Miao Village for ¥168 and is valid for 3 days.
East Gate Tower

Yang Family Ancestral Hall

Hong Bridge

Former Home of Shen Congwen

Wanshou Temple

Gucheng Museum

Queen of Heaven Temple
Do
The Southern Great Wall (南方长城)is about 15 km west of the city (entrance coordinates: 27.9312N,109.4665E). While it is nearly completely restored it still makes for a strenuous hike with beautiful viewpoints of rice terraces and the surrounding countryside. Since 2003, the courtyard of the old fortress has featured a giant Go board used for the biennial Ancient City of the Phoenix Cup - an exhibition match between a top player from China and Korea, played using people in traditional black and white clothing as pieces.
Minivan drivers are everywhere and will be willing to take you here, but bargain with them first (price will depend on number of people, distance traveled, and time spent). Or, from the old town area take the westbound bus number 2 to the big bus station (second-to-last stop) and transfer to an unnumbered bus which will make a stop right next to the entrance.

Buy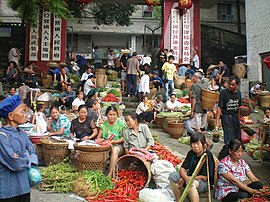 Fenghuang is famous for ginger candy. Throughout the Old Town vendors make and sell bags of candy for around ¥2-4. The local Miao people are also renowned for their silverwork. The old town has several silver shops offering high quality items. Beware of cheaper materials sold in the many shops selling mass-produced trinkets to tourists.
Eat
At night the streets in Fenghuang's old town are full of street food vendors, serving grilled meats, dumplings, fried potatoes, flat breads and grilled vegetables.
There are many restaurants that specialize in Hot Pot.

Drink

The streets facing the river come alive at night with karaoke bars,adorned with neon lights and blasting out music until midnight. Beer typically costs ¥25 for a 330 ml bottle, or about ten times the price at local shops.

Sleep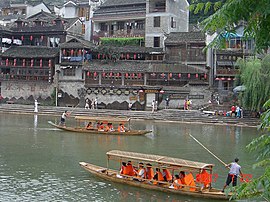 Inns can be found in the Old Town along Bei Bian Jie, running between the Northern Wall and the river. Larger hotels catering to tour groups can be found in the city center and the roads leading to both bus stations.
Go next