Fernie
Fernie
is a town of 5,200 people (2016) in
British Columbia
that is fully encircled by the Rocky Mountains. It began as a mining town, but its location in the Canadian Rockies has led to the development of the Fernie Alpine Resort (FAR). Fernie is renowned for its powder skiing and snowboarding - the resort receives an average of 875 cm of snow per year!
Understand
Fernie lies on the Elk River, along Canada's southernmost east-west transportation corridor through the Rockies that crosses the range via the Crowsnest Pass, 40 km (25 miles) to the east.

History
The vast Crowsnest Coal Field lies just to the east of the city, and Fernie owes its origins to 19th-century prospector William Fernie, who established the coal industry that continues to exist. Fernie founded the Crows Nest Pass Coal Company in 1897 and established a temporary encampment near Coal Creek. The Canadian Pacific Railway arrived in the valley the following year, and a townsite emerged parallel to the railway line slightly north of the initial encampment, or "Old Town". A war-time internment camp was set up at rented premises in Fernie from June 1915 to October 1918.
Underground coal mines were dug 10 km away from the townsite in the narrow Coal Creek valley and until 1960 a small satellite community was known as Coal Creek stood adjacent to them. A variety of other mines were sunk into the coal fields in a 50-km radius in the following two decades. No mining was ever carried out in Fernie proper; coking of Coal Creek coal was carried out at the townsite, but otherwise, the town developed into an administrative and commercial centre for the burgeoning industry. Forestry played a smaller role in the local economy and a local brewery produced Fernie Beer from Brewery Creek (mountain spring water).
Like most single-industry towns, Fernie endured several boom-and-bust cycles throughout the 20th century, generally tied to the global price of coal. The mines at Coal Creek closed permanently by 1960 and the focus of mining activity shifted to Michel and Natal about 25 km upriver, which sat on a more productive portion of the Crowsnest Coal Field. Fernie would remain an important residential base for mine labour. Today, Teck Resources operates all five open-pit mines, shipping out unit trains (often with more than 100 cars) along the Canadian Pacific Railway through Fernie to the Roberts Bank Superport in Delta on the Pacific coast.

Architectural heritage
After a disastrous fire levelled much of the downtown core in 1904, the municipal government passed an ordinance requiring all buildings in the area to be built of 'fireproof' materials like brick and stone. Consequently, a new city centre rose from the ashes sporting brick buildings along broad avenues. They were short-lived, however, as a second, larger inferno swept through the city on August 1, 1908. Whipped up by sudden winds, a nearby forest fire burnt its way into a lumber yard on the edge of the community and sparked a Dresden-style firestorm that melted brick and mortar and essentially erased the entire city in an afternoon. There were few casualties however and for a second time, a stately brick downtown core rose from the ashes. Today, these historic buildings, most of which still stand, are a treasured and distinctive feature of the community.

Climate
Warm summer days, cool summer nights along with cold and snowy winters. Influenced by chinook winds and being to the west of the continent, Fernie's winters are mild for its latitude in North America, although the climate is a lot more continental than coastal British Columbia.

Get in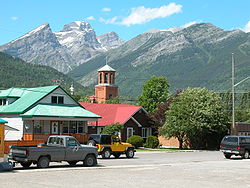 The closest airports to Fernie are
Cranbrook/Canadian Rockies International Airport
(YXC) and Calgary (YYC). Cranbrook receives mostly domestic flights (Vancouver, Calgary, Kelowna), but also some international charter flights. Shuttles to Fernie from these airports run regularly but can be expensive.
Get around
Fernie has no public transport system, but everything in the town is within walking distance. There are a few options for getting from town to the resort and vice versa.
Kootenay Taxi run large purple buses up and down every hour (every half hour in the morning). Check the website for schedules. The bus passes most major hostels and condos in town. The trip costs $3 each way. There are racks on the outside of the bus for skis and snowboards.
A shuttle runs 8AM-11:30PM during peak season. The bus is useful for visiting bars and clubs downtown if you are staying on the mountain. $4 per trip exact change; 10 ticket booklets available in town and on the hill for $35.
Hitchhiking is an accepted way to get to and from the resort. Getting a ride is usually very easy. For trips up the mountain, wait at the metal post known as the 'hitching post' on the highway past the bridge to West Fernie. For trips down, wait at the intersection below the resort centre. Police are fine with hitching from these areas but dislike people hitching within city limits.
See
phone: +1 250-423-7016

address: 491 2nd Ave

Local architectural and human history, contemporary art and culture, fine craft and design.
Do
phone: +1 250-422-3003

259-ha park. Popular for mountain biking and fishing in the nearby Elk River. Lizard Creek provides limited fishing opportunity. Anyone fishing or angling in British Columbia must have an appropriate licence.
Winter sports
During winter months, skiing, snowboarding, tobogganing, telemarking and whatever else takes your fancy are the focus of the entire town. The
Fernie Alpine Resort
offers amazing terrain and huge amounts of fresh powder on a regular basis. Season passes are $1139 and day tickets are $69.
Hiking
Heiko's trail up the Three Sisters mountain.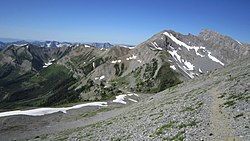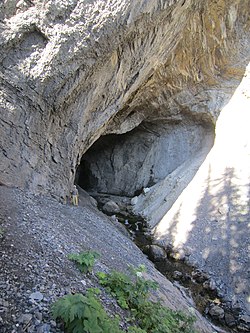 Ski Hill - If your looking for something relatively easy and close to town, hike up to the top of the ski hill. Nice view of the town from the top.
Island Lake Lodge - There is a large network of trails up by Island Lake Lodge. This includes walking through an old growth cedar forest. There are trail maps on virtual fernie.
Buy
phone: +1 250-423-7044

address: 572 2nd Avenue

A wide variety of media including original paintings, textiles, jewellery and accessories, photography, woodwork, pottery, soap, sculputure, home furnishings and fine art prints that portray the region and lifestyle of the Elk Valley and Kootenay Rockies.
Eat
phone: +1 250-430-0090

address: 741 7th Ave, Highway #3

Sushi and other Japanese dishes.

phone: +1 250-423-7778

address: 502 2nd Avenue

Bagels, sandwiches, coffee.

phone: +1 250-423-2695

address: 931 7th Ave

Asian cuisine: stir fries, noodles and curries.
Drink
phone: +1 250-423-7733

address: 26 Manitou Rd

Tasting room and retail shop. In the Tasting Room, you can have a tasting flight or 12-oz glasses. Up to 12 fresh brews on tap at one time, including year-round, seasonal and limited release brews. They don't serve food, but have some bar snacks.
Sleep
Budget
phone: +1 250-422-3003

Year-round camping. Serviced camping (with fees) 1 Jun–30 Sep. Reservations are accepted and first-come, first-served sites are also available.

address: 892 6th Avenue

Offers a free pancake breakfast, large kitchen, theater room, large common areas.

phone: +1 250-423-4622

address: 1101 7th Avenue

Budget friendly; dedicated staff; pet friendly; very clean, with queen rooms, king rooms, bunk/family rooms, as well as a full suite available. All rooms feature en suite bathroom, air conditioning, TV, microwave, small fridge and in-room coffee. Amenities include breakfast snack, free wireless internet, free parking, movie room with free guest rentals available, games room with poker table, pool table, foosball table, indoor pool, private hot tub & sauna, large clean guest kitchen accessible to everyone with everything you need games room. Average prices range from $130 in peak season (Jan-Mar, Jul-Aug) to $110 or less off season. Watch for frequent specials. Repeat guest, corporate and group discounts.
Mid-range
Splurge
address: 742 Highway #3

Nice but pricey boutique style hotel with dining room, lounge, indoor pool and whirlpool. Traditional style hotel rooms plus larger studio suites complete with gas fireplaces, balconies and full kitchens. Max Restaurant open for breakfast, lunch & dinner. The Pub is downstairs which makes slaying dragons easy as pie.
Go next
Mt. Fisher - The tallest peak in the Kootenay Range at . It's in Cranbrook, an hour drive from Fernie. It's a great hike. The top part is bit of a scramble: it's recommended only for experienced hikers only.